LMU-DCOM Policies and Procedures for Student Involvement in Research
Any student wishing to participate in a research project must meet the following criteria:
Must be passing all of their courses
Must have a cumulative GPA of 3.0 or higher
Must not be on probation for academic or professionalism reasons
Must be on schedule to take COMLEX exams
In addition to the academic requirements listed above, LMU-DCOM has implemented policies and procedures regarding the involvement of students in research. These policies and procedures are intended to provide valuable feedback to the students and to help ensure the success of their research projects. All students wishing to participate in a research project must first work with their faculty sponsor to complete the LMU-DCOM Student Research Project form. Once completed, this form is reviewed by the LMU-DCOM Research and Grants Committee and any feedback regarding the goals of the study, experimental design, or feasibility of the proposed project is communicated to the student and faculty sponsor. Once the proposal is reviewed and any recommendations are taken into consideration, the student can then submit an application to the relevant regulatory committee (IACUC, IRB, IBCSC) for approval, if the proposal requires such approval. Those students that wish to participate in laboratory research must also complete a General Lab Safety course given by the LMU Natural Science Laboratory Coordinator prior to initiating a research project to ensure that they are in compliance with all laboratory safety policies and procedures.
Two separate competitive scholar awards are available to support student research and provide an opportunity for LMU-DCOM students to work with experienced basic science investigators in an environment devoted to research. The goal of these scholar awards is to provide students with an experience that will produce better physicians by acquainting students with scientific methodology. The Basic Science Scholar Award allows for the student to conduct research projects during the academic year in the basic sciences for a term of either one semester or two semesters, while the DeBusk Summer Scholar Award is for students who would like to conduct short-term research projects over the summer break in any area of basic or clinical sciences, including any branch of the basic or clinical sciences, medical education, and health policy related areas of inquiry.
If a student has results from a research or scholarly activity project that he/she wishes to present at a professional or scientific meeting, a Student Abstract Approval Request form can be submitted to the Administrative Assistant for LMU-DCOM Research. This form provides information regarding the name of the meeting, location, dates of the meeting, and the faculty sponsor and is reviewed by the Director of Research and the Associate Dean of Preclinical Academic Affairs/Basic Medical Sciences for approval. Once approval is granted, the student can submit the Student Research Travel Funds Request form to request funds to cover the cost of traveling to the meeting for their presentation.
Students who are in their clinical years may choose to do a Research Elective rotation. The student must first identify a research mentor for this rotation and work with this individual to complete the Research Elective Protocol form. These rotations are intended to provide the student with an opportunity to engage in research activities that help to develop critical thinking skills, reinforce the scientific method, and promote critical review of the relevant literature.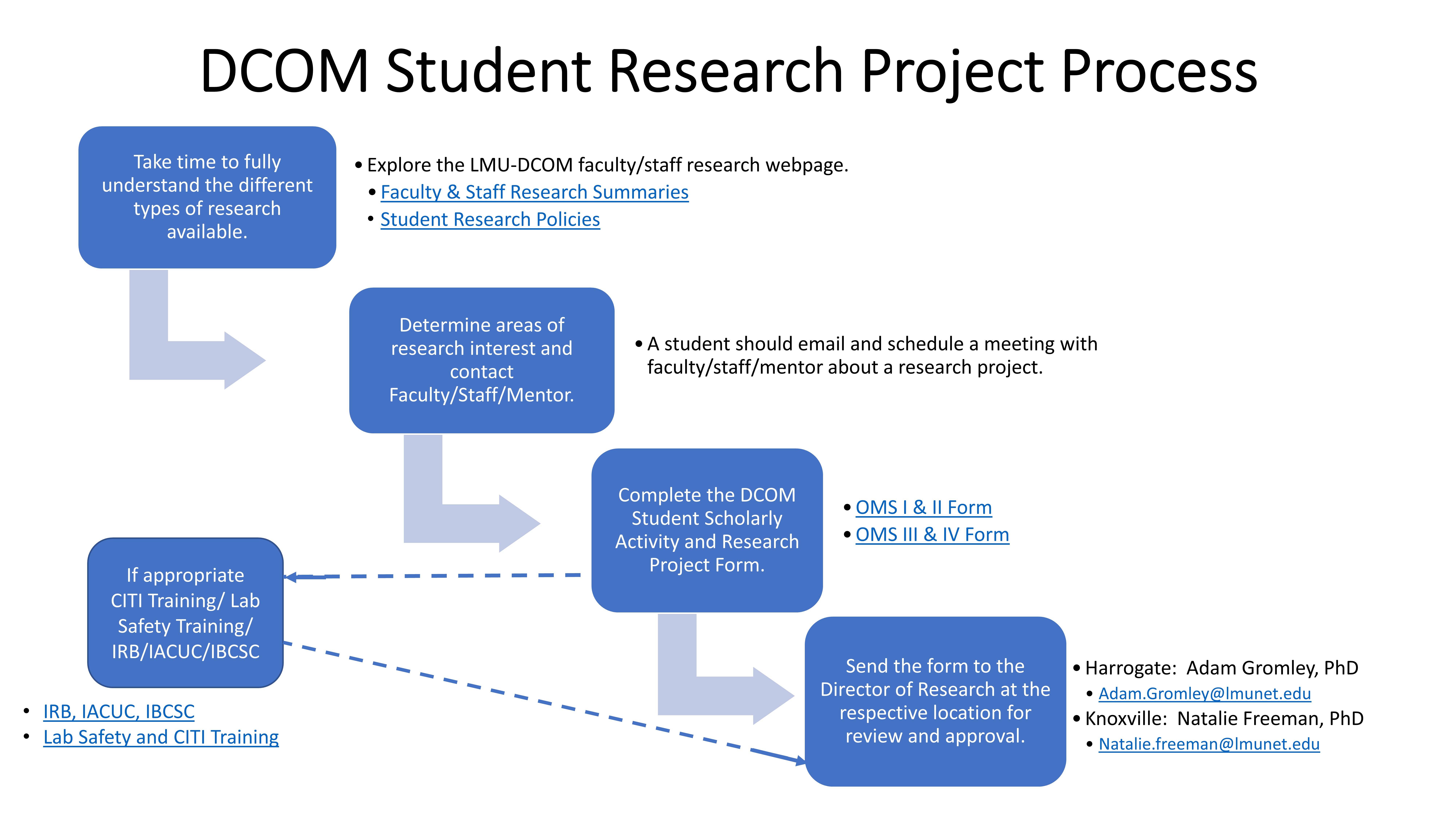 STUDENT RESEARCH FORMS CAN BE FOUND HERE