Bachelor of Science in Medical Laboratory Science
Are you interested in a career in medicine? Are you self-sufficient? Precise? Thorough? Medical Laboratory Science is a healthcare career that combines modern laboratory science with medical care. Tests performed in clinical laboratories by medical laboratory scientists–formally called medical technologists–assist physicians in diagnosing and treating pathological conditions. Medical laboratory scientists perform and interpret a wide variety of tests, ranging from simple blood glucose tests to advanced molecular diagnostic assays.

What to Expect in a Medical Laboratory Science Career
Provide service and research in clinical laboratory science and related areas.
Develop, evaluate, and assure the accuracy and validity of laboratory information.
Direct and supervise clinical laboratory resources and operations.
Collaborate in the diagnosis and treatment of patients.
Please explore our website to learn more about our Medical Laboratory Science (MLS) program.
Program Outcome Summary Table
Outcomes Measures
2018
2019
2020
2021
2022
2023
ASCP BOC Exam Certification Rates
100%
100%
100%
100%
100%
100%
Graduation Rates
100%
100%
89%
100%
91%
100%
Attrition Rates
0%
0%
11%
0%
9%
0%
Employment Placement Rates
of LMU MLS Graduates
100%
100%
100%
100%
100%
100%
 
Visit MLS Outcomes and Highlights Report to view the entire report. 
Student Feedback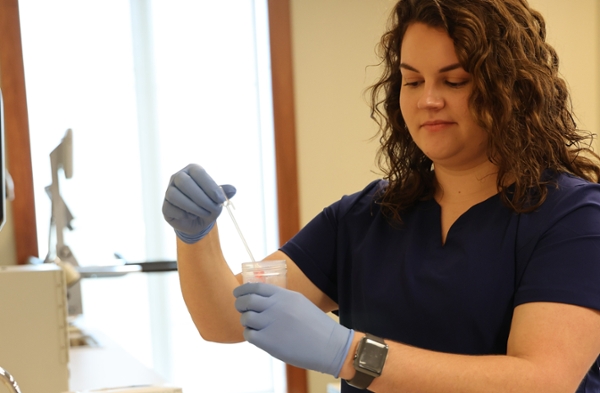 My name is Madison Carpenter, and I am a senior in the Medical Laboratory Science program. I plan to graduate with my bachelor's in Medical Laboratory Science in May 2023. I used this degree as a stepping stone to help me reach my goal of becoming a Physician Assistant. I have absolutely loved the Medical Laboratory Science program, and the professors have helped me tremendously throughout my experience in the program. My favorite part of the Medical Laboratory Science Program would be the clinical experience. Students get to go to clinicals while taking their class load, allowing us to see what we are currently learning about in the clinical setting. A week after I graduate from the MLS program in May, I will matriculate into the Physician Assistant Program at the LMU Harrogate campus. I am excited to be able to continue my education and goal of becoming a Physician Assistant. I would not have made it this far without God and the support of my family, friends, and professors.