Biology
The Biology program at LMU is a comprehensive four-year program with three tracks that lead to a Bachelor of Science degree. Biology students are immersed in a broad variety of life science and chemistry courses. Students in the Secondary Teacher Education Licensure Program graduate prepared to serve their communities as middle school and/or high school teachers. Students in the Pre-Health Track graduate well-prepared to enter professional and graduate programs in the health professions and beyond. Biology students engage numerous topics including Biochemistry, Molecular Genetics, and Comparative Vertebrate Anatomy. The rigorous and flexible curricula allow our students to fulfill their career goals. Many of our biology graduates have gone on to become medical professionals, teachers, and researchers.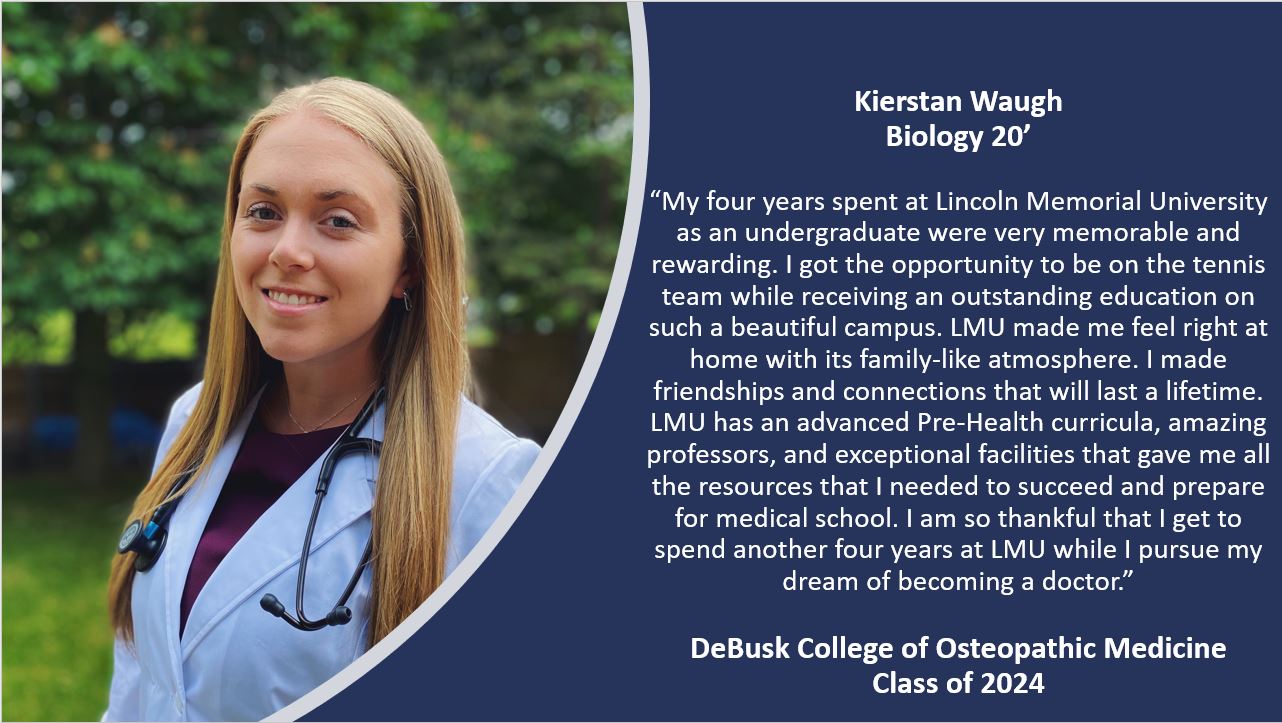 Graduate and Professional School Placements

Many of our biology graduates have gone on to become medical professionals, teachers and researchers. Our students boast high placement rates into both graduate and professional schools. Additionally, graduates have a 100% employment rate in secondary education.

Professional Programs

Arkansas College of Osteopathic Medicine

Bill Gatton College of Pharmacy

DeBusk College of Osteopathic Medicine

McWhorter School of Pharmacy, Samford University

Nova Southeastern University- College of Optometry

Southern College of Optometry

University of Kentucky's College of Dentistry

University of Louisville School of Medicine

University of Tennessee School of Dentistry

Graduate Programs

University of Arkansas, Biology

Lincoln Memorial University Masters of Science

Middle Tennessee State University, Molecular Biology

Touro University California, Public Health, Global Health

UNC Chapel Hill Master of Public Health in Global Health

 

Special Features

Advanced Human Anatomy Lab- This course offers mature and motivated students the opportunity to explore healthcare-oriented topics and donor cadaver based anatomy labs. Students who do well in their lower division anayomy course can apply with instructor permission. each region of the body is discussed with clinical content relevant for most health care fields including dental, medical, optometry and occupational and physical therapy. In the laboratory portion, students go to the DCOM anatomy labs to handle and identify donor cadaver structures. Those who enter graduate school report that the class aligned with their graduate courses and were extremely successful because of this exposure.

Customizable Curricula- Students work with their advisors to design a curriculum pertaining to their interests and goals.

Research based seminar classes- Biology majors enroll in seminars designed to prepare them for their future. Each track offers research-based seminar courses that provide professional development activities, such as CV/resume construction,  mock interviews, guidance through the application processes,writing personal statements and exposure to professionals.

Pre-Health Seminar- This unique course offers students interested in health careers exposure to many different professions. Speakers ranging from doctors of Osteopathican and Allopathic Medicine, Physical Therapy, Occupational Therapy, as well as succesful graduate students and LMU alumni present information about their disciplines, Students partake in Q and A sessions to help them consider what type of careers are possible and best suits their interest. Students are encouraged to plan out their early college experiences to enable them to sucessfully apply and perform well in their future graduate programs.

Pre-med club- Comprised of Biology and Chemistry majors, our pre-med club serves as a way for our students to further explore the medical profession. Each month the pre-med club host guest speakers from different disciplines of medicine. These speakers discuss shadowing, resume building, and community outreach. Also included in the Pre-med club experience are visits to different professional schools within the region.
Check out what our students, faculty and alumni are up to!

For more information about Biology , please contact:
Dr. Julie Hall | 423.869.6067 | [email protected]