Tutoring Services
helping Our undergraduate railsplitters achIEve their goals
At LMU, we recognize that everyone needs some extra help from time-to-time. For assisting students academically, we have a two-pronged approach where we always encourage the student to discuss issues with the instructors first, but also believe that students can benefit from individualized tutoring as well.
Our current policy and procedures manual is available in print form in the Tagge Center or online.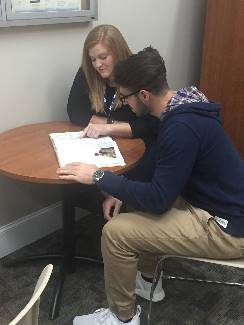 The Tagge Tutoring Center is located just inside the Carnegie-Vincent Library. Our tutoring hours are: Monday-Thursday, 8am-10pm and Friday, 8am-4pm.
To make an appointment for tutoring:
Stop by the Tagge Center in the library and make an appointment.

Call 423-869-6310

For off-campus undergraduate students, we do provide tutoring via video conference sessions, please contact Stephanie Wright for assistance.
Interested in becoming a Tagge Tutor?
Submit the completed application via email to

[email protected]
If you have any issues or problems please contact Ms. Stephanie Wright, Director of the Tagge Center for Academic Success, for more information.
If you are a nursing student enrolled in NURS-xxx courses, please contact Carrie Love, RN, Academic Support Coordinator for Nursing, for further assistance.