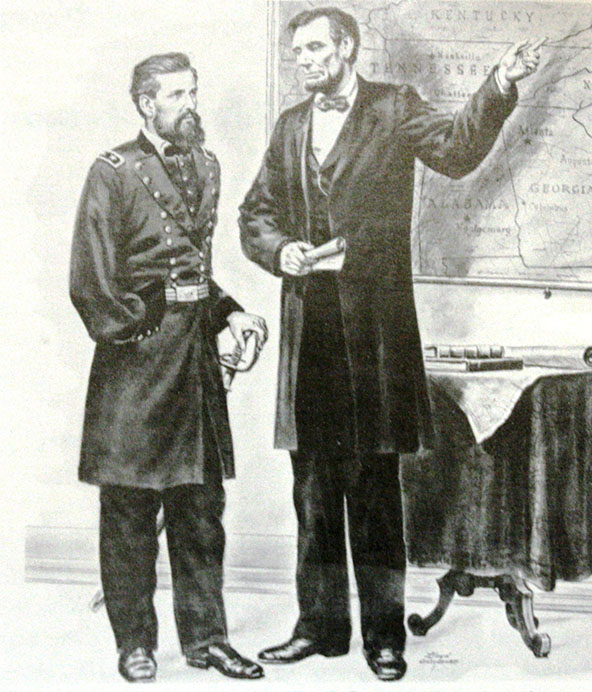 The Abraham Lincoln Library and Museum (ALLM) is a department of Lincoln Memorial University, an institution located in the shadow of the historic Cumberland Gap and founded by General O. O. Howard—at the request of Abraham Lincoln—to aid the mountain populace of Appalachia. Its origins are inextricably linked with the history of Southern Unionism and the postwar spirit of patriotic reconciliation.
During the Civil War, Tennessee was a microcosm of the nation, divided between Unionists and Confederates. Unionism was especially prevalent in the state's mountainous eastern region. Cumberland Gap, poised at the meeting point of Union Kentucky and Confederate Tennessee and Virginia, was a key defensive position for the South and an avenue of invasion for the North. The pass changed hands four times over the course of the war.
On September 27, 1863, Gen. Oliver O. Howard, soon to join the Army of the Cumberland besieged in Chattanooga, met with President Lincoln in Washington, D.C. Howard later remembered Lincoln referring fondly to the Unionists of East Tennessee, who had remained steadfast in their devotion to the nation despite suffering persecution at the hands of the Confederacy. "They are loyal there, General," Howard recalled Lincoln saying, "they are loyal."
More than thirty years later, Howard visited Cumberland Gap for a speaking engagement at Harrow School at the invitation of that institution's founder, Rev. A. A. Myers. Myers had long wanted to start a college in the region, and Howard's own lecture agent had dreamed of founding an educational institution as a living memorial to Lincoln. This shared vision was the foundation for Lincoln Memorial University. The institution was chartered in 1897 with Howard as trustee and zealous advocate.
Because of the school's connection to Lincoln and the Civil War, supporters began donating books, manuscripts, firearms, uniforms, and a variety of other items to LMU almost from the moment of its founding. For many years, the University kept these relics in the Lincoln Room in Duke Hall, one of the oldest buildings on campus. The 1930s and 1940s saw the most remarkable period of growth for the collection, due in large part to an aggressive campaign led by the Dean of Lincolniana and the President of LMU, backed by influential trustees. By the mid-1970s, the collection had outgrown the Lincoln Room, and LMU trustees began planning the construction of a building dedicated to the preservation and exhibition of its historical material.
Thanks to the generous support of Kentucky Fried Chicken founder Colonel Harland Sanders, the present facility opened in 1977. Today the Abraham Lincoln Library and Museum is a 21,000 square foot facility, and one of the most significant private repositories of Lincoln and Civil War material anywhere.