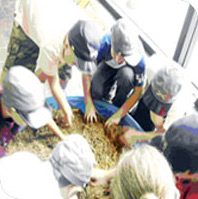 Mission Statement
The mission of the Abraham Lincoln Library and Museum is to collect, preserve, and exhibit artifacts and archival materials concerning Abraham Lincoln, his contemporaries, the American Civil War, and the study of Lincolniana. The Museum will also provide workshops, seminars, forums, courses, outreach programs, and research opportunities for individuals and groups to examine the life of the 16th President, the field of Lincolniana, and the themes and forces that contributed to the era of conflict of the Civil War. The Museum Committee and the Board of Trustees will determine specific collection goals review policies and procedures annually.
---
For more information during our hours of operation call 423.869.7194.
The Abraham Lincoln Library and Museum is located just south of Middlesboro, Kentucky, on U.S. Hwy. 25E in Harrogate, Tennessee, approximately 55 miles northeast of Knoxville. The museum is open on the major summer holidays. Otherwise the museum is closed for Thanksgiving, Christmas and New Year's Day as well as on other University holidays.
If you have general inquiries, please contact Museum Specialist Susan Parker at 423-869-6235 or at [email protected]  If you are a community organization or a school group interested in learning resources, please reach out to our program coordinator, Natalie Sweet.  She can be reached at [email protected]
Hours of Operation
Monday-Friday 10:00-5:00
Saturday 12:00-5:00
Sunday (March 1-Thanksgiving Day) 1:00-5:00*
*The ALLM is closed on Sundays from Thanksgiving Weekend through February, and during Lincoln Memorial University's winter holiday. The ALLM is open for the Memorial Day, Independence Day and Labor Day holidays.
Admission (group equals 10 or more)
Adults - $6.00 Group rate - $3.00
Senior Citizens (60+) - $5.00 Group rate - $3.00
Children 6-12 years - $4.00 Group rate - $3.00
Motor Coach Groups - $3.00
Library and Archives
The library and archives are open by appointment Monday through Friday 9 a.m.,. to 4 p.m. To schedule an appointment, email the University Archivist at [email protected] 
To access the Archives Home, please click here.
To access guides to the Archives Collection, please click here.
To access information on the Museum Research Collection, please click here.
Today in Civil War History:
1862
 - Confederate General Thomas J. "Stonewall" Jackson was defeated when his attack on Union forces failed at the Battle of Kernstown, Virginia.
1865
 - U.S. President Lincoln boarded the "River Queen" with his wife and son Tad. The first family was headed to General Grant's headquarters at City Point, Virginia.