College of Veterinary Medicine (CVM)
GUARANTEED PROFESSIONAL ADMISSION PROGRAM
Program Highlights:
- Nationally renowned veterinary educators with a commitment to teaching and lifelong learning.
- "Hands on" veterinary education that begins your first semester.
- Clinical experience with a varied and busy caseload that emphasizes a team approach.
- World-class DeBusk Veterinary Teaching Center (DVTC) that students utilize from the first semester and onwards.
- Education that includes leadership skills, communications, and community service.
LEARN MORE ABOUT CVM
Veterinary Medicine Pathway Requirements
GPA PROGRAM
Application Requirements (to be completed prior to beginning undergraduate coursework):
Submit LMU online undergraduate application. Recommended program: Veterinary Health Science (BS),
Submit LMU undergraduate admissions requirements (Math ACT ≥ 24 (SAT 570-580), Reading ACT ≥ 24 (SAT 570-590), high school GPA ≥ 3.5)
Submit GPA Program Application (including reference letters)
Undergraduate Benchmarks/Requirements (to be completed during undergraduate study):
Maintain a minimum cumulative GPA of 3.35 or higher (3.35 in science & major courses)
Achieve 66th percentile on CASPer (or higher)
Complete 400 hours (or more) in veterinary experience or animal research
Submit essays as required by the CVM
Complete the Veterinary Medical College Application System (VMCAS) application for the admissions cycle that is applicable to the students' desired start date in the veterinary program
Undergraduate Coursework
STUDENTS SHOULD WORK CLOSELY WITH THEIR ACADEMIC ADVISOR TO ENSURE TIMELY ACADEMIC PROGRESSION AND THAT ALL ACADEMIC REQUIREMENTS ARE COMPLETED.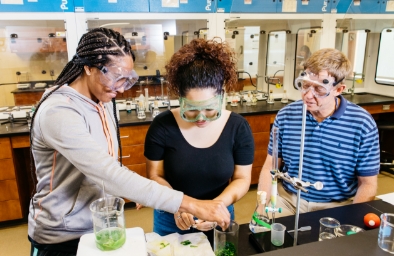 REQUIRED UNDERGRADUATE COURSES
Number in parentheses denotes number of courses required.
Gen. Biology (BIOL 111 &112 with labs)
Genetics (BIOL 315 with lab)
Biochemistry (BIOL 441)
Advanced science electives (VHS 320, VHS 360)
Organic Chemistry (CHEM 211 & 212 with labs)
Gen. Chemistry (CHEM 111 &112 with labs)
Physics (PHYS 211 with lab)
English (1)
Social sciences (1)
Prep for Veterinary school (VHS 194, VHS 240, VHS 340)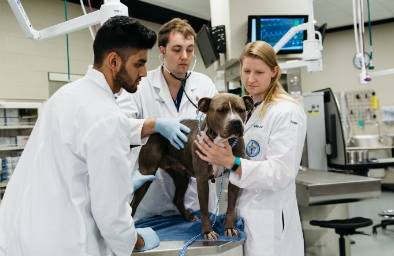 RECOMMENDED UNDERGRADUATE COURSES
Number in parentheses denotes number of courses recommended (if applicable).
Speech (COMM 200)
Companion and rural animal handling VHS 230 with lab
Animal anatomy & physiology (VHS 211 and 212 with labs)