School of Medical Sciences- Physician Assistant
GUARANTEED PROFESSIONAL ADMISSION PROGRAM
As part of its mission of service to Appalachia, Lincoln Memorial University established the physician assistant program at its main campus in 2009. Building on the PA program's success and the University's mission, the University developed the Doctor of Medical Science for physician assistants in 2016 and a second physician assistant program at its Knoxville campus in 2018. Due to the rapid growth of these programs and the physician assistant profession, the LMU School of Medical Sciences was established in 2019. Each of the school's programs offer the highest quality medical education with state-of-the-art facilities and experienced faculty.
Learn More about this
The LMU-SMS PA Program seeks to attract and retain the best and brightest applicants whose career goals are consistent with the mission and purpose of the college. We seek to enroll students who are inquisitive, intuitive, and compassionate; possess a passion for the science and art of medicine; and desire to serve others in underserved areas.
Students enrolled in LMU's GPA program who apply to the Program through CASPA are guaranteed an interview if they meet the Program's criteria for application and admission. Completion of an interview does not guarantee an offer for admission.
Physician Assistant Pathway
GPA PROGRAM
*Continued enrollment in the GPA program is contingent upon successful completion of the following requirements:
Application Requirements (completed prior to beginning undergraduate coursework):
Submit LMU online undergraduate application. Recommended programs: Biology, Chemistry, Medical Laboratory Science (BS)
Submit Undergraduate Admission requirements: ACT/SAT scores- minimum 24 or 1180 and official transcripts
Submit GPA Program Application (including reference letters)
Undergraduate Benchmarks/Requirements (to be completed during undergraduate coursework):
The student must maintain a cumulative GPA of 3.0 and a science GPA of 3.3 to remain in the program

Prerequisite courses must be completed with a grade of "C" or higher on the first attempt. (We do not accept prerequisite courses with a grade of "C-", "D", or "F". This will be cause for dismissal from the GPA program).  Retakes are not permitted.

Patient Contact / Shadowing

Patient Contact Hours: A minimum of 150 hours of verifiable direct patient care must be completed in either a volunteer or paid capacity. The admissions committee recognizes direct patient care experience to include: Directly taking vitals, taking or recording patient histories, assisting in surgeries, procedures such as drawing labs, giving injections, etc. Medical assistant, physical therapist/PT aide/assistant, respiratory therapist, occupational therapist, EMT/paramedic, LPN, RN, NP, CNA, nurse's aide, phlebotomist, medical corpsman, pharmacist assistant, hospital social worker, psychologist, x-ray tech, ER tech, peace corps volunteer, clinical health education, athletic trainer, hospice (if experience includes direct patient care), dietician, scribe, dental assistant/hygienist. Others may be considered if emailed with detailed information.
Shadowing- A minimum of 40 hours of verifiable time must be completed shadowing a Physician Assistant (PA) with at least 20 of those hours spent shadowing a PA in a primary care setting (Family Medicine, Internal Medicine, Pediatrics or Emergency Medicine/Urgent Care).

Part of the application includes:

Complete the CASPA and supplemental application. Students are also required to complete CASPer and Snapshot.
Complete a successful interview process (student must display professionalism and emotional maturity)
Letters of recommendation:

Applicants are also required to submit two required letters of reference which should be submitted to CASPA. References should be as follows: At least one letter/reference must be from a physician assistant (PA). A second letter must be from an additional physician assistant, or physician, dentist, podiatrist, or optometrist, academic advisor, science/mathematics professor, or current/recent employer. An applicant can only be considered for an alternate and not for full acceptance until letters are received.
Required Technical Standards, Competencies, and Admission Requirements (to be completed, if accepted, prior to matriculation into the PA program):
Medical Clearance (includes technical standards)
Background Check
Drug Screen
Undergraduate Coursework
Students should work closely with their academic advisor to ensure timely academic progression and that all academic requirements are completed.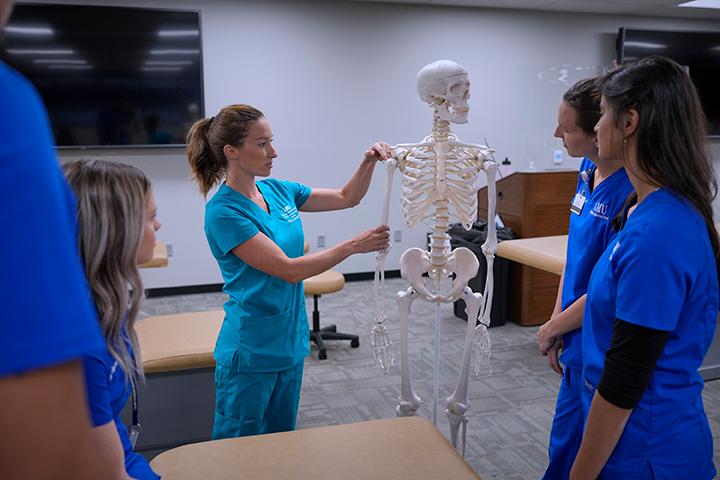 Required Undergraduate Courses:
A major in Biology pre-health or Chemistry pre-med is required. The following represent the minimum required undergraduate courses:
ENGL 101 Composition I
MATH 115 College Algebra or higher
MATH 270 Probability & Statistics
PSYC 100 Intro to Psychology
BIOL 111 & 112 General Biology I & II with lab
CHEM 111 & 112 General Chemistry I & II with lab
CHEM 221 & 222 Organic Chemistry I & II with lab
BIOL 310 Comparative Anatomy with lab
BIOL 365 General Physiology with lab
AHSC 300 Medical Terminology
BIOL 336 General Microbiology with lab
Pre-PA Seminar (2)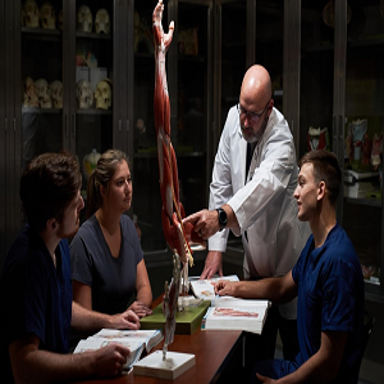 Recommended Undergraduate Courses:
Strongly recommended additional courses which will strengthen an application include:
BIOL 290 Writing in the Life Sciences
BIOL 315 Molecular Genetics with lab
BIOL 334 General Histology
BIOL 360 Immunology
BIOL 380 Research Design & Analysis
BIOL 411 Advanced Human Anatomy
BIOL 441 Biochemistry I
BIOL 450 Molecular Cell Biology
CHEM 300 or 400 level
BIOL 460 Developmental Biology with lab
PHYS 211 & 212 General Physics I & II with lab
PSYC 340 Abnormal Psychology
PSYC 300 or 400 level
VHS 300 Vet Parasitology & Entomology with lab
VHS 400 Zoonotic Diseases Vet/Public Health