Shanteau, Simons First Graduates of LMU-CVM MVEd Program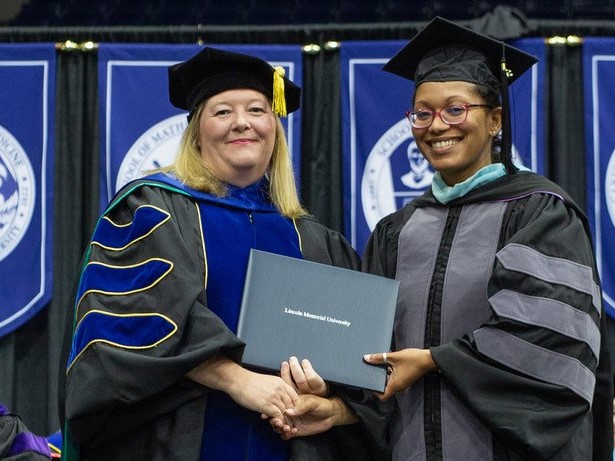 Caption: Simons received her diploma at the LMU Commencement Ceremony on May 6 at Tex Turner Arena.
Lincoln Memorial University-Richard A. Gillespie College of Veterinary Medicine (LMU-CVM) is pleased to announce the successful completion of the Master of Veterinary Education (MVEd) program by its first-ever graduates, Patricia Joanna Shanteau and Micha C. Simons. This milestone achievement represents a significant advancement in veterinary education and highlights the university's commitment to excellence in training the next generation of veterinary educators.
"The discipline of education has always been important to me, especially within veterinary medicine," Simons said. "So being able to expand and validate my knowledge in this area through the MVEd program has been an invaluable experience. I am extremely proud of this program and what we have accomplished by completing it."
The MVEd program is a groundbreaking initiative as the first master of veterinary education degree in the United States.  The MVEd program focuses specifically on veterinary education. It is designed to equip veterinary professionals with specialized skills in educational theory, instructional design, and curriculum development. The program combines rigorous coursework, hands-on teaching experience, and research opportunities to enhance the teaching capabilities and leadership potential of veterinary educators.
"Completing the Master of Veterinary Education program is a momentous achievement, and we are immensely proud of these two students for this accomplishment," said Dean Stacy Anderson "The program's visionary curriculum has equipped them with the necessary skills to contribute significantly to veterinary education and shape the future of the profession."
As part of the MVEd program, students delved into a wide range of subjects, including educational leadership, instructional technology, curriculum design, assessment methods, and teaching strategies. They also collaborated with esteemed faculty members and engaged in research projects aimed at advancing the field of veterinary education. The successful completion of the MVEd program positions students as leaders and innovators in the realm of veterinary education.
"Our students are already experts in their veterinary fields and have the desire to increase their instructional effectiveness by understanding both teaching and learning and applying that knowledge to their educational careers," said Dr. Patsy Butterbrodt, director of the MVEd program.
For more information about the Master of Veterinary Education program, please visit https://www.lmunet.edu/college-of-veterinary-medicine/graduate-programs/master-of-veterinary-education
Lincoln Memorial University (LMU) is a values-based learning community dedicated to providing educational experiences in the liberal arts and professional studies. The LMU-Richard A. Gillespie College of Veterinary Medicine is located on LMU's main campus in Harrogate, Tennessee, with additional academic facilities in nearby Lee County, Virginia. LMU-CVM is an integral part of the University's medical programs and provides real-world, community-based education in a collaborative learning environment. For more information about LMU-CVM, call 1.800.325.0900, ext. 6600 or visit us online at vetmed.LMUnet.edu.