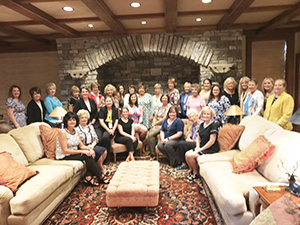 Women of Service is open to all women who want to help other, especially students at Lincoln Memorial University. This is your opportunity as women to work together and support our mission of service. By living as an example of service, we will also teach our students about the incredibly important mission of service to humanity. Only through service will our students become truly educated citizens of the world.
Joining is simple. Complete the short membership form HERE. Most of our communication is by email, so be sure and include the email address that you check frequently. Meetings are held two times per year - spring and fall - and alternate between Harrogate and Knoxville. Outings are also held throughout the year.
We ask those who join us to make a gift in any amount to support the Women of Service Initiative Fund. Through any number of pathways, your gift will transform the lives of LMU students and truly enhance the campus environment and the college experience. Several members give monthly; others choose to give one gift annually. Giving through this secure FORM on LMU's website is another easy method. Recurring gifts can also be set up using this form. You can also mail a check to:
Women of Service
Attn: Regina Burns, Treasurer
Lincoln Memorial University
6965 Cumberland Gap Parkway
Harrogate, Tennessee 37752
The pathways outlined here meant to help you direct your own goals of service to humanity. As you consider how you'd like to help students at Lincoln Memorial University, please consider how these pathways may reflect your own passions, skills and resources.