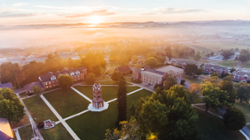 We are so glad you have chosen to join the Railsplitter family.

In Student Services, we aim to help you maximize the potential of your experience as a Railsplitter by adhering to this philosophy of President Lincoln. In the Office of Community Standards, we have the privilege and responsibility of helping our Railsplitters by creating and cultivating a thriving Railsplitter Community - one that fosters mutual respect for self, others, and the world around us. This will help the Railsplitters grow in their understanding of President Lincoln's aforementioned "cause and effect." Your decisions and behaviors will play a vital role in ensuring that your LMU experience is full of learning, fun new experiences, growth, and relationships that will last a lifetime.

The Railsplitter Nation is more than just a close-knit community of students, faculty, & staff—we're a family!