Cynthia L. Whitt Announces Change in Role at LMU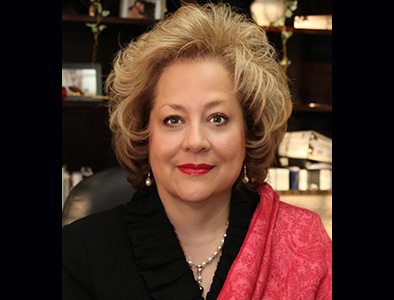 Lincoln Memorial University (LMU) Vice President for University Advancement Cynthia L. Whitt has announced plans to step away from her current position, effective December 31. Whitt will continue to work with the University in a consultant role moving forward.
"For nearly 40 years Cindy has been a 'thread that runs so true' in LMU's story. She has served her alma mater, fellow alumni, LMU employees and especially the students selflessly," said Dr. Jason McConnell, senior executive vice president. "From our recent 125th anniversary to our annual Homecoming, Student Awards and Recognition ceremonies and Knoxville Chamber Orchestra concerts and Christmas Festival, Cindy's fingerprints are all over our biggest events. She has been our greatest ambassador and an influential mentor to many. Her LMU legacy lives on in the relationships she has nurtured, scholarships she has raised and resources she has brought to LMU."
Whitt has left an indelible mark on LMU where she first made an impact as a student, performing in the University's music and theatre programming. Whitt earned a Bachelor of Arts in psychology in 1977 and a Master of Education in educational administration and supervision in 1993. In addition, she has studied at the University of Kentucky, Clear Creek Baptist Bible College, Liberty University and Southern Seminary.
Whitt joined the staff of LMU in 1987, serving as the director of public relations and the director of alumni services. She has served as a member of the President's Cabinet since 1991 as the vice president for University Advancement. Throughout her tenure, Whitt has supervised LMU's fundraising, alumni engagement, admissions, the Abraham Lincoln Library and Museum, public relations and marketing endeavors. Under her leadership, the University has conducted several successful capital campaigns and received the Council for Advancement and Support of Education (CASE) Award in 2015 for the most improved fundraising.
"In the beginning I received the best education at LMU which led to a future career that lasted 36 years," Whitt said. "This led to memorable friendships, so much laughter, and making friends who became family that I will always cherish and continue to enjoy for many years."
Since 1991, LMU has received well over $115 million in fundraising revenue, with more than $34 million contributing to the University's endowment. Whitt has worked closely with the Abraham Lincoln Library and Museum on the Hansel and Dorothy Kincaid One Million Dollar Matching Challenge Campaign, which exceeded its goal with over $3 million raised. She has forged strong bonds with LMU alumni and friends, and her alumni outreach has resulted in a vibrant donor-funded scholarship program which awards over $1 million in student scholarships annually.
In 2011, Whitt, along with the late Lynn Duncan, established LMU Women of Service (WOS). The organization is open to all women who want to help students at LMU. By living as an example of service, WOS members teach LMU students about the incredibly important mission of service to humanity. The group holds annual fundraising activities including a fashion show and Christmas festival to fund student scholarships and provide family aid and cultural enrichment opportunities to LMU students. They were instrumental in establishing Lincon's Cupboard food pantries for students and employees on the main campus in Harrogate and at many of LMU's extended learning sites. WOS also opened Lincoln's Closet, which provides career clothes for students, in Cumberland Gap. Whitt was awarded the Mary Mildred Sullivan Award at LMU's Fall 2021 Commencement and WOS named their prestigious woman of the year award for her to reflect the influence and impact she has had on the community. The Cynthia L. Whitt Woman of Service Award is presented annually during the Women of Service Fashion Show.
In addition to WOS, Whitt is active in several civic and religious organizations and activities, including the Harrogate Garden Club and The Creek Church in London, Kentucky. She is a past coordinator for the Remote Area Medical Clinics held at LMU in Tex Turner Arena. A gifted vocalist, she often sings the LMU Alma Mater at ceremonies and has served as a vocalist for the Lincoln Commemorative Birthday Celebration in Washington, D.C. She was inducted into the LMU Professional Hall of Fame in 2009.
"I grew as a person at LMU and was inspired and motivated by many. I was glad for every opportunity given and loved that I have made friends around the country," Whitt said. "Lincoln said 'the best part of life are friendships.' I believe this is so true. Thank you LMU. I will always be a Railsplitter."
A native of Coalwood, West Virginia, Whitt currently resides in London, Kentucky, where she enjoys being close to and having the support of her extended family including her mother Deloris Bryant Cooke; brother Andy Cooke and his wife Kay Vanover Cooke; as well as niece Dr. Allison Cooke Barton and her husband Rev. Trevor Barton and their sons Shephard and Grayson; and nephew Brian Cooke and his wife Brittany Minton Cooke and their daughters Meela and Harper.
"My favorite scripture is Jeremiah 29:11 'For I know the thoughts I have for you, says the Lord, thoughts of good and not evil, to give you a future and a hope.'" Whitt said. "What God is saying is that he has it all planned out and will care of us in every situation. We need never worry!" 
LMU will open a national search for a new Vice President of University Advancement.
Lincoln Memorial University is a values-based learning community dedicated to providing educational experiences in the liberal arts and professional studies. The main campus is located in Harrogate, Tennessee. For more information about the undergraduate and graduate programs available at LMU, contact the Office of Admissions at 423-869-6280 or email at [email protected].