LMU-DCOM's Tran Participates in Clinical Trials Award Program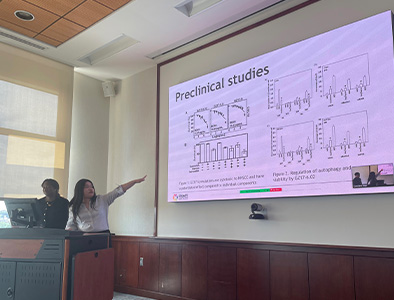 Lincoln Memorial University-DeBusk College of Osteopathic Medicine (LMU-DCOM) student Bao Ngan "Amy" Tran participated in the Robert A. Winn Diversity in Clinical Trials: Clinical Investigator Pathway Program (Winn CIPP) for rising second, third and fourth year medical students who are underrepresented in medicine.
Tran was among the 66 medical students selected nationally to make up the program's second cohort.
The award includes a $7,500 stipend for a six-week externship. The stipend is expected to cover travel, living and lodging expenses for the participants.
Tran completed the intensive summer service-learning externship at Virginia Commonwealth University (VCU) Medical Center working under Andrew Poklepovic, MD. The experience exposed her to the basics of clinical trials. She also gained experience working in underserved community health settings to provide outreach, education and engagement on clinical trials. Collaborating with another medical student, Tran developed a study protocol for a clinical trial testing a new agent for treatment of castration-resistant prostate cancer. The pair also assisted in the development of the informed patient consent form for the patient recruitment phase.
"This was unlike anything I had done before. We focused on creating a study that would be accessible to a diverse patient population from its conception, taking into account the burden of treatment for patients as well as other life obligations that could affect their participation in the study, without sacrificing the quality of the data collected," Tran said. "In addition to the research project, the program also did an amazing job walking us through what a clinical trial is all about. We got to shadow the clinical trial office and have meaningful conversations with world-class research leaders."
In addition to the practical experience, Winn CIPP allowed Tran to build relationships with lasting impacts on her future. She was assigned a research mentor, Sonikpreet Aulakh, MD, a neuro-oncologist at West Virginia University. Aulakh has become a lifetime mentor as she continues to provide valuable advice about residency, clinical research and life in general. Tran also connected with medical students from around the country. She is currently partnering with a medical student from Brown University on a research project with the assistance of Brown University faculty.
As a child of immigrants, Tran was drawn to the mission of the program which aims to increase the number of community-oriented clinical trialists of diverse backgrounds who are committed to increasing inclusion, equity and diversity in the conduct of clinical and translational research.
"When I learned about the Winn CIPP program, I saw it as an opportunity to be educated on the issue of health disparities and on ways to eliminate the barriers to equal access to quality health care for all patients, regardless of their age, gender, race or ethnicity," Tran said.
Hailing from Richmond, Virginia, Tran earned a Bachelor of Science in biochemistry from VCU. She is currently in her fourth-year rotations and on track to graduate from LMU-DCOM in May. She has worked with Caris Health to provide at-home respite care for hospice patients in Knoxville, thereby providing short-term relief to primary caregivers. She was also a part of the American Red Cross Disaster Action Team, where she worked as a caseworker to provide remote assistance to victims to local disasters in the East Tennessee area. Tran was nominated and won the OMS-II Student Doctor of The Year award from LMU-DCOM and several awards and scholarships from outside organizations. She aspires to specialize in obstetrics and gynecology and plans to pursue academic medicine, using teaching and research to continue expanding treatment options for various gynecologic conditions. Tran was drawn to LMU-DCOM due to its high-quality medical education, small- town feel and the beautiful scenery that surrounds the Harrogate campus.
Initiated in 2020, the Winn Awards is a five-year initiative established by the Bristol Myers Squibb Foundation with a $100 million commitment to train and develop a new generation of community-oriented clinical trialists. In April 2021, Gilead Sciences joined as a program supporter with a funding commitment of $14 million. In January 2023, Amgen joined as a funding partner with an $8 million commitment. VCU is the program implementation partner and the American Association for Cancer Research (AACR) is the curriculum partner responsible for delivering the Robert A. Winn – AACR Design and Implementation of Clinical Trials Workshop. The program aims to train, develop and mentor more than 308 diverse and community-oriented clinical trialists and 308 medical students by 2027.
"The Winn Awards are emblematic of the Bristol Myers Squibb Foundation's belief that inclusive and diverse representation in the medical profession and in clinical trials is key to improved science and patient outcomes," said John Damonti, president, Bristol Myers Squibb Foundation (BMSF). "We welcome this new cohort of promising medical students to the Winn CIPP, and are delighted to help support their training. Together, we remain committed to empowering diversity in medical education and clinical trials, and feel confident that these future leaders will carry these skills and values with them as they develop in their careers."
Applications for the third cohort of Winn CIPP participants will open on November 6, 2023, and remain open until January 8, 2024.
The DeBusk College of Osteopathic Medicine is located on the campus of Lincoln Memorial University in Harrogate, Tennessee, and at LMU-Knoxville in Knoxville, Tennessee. LMU-DCOM is an integral part of LMU's values-based learning community and is dedicated to preparing the next generation of osteopathic physicians to provide health care in the often-underserved region of Appalachia and beyond. For more information about LMU-DCOM, call 1.800.325.0900, ext. 7082, email [email protected], or visit us online at http://med.LMUnet.edu.