LMU Bestows Alumnus Awards on Walker, Fisher and Haywood during Homecoming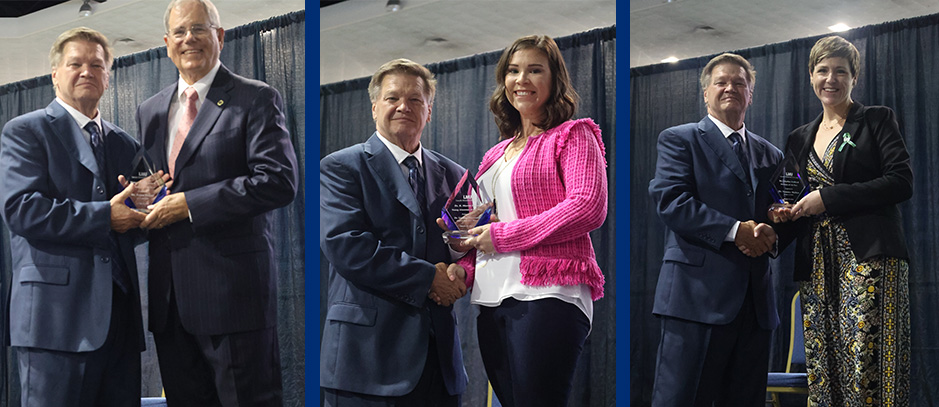 Lincoln Memorial University (LMU) honored three graduates with its highest alumni honors during the Homecoming celebration earlier this month. Dr. Vanessa Walker '03, was honored with the Dr. Charles Holland Alumnus of the Year award, Dr. Bruce Fisher '68, earned the Nancy Rogers Leach Volunteer of the Year award and Dr. Lindsay Haywood, '15, MBA '16, DBA'19, was named the Dr. R. Martin Peters Young Alumnus of the Year.
The Dr. Charles Holland Alumnus of the Year award is given each year to the individual who best personifies the qualities and character of Abraham Lincoln. The award, which is named for the 2013 winner, Dr. Charles Holland, is presented to a man or woman who embodies persistence, dedication in support of people and their freedoms and an obvious dedication to the mission and purpose of LMU. The award goes to a person who has achieved recognition in his or her professional life and who is an ambassador of goodwill and active in alumni activities.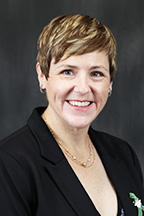 A native of California, Walker moved across the country to attend LMU and play softball. While pursuing a bachelor of science in medical laboratory science, Walker was a member of the Kappa Pi Omega sorority. She went on to earn a doctor of osteopathic medicine degree from Kansas City University College of Osteopathic Medicine, graduating in 2007. She completed a residency at University of Nevada School of Medicine-Reno and a fellowship in pulmonary and critical care medicine at Duke University Hospital. She earned a Master of Management in Clinical Informatics from Duke University-The Fuqua School of Business in 2013. Today, Walker is a practicing pulmonary and critical care physician at Sutter Roseville Medical Center in Roseville, California. In 2020, Walker became Sutter Roseville's director for physician quality, focused on promoting and strengthening the Sutter Safe Care culture. She also serves as the medical director of Sutter's Valley Area electronic ICU. Walker chaired a medical executive wellness committee and also Sutter's Critical Care Clinical Improvement Community and served as a member of the SRMC Credentials Committee and Bioethics Committee. She sits on the board of the Sierra Sacramento Valley Medical Society, serves as medical director of the respiratory therapy program at San Joaquin Valley College, and is a physician adviser to the California Society for Respiratory Care. She was tabbed as an emerging leader in 2020 and to 40 Under 40 in 2021. Walker has never forgotten her foundation in higher education and faithfully gives back to Kappa Pi Omega and has contributed to the scholarship fund established in memory of her softball coach, Dan Burns. Walker and her husband, Robert, whom she met at LMU, have two children, Selma and Salem.
The Nancy Rogers Leach Volunteer of the Year award honors an individual who emphasizes generosity to his or her community by giving of resources, talents and time to improve the quality of life and contribute to the people in the community. The University believes that one of the major cornerstones of meaningful existence is service to humanity and this award, named for a woman with a tremendous spirit of generosity, celebrates an exemplary ambassador of LMU.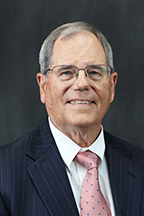 Fisher earned a degree in biology with minors in chemistry and math. He completed a master's degree in zoology at the University of Tennessee (UT), before joining the United States Marine Corps. He completed six years of service, exiting as an E-5 or sergeant. Fisher returned to UT to pursue a doctorate in physiology. He went on to teach at a community college in Virginia before joining the faculty at Roan State Community College in Harriman, Tennessee, where he taught for 40 years and is currently a professor emeritus. Now retired, Fisher drives a mobile medical vehicle operated by the Catholic Diocese of Knoxville and does patient education for clients in East Tennessee communities that are medically underserved. He also volunteers at Mission of Hope. Fisher has served as a director on the LMU National Alumni Association Board. He has helped the organization increase alumni participation throughout his service. Fisher attends numerous LMU events on and off campus, especially in the Knoxville area.
The Dr. R. Martin Peters Young Alumnus of the Year is named for a prolific supporter and ambassador for his alma mater. Peters even stepped in as interim president for one year in 1997. The award honors a recent graduate who embodies the same qualities for which Peters was known.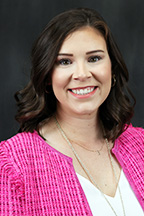 Haywood has been a fixture on campus since her childhood. The daughter of Susan Davis and Jeff Davis, an LMU baseball player in the 1970s, she followed her parents' legacy and played golf on the women's varsity team all four years, serving as captain her senior year. Haywood was involved in many activities on campus including the Student Athlete Advisory Council, Delta Mu Delta and Enactus. She went on to serve as a graduate assistant women's golf coach while earning her MBA. Haywood was inducted into the LMU Athletes Hall of Fame in 2022. She joined the University's staff in 2016 as a recruitment and success coordinator for the School of Business. Haywood earned her Doctor of Business Administration in 2019. She has increased her responsibilities and position, now serving as assistant vice president for enrollment, a position she has held since July 2022. She is a post-secondary member of "The 865 Academies" for Knox County Schools. Haywood is an active member of the LMU Women of Service organization and a strong supporter of LMU athletics. She is also active in the Middlesboro Women's Golf Association. She resides in Harrogate with her husband, Justin, who serves as LMU's head baseball coach. The couple welcomed their first child, Beau Steven, last November.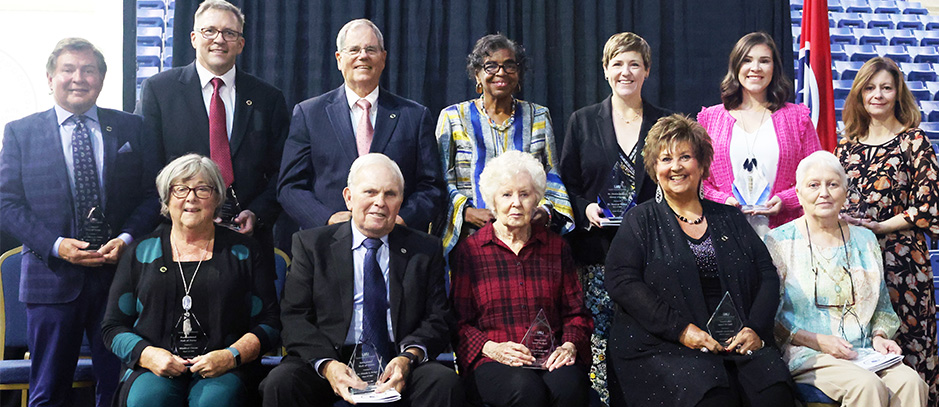 Walker, Fisher and Haywood were honored during LMU's annual Homecoming celebration at the Educators', Literary and Professional Halls of Fame Induction and Alumni Awards Ceremony in Tex Turner Arena on Saturday, Oct. 14. The ceremony also included the induction of 11 new Halls of Fame honorees.
Lincoln Memorial University is a values-based learning community dedicated to providing educational experiences in the liberal arts and professional studies.  The main campus is located in Harrogate, Tennessee. For more information about the undergraduate and graduate programs available at LMU, contact the Office of Admissions at 423-869-6280 or email at
[email protected]
.