LMU Celebrating National Nurse Practitioner Week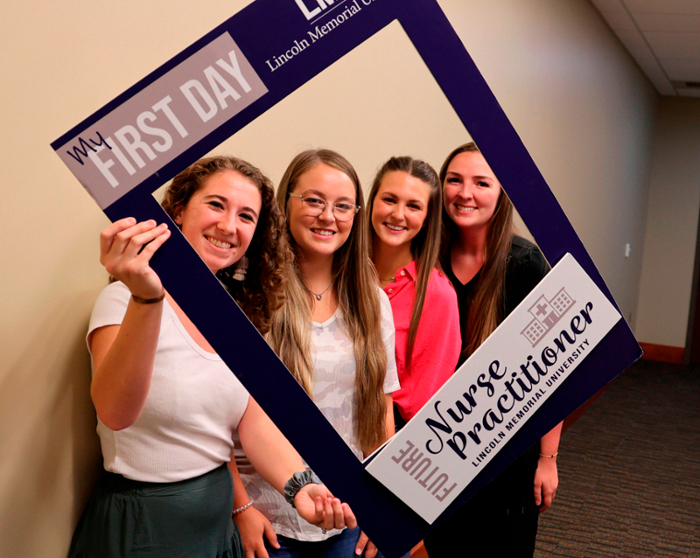 Lincoln Memorial University-Caylor School of Nursing (LMU-CSON) is recognizing the critical role of nurse practitioners (NPs) during National Nurse Practitioner Week, November 12-18, 2023. This year's theme is "NP Week: Recognizing Heroes in Health Care."
In 1965, Drs. Loretta Ford and Henry Silver developed the first NP program. Almost 60 years later, the 2023 commemoration comes in honor of the nation's more than 355,000 NPs who improve the health and lives of millions of patients and their communities every day. NPs have a positive impact in the lives of patients and are vital to the health of the nation.  
NPs lead the way in providing high-quality, cost-effective care. They help solve our nation's pressing access to health care challenges. Each year, patients turn to NPs in over one billion visits for primary, acute, specialty and long-term care across every health care setting. As clinicians who blend clinical expertise with an added emphasis on disease prevention and health management, NPs bring a comprehensive perspective to health care. They practice in clinics, hospitals, emergency rooms, urgent care centers, nursing homes and private practices across the country – wherever patients are in need.
"There are 355,000 NPs caring for patients in nearly every health care setting across our country," said Stephen A. Ferrara, DNP, president of the American Association of Nurse Practitioners® (AANP). "Every day, NPs deliver high-quality care to their patients, improving the access, delivery, outcomes and efficiency of our nation's health care system. This year, the NP role was named as the number one job that helps people, according to U.S. News & World Report. NP Week is an excellent time to recognize the value NPs bring to health care and to showcase the important work they do for their communities."
The LMU-CSON introduced the Master of Science in Nursing program in 2006 with a Family Nurse Practitioner (FNP) concentration offered on the LMU Main Campus in Harrogate, Tennessee. In 2011, the MSN program expanded to include a Family Psychiatric Mental Health Nurse Practitioner (FPMHNP) concentration and the FNP concentration, offering it at the LMU-Cedar Bluff off campus site. In addition to a traditional program, the University now offers the FNP and FPMHNP concentrations online.
"The Caylor School of Nursing is so fortunate to have an opportunity to educate Family Nurse Practitioners and Family Psychiatric Mental Health Nurse Practitioners which will enter the health care system," said Dr. Tammy Dean, dean of LMU-CSON.
Since 2006 more than 550 NPs have graduated from LMU-CSON and now serve in communities throughout Appalachia and beyond.
"It is rewarding to have the opportunity to teach students about mental health in the Caylor School of Nursing," added FPMHNP Program Director, Dr. Lisa Pullen. "There is such a need for mental health providers and services especially since the COVID pandemic. I feel that the students in the CSON have such a variety of classroom and clinical interactive experiences that prepares them to be competent Family Psychiatric Mental Health Nurse Practitioners upon graduation."
Enrollment in the LMU-CSON has increased over the last several years with the addition of new programs and concentrations. The LMU-CSON offers a variety of degree options to meet nurses' career goals including a Licensed Practical Nurse-Associate of Science in Nursing (LPN-ASN), the Associate of Science in Nursing (ASN), the Registered Nurse-Bachelor of Science in Nursing (RN-BSN), and the Bachelor of Science in Nursing (BSN), all at the undergraduate level. At the graduate level, LMU-CSON offers the Master of Science in Nursing (MSN) with concentrations including Family Nurse Practitioner, Family Psychiatric Mental Health Nurse Practitioner, and Nursing Administration. The Doctor of Nursing Practice (DNP) has two tracks, which include the post-baccalaureate DNP Nurse Anesthesia program and the post-master's DNP.   
To learn more about the LMU-CSON, or to apply to one of the many programs offered, visit https://www.lmunet.edu/caylor-school-of-nursing/index.   
Lincoln Memorial University is a values-based learning community dedicated to providing educational experiences in the liberal arts and professional studies. The main campus is in Harrogate, Tennessee. For more information about the undergraduate and graduate programs available at LMU, contact the Office of Admissions at 423.869.6280 or email at [email protected].