LMU Law Review Hosts the Annual Law Review Symposium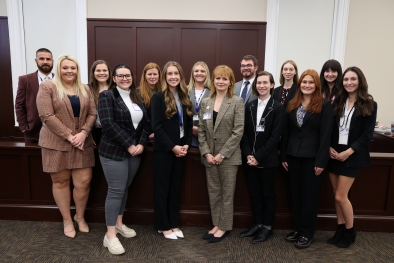 Lincoln Memorial University Duncan School of Law held the annual Law Review Symposium on November 2. The event focused on the reality of reentry after incarceration and how mental health, addiction, and trauma play a role. LMU Law Review partnered with local nonprofit organization Men of Valor.
The event started with a simulation courtesy of the Tennessee Department of Correction (TDOC). The simulation provided attendees with an exercise that demonstrated the process of reentering society after incarceration. Each participant received a packet with the crime they committed and their parole requirements. Then participants were "released from prison" and sent out into the world. Participants had to figure out how to find a job, housing, transportation, food, medical care, child support, and more while keeping in mind, if they violated their parole, they would be sent back to jail.
"This symposium was insightful, and I learned so much about our criminal justice system," said LMU Law Review Staff Editor Trinity Bledsoe. "The simulation showcased how difficult it is for a person to re-enter society after incarceration, and I am sure it only scratched the surface. The simulation was an eye-opening experience as it demonstrated how tasks I find so simple are extremely difficult for someone who is re-entering society. I also enjoyed listening to all the speakers on our afternoon panel. Each speaker was engaging and knowledgeable on the mental health crisis in our prisons, the trauma that people incarcerated have experienced, and ways that we, as future attorneys, can fix the issues our criminal justice system currently faces."
The symposium included presentations from Chief of the Federal Public Defender Capital Habeas Unit in Nashville Kelly Henry, Director of Behavioral Health Services for the Tennessee Department of Correction (TDOC) Jim Casey, Executive Director for The Lazarus Project of Knoxville Whitney Rogers, Knox County Public Defender Eric Lutton, Men of Valor Prison Ministry staff member Alfonso Gilbert, and Dr. Kristen Dauss, chief medical officer for CoreCivic.
"This symposium, highlighting the critical intersection of mental health, addiction, and trauma in the criminal justice system, fostered an essential dialogue among lawyers, mental health practitioners, and prison officials," said Associate Dean of Faculty and Law Review Advisor Melanie Reid. "By bridging the gap between these professions, this symposium not only enlightened us about the challenges faced by those reentering society but also offered a pathway to a more compassionate and effective criminal justice system. It was an event that truly exemplifies the power of knowledge and collaboration in advancing justice and rehabilitation."
The Lincoln Memorial University Duncan School of Law is located in Knoxville's Historic Old City Hall Building. LMU Law is an integral part of LMU's values-based learning community and is dedicated to preparing the next generation of lawyers to provide sound legal service in the often underserved region of Appalachia and beyond. For more information about LMU Law, call 865.545.5303 or visit us online at Law.LMUnet.edu.