Hub New Music to Perform Nov. 16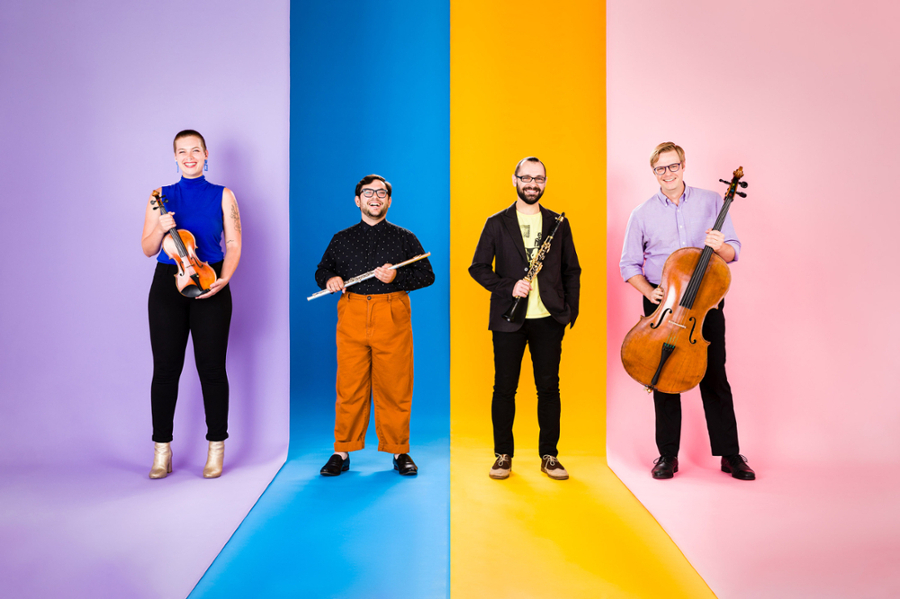 The Lincoln Memorial University (LMU) Music Program in the Paul V. Hamilton School of Arts, Humanities and Social Sciences will host the contemporary quartet Hub New Music on Thursday, November 16, 2023, at 7 p.m. in the Sam and Sue Mars Performing Arts Center at Duke Hall of Citizenship. The performance is open to the public and free to anyone who wishes to attend.
Called "contemporary chamber trailblazers" by the Boston Globe, Hub New Music is a quartet which performs vibrant original works written for them. The group is comprised of Michael Avitabile on flutes, Gleb Kanasevich on clarinets, Meg Rohrer on violin and viola and Jesse Christeson on cello. The ensemble's name is inspired by its original home of Boston, Massachusetts. Hub is currently based in Metro-Detroit and maintains active ties to Boston.
Founded in 2013, Hub New Music has grown into an international touring ensemble driven by its unyielding dedication to groundbreaking new art. Over the past decade, Hub has commissioned dozens of new works for its distinct combination of instruments. The group actively collaborates with today's most celebrated composers to build a fresh and culturally relevant body of work tailor-made for Hub. The ensemble ambitiously commissions projects and performs popular programs which celebrate the rich variety of today's classical music landscape.
Hub New Music performs across the United States and the world. Recent and upcoming performances include concerts presented by the Kennedy Center, Seattle Symphony, Suntory Hall in Tokyo, King's Place in London, the Williams Center for the Arts and the Celebrity Series of Boston. In 2023-24, the group is in residence at Indiana University, Princeton and the Cincinnati College Conservatory of Music. Hub continues its 10th Anniversary Commission Project in 2023-24 with new works by several composers. As part of the project, Hub also launched a fellowship in collaboration with Luna Lab, awarded to Sage Shurman.
Hub New Music's recordings have garnered consistent acclaim. In 2022, Hub recorded Carlos Simon's "Requiem for the Enslaved" on Decca Classics, which was nominated for a Grammy Award for Best Contemporary Classical Composition.
For more information about LMU's Music Program, contact Dr. Ben Bruflat, assistant professor of music, at 423.869.6304 or email [email protected].
Lincoln Memorial University is a values-based learning community dedicated to providing educational experiences in the liberal arts and professional studies. The main campus is in Harrogate, Tennessee. For more information about the undergraduate and graduate programs available at LMU, contact the Office of Admissions at 423.869.6280 or email at [email protected].