Chumley Inducted Into LMU Educators' Hall of Fame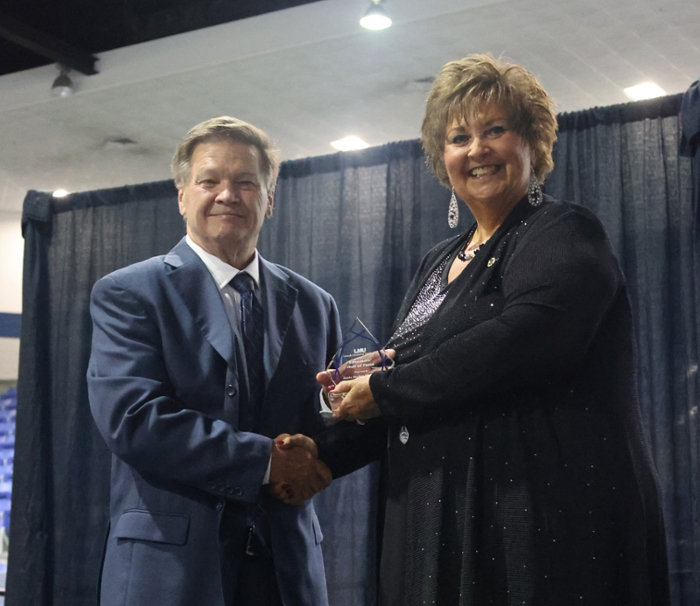 Lincoln Memorial University (LMU) inducted the Class of 2023 into its Educators', Literary and Professional Halls of Fame during Homecoming celebrations in October. Katherine "Katie" Harber Chumley, '76, was inducted into the Educators' Hall of Fame.
Chumley earned a Bachelor of Science degree in 1976 and taught her first two years at Ellen Myers Primary School, located across the highway from LMU's main campus in Harrogate. She then transferred to Springdale Elementary School, where she spent her next 28 years. She taught various subjects in various grades while at Springdale, which has students from kindergarten through sixth grade. She was active in the school and community, heading up Jump Rope for Life and the celebration of Earth Day at LMU with all Springdale students participating. 
Music and the arts have always been Chumley's first loves. During her career she found avenues in which she could expose her students to her passion. She was Springdale's first girls' drill team coach. The choir she directed had to arrive at school early to participate because they couldn't miss class to practice. That meant singing and choreographing from 6:45 to 7:45 a.m. three days per week. She also taught line dancing and worked with many in voice and piano.
"She was a student who wanted to be a great teacher and she did all she could to learn as much as she could to be that teacher," shared former LMU Professor of Education Dr. Okie Wolfe. "She had so much creativeness in the classroom. Katie was a great teacher and is a very talented lady. She loves her music and has been in many plays on the LMU stage as a student and later as an alum."
Chumley has remained active at her alma mater, participating in numerous productions of LMU's theatre department.
"Of all the people I have met in this East Tennessee area since I began working at LMU, no one comes close to living, breathing and gleaming blue and gray as Katie Chumley," wrote LMU Assistant Professor of Theatre Joe Gill. "Although I have not had the honor of being taught by her, through directing her I have gotten to witness many strong and positive attributes that an excellent teacher would possess. She is encouraging to the people around her. She is willing and fearless, and she still wants to keep learning and growing on the stage."
She is also very active in the entire community.
"As a most needed representative for dramatic offerings and for an always willing attitude toward University community and alumni projects, Katie is always there for support and involvement," said Gary Burchett, former LMU president, and his wife, Frances.
Chumley earned the Educational Licensure from Cumberland College and an EdS from East Tennessee State University. She was a member of the National Teacher's Association. She and her husband Dennis reside in Harrogate.
To be considered for induction into the Halls of Fame, the nominee must be an alum of LMU or an employee with at least 10 years of services. They must have been active in their area of expertise for a minimum of 10 years and made contributions or significant achievements in their field.
Chumley was honored during LMU's annual Homecoming celebration at the Educators', Literary and Professional Halls of Fame Induction and Alumni Awards Ceremony in Tex Turner Arena. The ceremony also included the presentation of the Alumnus of the Year, Volunteer of the Year and Young Alumnus of the Year awards and recognition for the Class of 2023 Halls of Fame inductees.
Lincoln Memorial University is a values-based learning community dedicated to providing educational experiences in the liberal arts and professional studies. The main campus is in Harrogate, Tennessee. For more information about the undergraduate and graduate programs available at LMU, contact the Office of Admissions at 423.869.6280 or email at [email protected].