Houck Inducted Into LMU Educators' Hall of Fame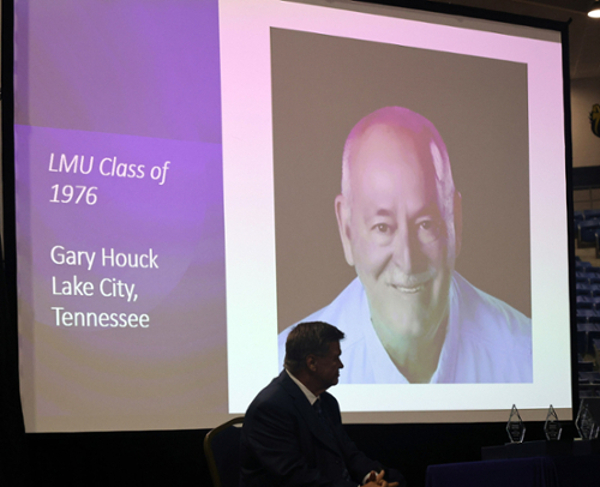 Lincoln Memorial University (LMU) inducted the Class of 2023 into its Educators', Literary and Professional Halls of Fame during Homecoming celebrations in October. Gary Houck, '76, was inducted into the Educators' Hall of Fame.
Houck earned a Bachelor of Science degree in 1976, with a double major in health and physical education and special education. He spent 21 years educating and mentoring students in alternative education. He played an integral role in setting the standard for these programs across the state by serving multiple terms on the Governor's Advisory Council for Alternative Education. In 2021, he had the honor of being the opening principal of Clinch River Community School, Anderson County's K-12 alternative education program.
"Gary was very instrumental in promoting for a new school for students who needed a different environment to learn in, and needed smaller class sizes," said former Anderson County Director of Schools Larry Foster. "Gary attended many county commission meetings advocating for a new facility that would meet the needs of each student. As a result of his leadership and persistence, the Clinch River Community School was built to accommodate students with different learning styles."
Outside of school hours, Houck coached girls' softball. He started the program at Lake City High School in 1981 and was assistant and head coach at Anderson County High School for many years. He continues to be a volunteer coach for the Lady Mavs. In recognition of the positive impact he had on female athletes, the softball field was named in his honor in 2016.
Houck, who retired in 2013, received numerous awards during his career, including Teacher of the Year and Principal of the Year. He and his wife Lori, who is also a 1976 graduate, reside in Lake City, Tennessee.
To be considered for induction into the Halls of Fame, the nominee must be an alum of LMU or an employee with at least 10 years of services. They must have been active in their area of expertise for a minimum of 10 years and made contributions or significant achievements in their field.
Houck was honored during LMU's annual Homecoming celebration at the Educators', Literary and Professional Halls of Fame Induction and Alumni Awards Ceremony in Tex Turner Arena. The ceremony also included the presentation of the Alumnus of the Year, Volunteer of the Year and Young Alumnus of the Year awards and recognition for the Class of 2023 Halls of Fame inductees.
Lincoln Memorial University is a values-based learning community dedicated to providing educational experiences in the liberal arts and professional studies. The main campus is in Harrogate, Tennessee. For more information about the undergraduate and graduate programs available at LMU, contact the Office of Admissions at 423.869.6280 or email at [email protected].