Minton Inducted Into LMU Educators' Hall of Fame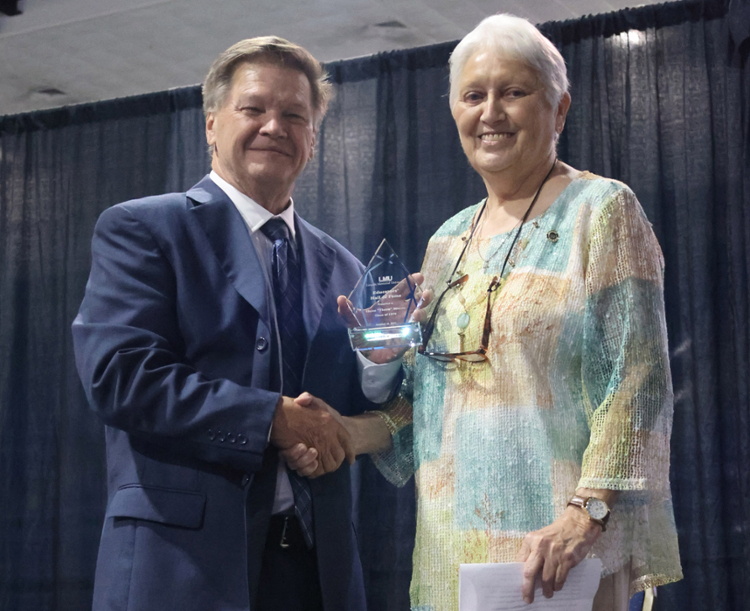 Lincoln Memorial University (LMU) inducted the Class of 2023 into its Educators', Literary and Professional Halls of Fame during Homecoming celebrations in October. Elaine "Therm" Minton, '76, was inducted into the Educators' Hall of Fame.
Minton earned a Bachelor of Science degree and K-12 teacher's certification in health and physical education in 1976. Following graduation from LMU, she taught health, spelling and reading in the Claiborne County School System while working part-time as a head resident and intramural director at LMU. In 1977, Minton accepted a full-time position with LMU as an Upward Bound Special Service Counselor working with area high school students.
In Fall 1981, Minton was appointed director of athletics at LMU. At the time, she was the only female athletic director in the Volunteer State Athletic Conference and the state of Tennessee. During that same year, Railsplitter women's softball made its debut, guided by Minton. Not only was she the coach but also the groundskeeper for the field and the bus driver for away trips.
"Therm's integrity is a characteristic that comes to mind when I remember her. You knew what she meant even if you didn't want to hear it. She was good at tendering tough love," said Linda Tolbert King, '85, who played softball for Minton and became an educator herself. "Therm stays current with the lives of former students and is genuinely interested in their families. People won't care how much you know until you know how much you care. Influential educators care."
Minton is a native of Nickelsville, Virginia, and earned an associate degree from Mountain Empire Community College before transferring to LMU. She left work at her alma mater in the late 1980s in order to be nearer to her home and family. She served in the Kingsport City School System in various capacities including teacher, coach and administrator until she retired in 2016.
Fellow Railsplitter and colleague in LMU's Upward Bound Program Rick Million said that he admired Minton's career but the capacity she served in he appreciated her most was her time in Kingsport City Schools as Robinson Middle School's assistant principal.
"Many students, including both my daughters, were taught valuable life lessons by Ms. Minton," he said. "She was always available for students in need of assistance, taking particular care of the many homeless students she encountered on a daily basis."
Minton earned a master's degree from Tusculum and an administration endorsement from LMU while working in Kingsport, where she currently resides. She received the prestigious Mary Mildred Sullivan Award from LMU in 1987. This award recognizes individuals who have demonstrated noble character and acted as humble servants, placing service to others before self-interest. She was inducted into the LMU Athletes Hall of Fame in 2002 and served on the Hall of Fame Committee for several years.
To be considered for induction into the Halls of Fame, the nominee must be an alum of LMU or an employee with at least 10 years of services. They must have been active in their area of expertise for a minimum of 10 years and made contributions or significant achievements in their field.
Minton was honored during LMU's annual Homecoming celebration at the Educators', Literary and Professional Halls of Fame Induction and Alumni Awards Ceremony in Tex Turner Arena. The ceremony also included the presentation of the Alumnus of the Year, Volunteer of the Year and Young Alumnus of the Year awards and recognition for the Class of 2023 Halls of Fame inductees.
Lincoln Memorial University is a values-based learning community dedicated to providing educational experiences in the liberal arts and professional studies. The main campus is in Harrogate, Tennessee. For more information about the undergraduate and graduate programs available at LMU, contact the Office of Admissions at 423.869.6280 or email at [email protected].