Norris Inducted Into LMU Educators' Hall of Fame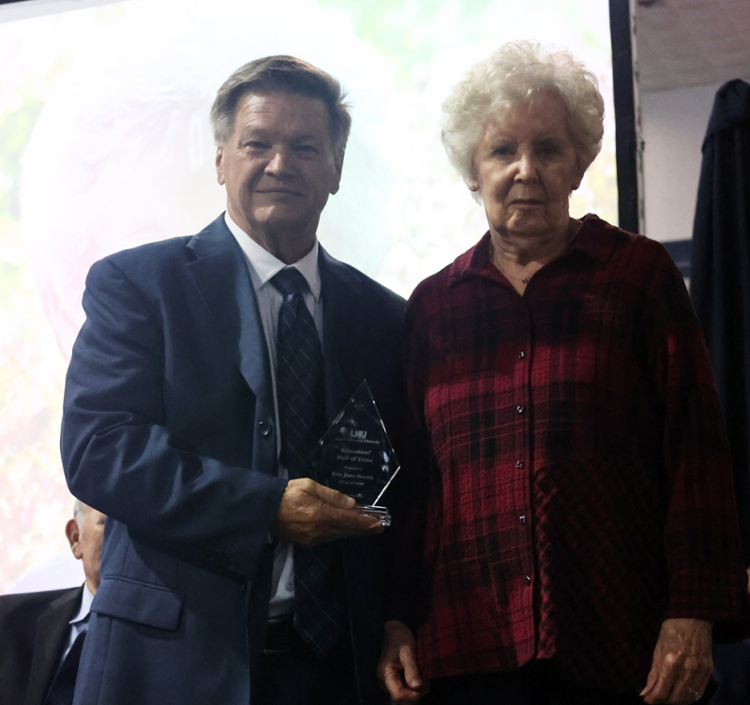 Lincoln Memorial University (LMU) inducted the Class of 2023 into its Educators', Literary and Professional Halls of Fame during Homecoming celebrations in October. Etta Jane Norris, '60, was inducted into the Educators' Hall of Fame.
Norris earned a Bachelor of Science degree in 1960. She taught one year in Knoxville, Tennessee, before returning home to Claiborne County High School where she taught science and chemistry. She earned a master's degree and Career Ladder III Educator status during her career.
Known for teaching difficult material in a fun and inviting way, Norris challenged her students to prepare them for post-secondary education. Because of her exceptional knowledge and the teaching techniques she used, Norris motivated many students to become teachers, nurses, pharmacists, doctors and other professional leaders. She had a true concern for those sitting in her classroom.
"Characteristics of an educator are dedication, knowledge of curriculum, quality of instruction, dignity and fairness. This describes Etta Jane Norris," said Bennie Mills, a fellow educator and friend of Norris. "A teacher also helps to shape academic goals. Thanks to Mrs. Norris, our son was well-prepared for his university chemistry classes. Today he is a doctor of pharmacy."
Her influence was not limited to the classroom. Norris guided students with a personal touch in less academic settings through extracurricular activities. Her leadership during science fairs, club activities, yearbook development and homecoming let others see the many facets of her abilities and personality.
"This lifelong educator has a long and impressive professional career and has ability and character beyond reproach," said Dr. Fred A. Hurst. "She is admired by thousands of educators and students."
Norris was recently recognized for the 50-plus years she brought her teaching skills to the youngest, most pliable lives at First Baptist Church in New Tazewell, Tennessee. Known as "Miss Etta Jane" to three-, four- and five-year-olds, Norris traded her chemistry lab during the week for an exciting pre-school learning center on Sunday mornings.
After an impressive career, Norris retired from the public school system in 2001. She was married to the late Dr. Roy K. Norris, who served as superintendent/director of Claiborne County Schools. She has two adult sons.
To be considered for induction into the Halls of Fame, the nominee must be an alum of LMU or an employee with at least 10 years of services. They must have been active in their area of expertise for a minimum of 10 years and made contributions or significant achievements in their field.
Norris was honored during LMU's annual Homecoming celebration at the Educators', Literary and Professional Halls of Fame Induction and Alumni Awards Ceremony in Tex Turner Arena. The ceremony also included the presentation of the Alumnus of the Year, Volunteer of the Year and Young Alumnus of the Year awards and recognition for the Class of 2023 Halls of Fame inductees.
Lincoln Memorial University is a values-based learning community dedicated to providing educational experiences in the liberal arts and professional studies. The main campus is in Harrogate, Tennessee. For more information about the undergraduate and graduate programs available at LMU, contact the Office of Admissions at 423.869.6280 or email at [email protected].