Peters Inducted Into LMU Educators' Hall of Fame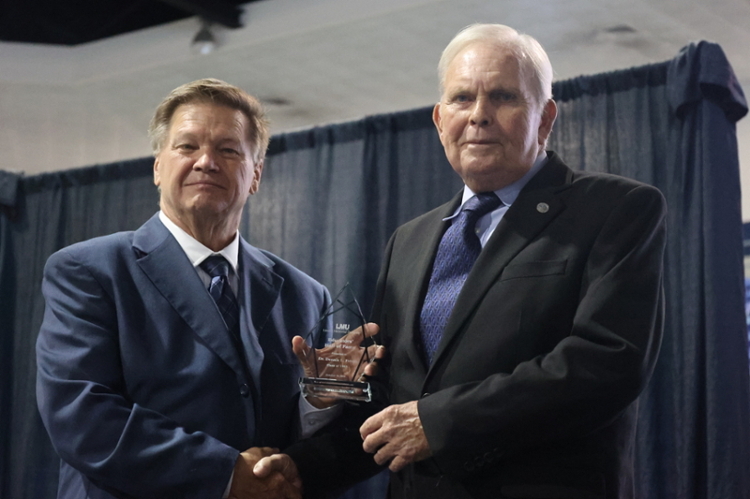 Lincoln Memorial University (LMU) inducted the Class of 2023 into its Educators', Literary and Professional Halls of Fame during Homecoming celebrations in October. Dr. Dennis L. "Denny" Peters, '65, was inducted into the Educators' Hall of Fame.
Peters earned a Bachelor of Science in education in 1965. He served Claiborne County, Tennessee, throughout his career except for a short teaching stint in Fairfax, Virginia. He was a teacher and coach at Forge Ridge School and Powell Valley High School. He later served as principal of Claiborne County High School and director of Claiborne County Vocational School. He was superintendent of Claiborne County Schools from 1984-1990.
"Denny served in several education leadership roles, including the development of a project for Southern Regional Education Board that served five counties," shared Roger Hansard, '73. "During his tenure as director of the vocational school, the school received many national awards and recognitions."
Not stopping after his tenure as superintendent, Peters continued his service as an educator. He earned his Doctor of Education from East Tennessee State University and has been an adjunct professor for LMU, Walters State Community College and Tusculum College (now University). He worked for the State of Tennessee in various positions as a consultant and evaluator and currently sits on the board of directors for Tennessee Opportunity Programs.
"Dr. Peters was always willing to go the extra mile for the benefit of all the citizens of the county," said Cynthia Peters, '72. "He has been quoted as saying his door was always open to the public."
Peters is described as a man of action and supports several organizations that are important to him, including First Priority, Heritage Christian Academy, Boy Scouts, Girl Scouts and the Halls Women's League.
"Denny's many career accomplishments can be enumerated easily. I consider his other, less tangible, characteristics just as important," said Robert Burchett, a longtime friend of Peters. "We've shared many games of golf over the years, and he never gets upset and I have never heard him speak foul language. He has given the majority of his life to educating the people of Appalachia. Denny, with the support of his wife Sandy, is a true Railsplitter."
Peters is very involved with his alma mater and shares his love for LMU often. He attends numerous events and alumni gatherings, and together with Sandy has established an endowed scholarship. They now reside in Knoxville, Tennessee, and he enjoys spending time with family.
"Denny's vision and leadership as an outstanding educator certainly deserves the honor of induction into the Educators' Hall of Fame," said fellow educator Sherrie Claiborne.
To be considered for induction into the Halls of Fame, the nominee must be an alum of LMU or an employee with at least 10 years of services. They must have been active in their area of expertise for a minimum of 10 years and made contributions or significant achievements in their field.
Peters was honored during LMU's annual Homecoming celebration at the Educators', Literary and Professional Halls of Fame Induction and Alumni Awards Ceremony in Tex Turner Arena. The ceremony also included the presentation of the Alumnus of the Year, Volunteer of the Year and Young Alumnus of the Year awards and recognition for the Class of 2023 Halls of Fame inductees.
Lincoln Memorial University is a values-based learning community dedicated to providing educational experiences in the liberal arts and professional studies. The main campus is in Harrogate, Tennessee. For more information about the undergraduate and graduate programs available at LMU, contact the Office of Admissions at 423.869.6280 or email at [email protected].