LMU Holds White Coat Ceremony for Doctor of Occupational Therapy Program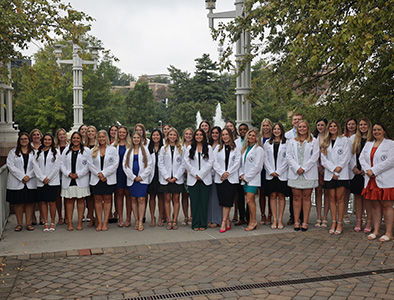 Lincoln Memorial University-DeBusk College of Osteopathic Medicine (LMU-DCOM) celebrated its first-year students in the Doctor of Occupational Therapy Program (OTD), hosting a White Coat Ceremony for the Class of 2026 at the Knoxville Convention Center on Friday, October 6.
The White Coat Ceremony is a rite of passage for many health care professions, including occupational therapy programs. The ritual provides an opportunity to reflect on the importance of humanism in occupational therapy practice and client-centered care. The 32 students of the Class of 2026 were presented with the white laboratory coat to signify they have demonstrated the knowledge, skills and attitudes to move on to the next phase of training within the occupational therapy program.
Following the invocation and a welcome from Interim Program Director Deborah Ruediger, OTD, OTR, CHSE, CAPS, the Class of 2026 heard a keynote address from Knox County ADA Coordinator Carly Pearson. A former wildland firefighter, Pearson suffered a spinal cord injury in a fall which left her in a wheelchair. During her address, Pearson told the students that it wasn't the doctors or even her family that kept her going during her recovery, it was the therapists both occupational and physical. She also shared how her love of sports kept her going and has led to her becoming a decorated para athlete competing for Team USA in handcycling and para climbing. She also competed and won the Ms. Wheelchair Tennessee pageant in 2016.
 "God has aligned you as a gatekeeper for your patients who are struggling. You can take them down in the well all the way up to champions." Pearson said. "Think of a lighthouse. Go buy yourself a lighthouse magnet and put it on your fridge. You are a beacon; you are the hope for your patients."
Following the address all 32 students were called by name and presented a white coat embroidered with their names and the LMU-DCOM seal. Faculty mentors Dr. Jillian Pindar, doctoral capstone coordinator, and Dr. Deborah Zeitlin, assistant professor, presented the coats and Dr. Jackson Miller, assistant professor, led the students in the Occupational Therapy Pledge and Creed. Occupational Therapy Student Madison Griffin, Student Occupational Therapy Association president and member of the Class of 2025, also addressed the students. Dr. Emma Sabransky, associate program director, closed the ceremony with a final message to the Class of 2026.
The DeBusk College of Osteopathic Medicine is located on the campus of Lincoln Memorial University in Harrogate, Tennessee, and at LMU-Knoxville in Knoxville, Tennessee. LMU-DCOM is an integral part of LMU's values-based learning community and is dedicated to preparing the next generation of osteopathic physicians to provide health care in the often-underserved region of Appalachia and beyond. For more information about LMU-DCOM, call 1.800.325.0900, ext. 7082, email [email protected], or visit us online at http://med.LMUnet.edu.