LMU Players to Present 'A Tuna Christmas'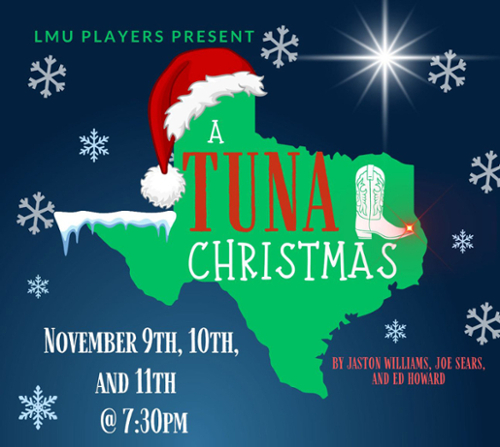 The Lincoln Memorial University (LMU) Paul V. Hamilton School of Arts, Humanities and Social Sciences and The LMU Players will present "A Tuna Christmas" for the fall production, Thursday through Saturday, November 9-11, 2023. Performances will begin at 7:30 p.m. in the Sam and Sue Mars Performing Arts Center in the Duke Hall of Citizenship, on LMU's main campus in Harrogate, Tennessee.
"A Tuna Christmas" is a comedy by Jaston Williams, Joe Sears and Ed Howard. It is about a small town—the "third smallest"—in Texas preparing for the big Christmas yard display contest, which has been won 14 times in a row by Vera Carp. During this affectionate comment on small-town Southern life a mysterious "Christmas Phantom," known for vandalizing the yard displays, threatens to throw the contest into turmoil.
This classic farce, with many characters, will be portrayed by several talented performers. The play is produced and directed by Joe Gill, assistant professor of theater. The cast consists of LMU students Clayton Baker, Sam Billingsley, Evan Black, Theo Czepiel, Briar Jeffers, Sam Lancaster, Hannah Murphy and Jacci Olson. Wendi Pursel, program administrative coordinator of the LMU Physician Assistant Program, rounds out the cast.
The play premiered in 1989 and is the second in a series of comedic plays, each set in the fictional town of Tuna, Texas. It continues to be regularly performed across the country to positive reviews.
All performances will begin at 7:30 p.m. Online ticket reservations through Eventbrite are encouraged. Tickets online are $9 plus a small fee in advance and $10 cash at the door. Tickets are free for LMU students, faculty and staff with an LMU ID, and for children under 12. Order tickets online at Eventbrite here: https://tinyurl.com/2meu6jjp. For more information, contact Gill by email at [email protected] or by phone at 423.869.6265.
Lincoln Memorial University is a values-based learning community dedicated to providing educational experiences in the liberal arts and professional studies. The main campus is in Harrogate, Tennessee. For more information about the undergraduate and graduate programs available at LMU, contact the Office of Admissions at 423.869.6280 or email at [email protected].