Knoxville PA Class of 2024 Honored at White Coat Ceremony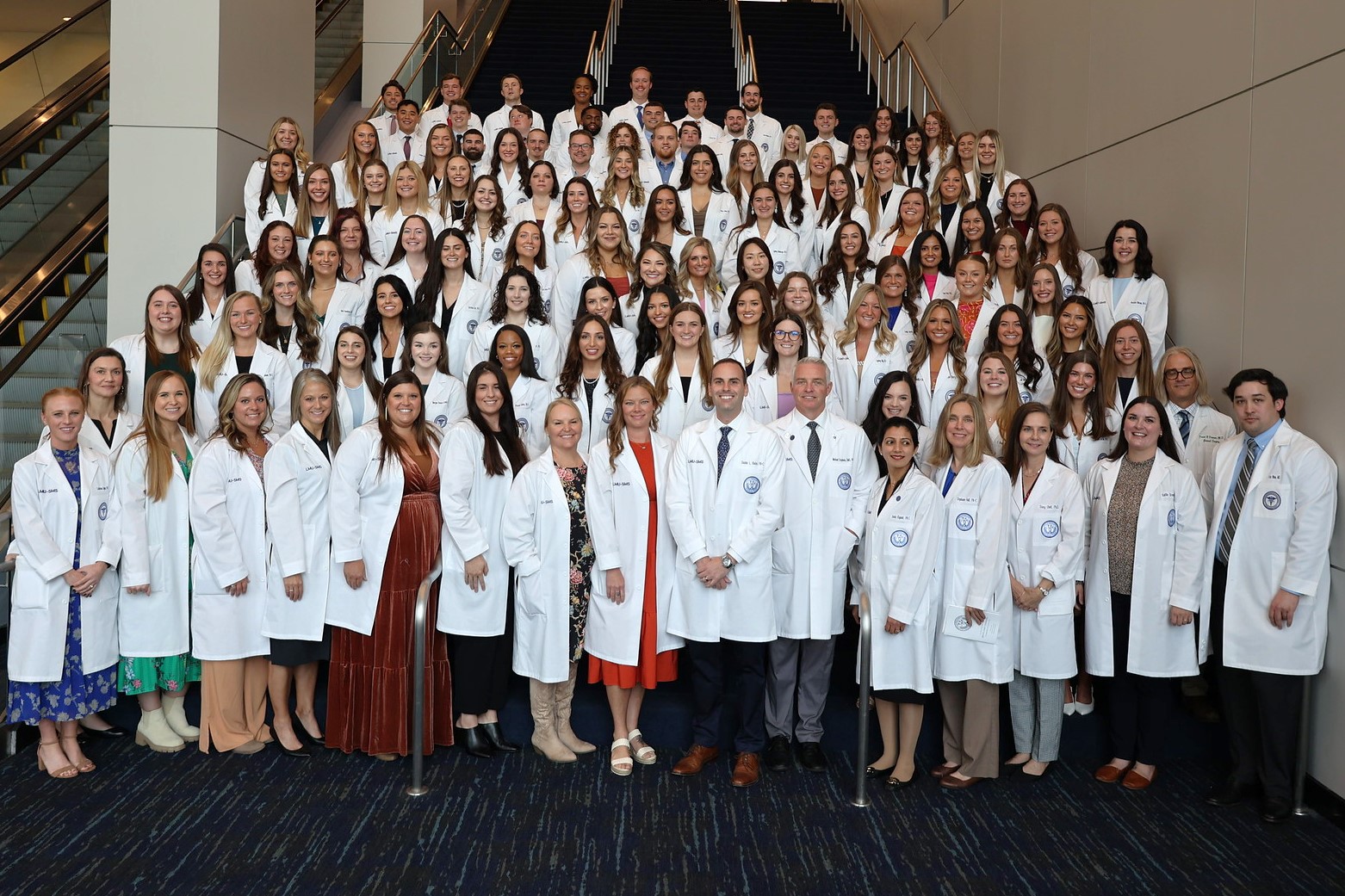 The Lincoln Memorial University-School of Medical Science (LMU-SMS) honored the Class of 2024 Knoxville Physician Assistant (PA) program at a White Coat Ceremony on October 27, at the Knoxville Convention Center.
PA program preceptor Meghan Shotwell, MSHS, PA-C, addressed the 94 students during her keynote speech.
"Wear your white coat heavy with responsibility, but overflowing with professionalism and with pride with all that you have accomplished and all that you will accomplish throughout your career," Shotwell said. "This is where the fun begins. Congratulations."
The White Coat Ceremony is an important, public demonstration of a student's commitment to patient care and professionalism. Each student Physician Assistant is presented and "robed" with his or her short white laboratory coat. The ceremony is considered a rite of passage indicating the student has demonstrated the qualities and abilities to provide competent care to move on to the next phase of his or her training.
"Be proud of how far you have come and what you have accomplished," said Aaron Robinson, PS-S,president for the Class of 2024. "Go out into this next year of learning with the burning desire to become better, wiser and more skilled, not just for yourself, but for every single patient you will serve as a physician assistant."
Others ceremony participants included Medical Laboratory Science Program Director Bill Engle, DD, MS (CLS); LMU President Clayton Hess, PhD; Physician Assistant Program Director and Assistant Dean Dustin Bates, DMS, MSPAS, PA-C; Assistant Professor of Didactic Education Catherine Taylor, MSPAS, PA-C; Assistant Professor and Director of Didactic Education Stacy Chelf, PhD; and Professor, Principal Faculty, Director of Assessment Stephanie Hull, DMS, EdS, MMS, PA-C. Coaters were Associate Professor and Director of Clinical Education Sonia Rupani, DMS, MS, AE-C, PA-C; Assistant Professor and Principal Faculty Chelsey Cantwell, MSPAS, PA-C; and Assistant Professor and Principal Faculty Erin Kramer, MMS, PA-C.
View the event photos here: https://flic.kr/s/aHBqjB188k
View the White Coat Ceremony program here: 2023 Knoxville PA White Coat Program by LMUnet - Flipsnack
View a recording of the event at: https://portal.stretchinternet.com/lincolnmemorialevents/portal.htm?eventId=738019&streamType=video
Established in 2019, LMU-SMS is home to LMU's Physician Assistant Program at the main campus in Harrogate, a Surgical Physician Assistant Program at LMU-Knoxville, the Doctor of Medical Science program in Harrogate, and the Bachelor of Medical Laboratory Science program. The school supports the University's mission of service to Appalachia and other underserved areas by maintaining high quality medical education and supporting student success.
Lincoln Memorial University is a values-based learning community dedicated to providing educational experiences in the liberal arts and professional studies.  The main campus is located in Harrogate, Tennessee. For more information about the undergraduate and graduate programs available at LMU, contact the Office of Admissions at 423-869-6280 or email at [email protected].