JFWA Representing US at World School International Forum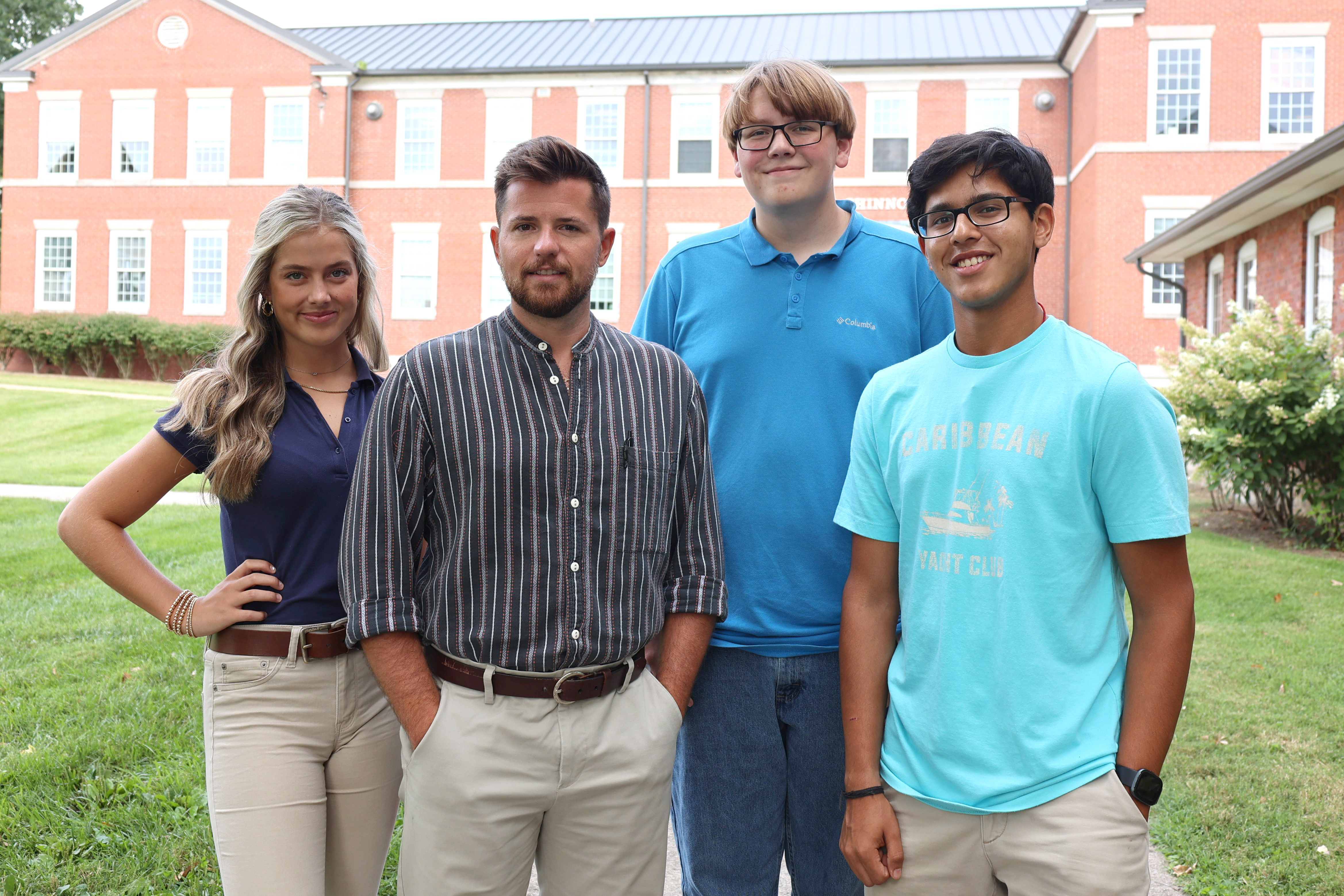 Three students from the J. Frank White Academy (JFWA) of Lincoln Memorial University (LMU) will represent the U.S. at Word School International Forum October 9 -17 in Tokyo, Japan. The cultural exchange program brings together high school students and teachers from 21 counties to create a network of friendships, broaden perspectives and develop globally minded future leaders.
Ella Wynn, Shashi Verma, and Sam Wright accompanied by Academy alumni Zachary Greene, make up Team USA. The students competed for the three spots through a rigorous application and interview process conducted by Academy faculty and staff.
Greene serves as Director of Academic and Inclusive Excellence at the LMU-Richard A. Gillespie College of Veterinary Medicine (LMU-CVM) and spent seven years teaching Spanish at JFWA. He was the teacher delegate for the in-person forum in 2019, which was held in Romania. From 2020-2022 World School continued in a virtual format and is back in person this year.
"I am thrilled to accompany these amazing student delegates from JFWA to World School 2023," Greene said. "They worked very hard and dreamt about this opportunity for years. The connections and experiences they gain will be invaluable. As I know the students are, I am grateful for the honor of representing LMU and the United States again at the World School International Forum."
Students will begin their trip gathering in multinational teams visiting and learning about Katsuura, a small farming and seaside city located in the suburbs of Tokyo, and then continue to Tokyo for more cultural exchange experiences.
"Being chosen to represent my country and my school in the World School International Forum is a huge honor," said Wynn, a senior from Jonesville, Virginia. "I love to travel, and I will cherish the experiences I gain on this upcoming trip to Japan. Being chosen as a World School delegate is something I have strived to achieve since I came to the Academy in fifth grade."
Wright and Verma were part of the 2022 online delegation to World School, and Wright wants to eventually teach English in Japan.
"One of the biggest things I've looked forwards to while being at JFWA is the ability to participate in World School," Wright said. "When the opportunity re-arose for me to actually travel, I enrolled without hesitation. I'm almost conversational in the Japanese language, so being able to experience Tokyo is something that I'm absolutely looking forward to…Even if you're not wanting to go to learn a language, like me, you should still travel, as I have friends that I've met because of my involvement in these online programs that I'm still regularly in contact with."
Created in 1997 by Masaki Matsudaira, a former chairman and current adviser to Kanto International School in Tokyo, Japan, World School aims to create a truly borderless entity that will bring together high school students and teachers from all areas of the world to help the participants create their image of an ideal educational program. LMU and the JFWA hosted World School in 2002 and 2012, and send delegations each year.
The J. Frank White Academy is a private, college preparatory day school serving grades K-12, located on the campus of Lincoln Memorial University. JFWA is fully accredited and STEM certified by Cognia, which is the first internationally recognized mark of quality for STEM (science, technology, engineering, and mathematics) schools and programs, signaling the growing emphasis on STEM education by educators, politicians, and business leaders around the world. For more information contact the JFWA Director of Admissions or apply online at JFWA.LMUnet.edu.