Dharmasena Promoted to Associate Professor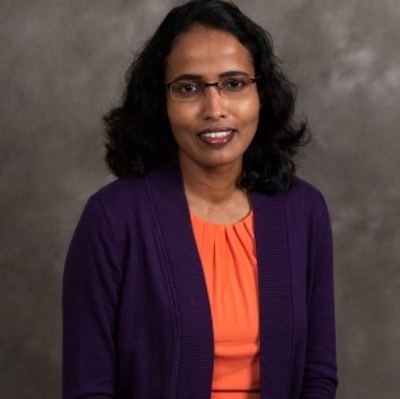 The Lincoln Memorial University (LMU) School of Mathematics and Sciences Dean Adam Rollins has announced the promotion of Dr. Muthu Dharmasena to associate professor.
"Dr. Dharmasena excels in making microbiology engaging for her students," said Rollins. "Beyond teaching, she mentors undergraduates in innovative research, ranging from pathogenic bacteria in dairy to water sample investigations. Her contributions are significant in the biological sciences."
Dharmasena joined the LMU faculty as assistant professor of biology and microbiology in 2018. She is enthusiastic about research and teaching. She also enjoys mentoring and serving as academic advisor for undergraduate students in the pre-med and pre-health programs. She has taught numerous courses including biology, microbiology and the required labs for each. She is well-published in several peer-reviewed publications and has made numerous oral and poster presentations. She and her students make regular contributions to LMU Research Day and the Blue Ridge Undergraduate Conference.  
Her research while at LMU has included assessing the prevalence of pathogenic bacteria in raw milk and fermented dairy products made from raw/unpasteurized milk. She has also analyzed water samples from the Powell River for fecal contaminations and antimicrobial properties of novel materials against some selected gram-positive bacteria, assessing the effect of triclosan on some selected probiotic cultures.
Dharmasena attended the University of Kelaniya in Sri Lanka, where she earned a Bachelor of Science in Microbiology in 2006. She earned a master of science in 2012 from Clemson University in Clemson, South Carolina, with concentrations in food science, nutrition and culinary science. She continued her education at Clemson University, completing a PhD in food technology in 2018.
While at Clemson, she was a graduate research assistant for six years and a graduate teaching assistant for two years. Her research included surveying samples of commercial compost for contaminations, applying disinfection chemistries on C. difficile endospores, and assessing the viability of probiotic bacteria using plate counting and flowcytometry in probiotic food products. She also participated in a study funded for $24 million from the U.S. Department of Agriculture that analyzed over 4,000 environmental swab samples for the presence of an infectious pathogen, Norovirus genotypes I and II, using TaqMan real-time polymerase chain reaction.    
Dharmasena has participated in professional meetings and organizations, including the American Society for Microbiology. She is a member of the International Association for Food Protection and attends many meetings. She has received grant funding for research and has been published numerous times. Some of the publications include the Journal of Applied Microbiology, Applied and Environmental Microbiology and Journal of Food Protection.   
Lincoln Memorial University is a values-based learning community dedicated to providing educational experiences in the liberal arts and professional studies. The main campus is in Harrogate, Tennessee. For more information about the undergraduate and graduate programs available at LMU, contact the Office of Admissions at 423.869.6280 or email at [email protected].