LMU-CDM Provides Free Care to Hundreds During the Lee County Healthy Day Clinic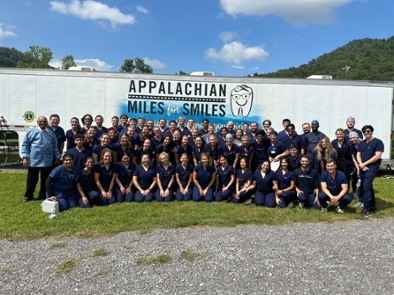 Lincoln Memorial University-College of Dental Medicine (LMU-CDM) continues to emphasize its goal to address oral health needs and provide access to dental health care in the Appalachian region through community service efforts.
LMU-CDM partnered with Appalachian Miles for Smiles, The Health Wagon, and other local organizations to bring free basic health services to Lee County, Virginia, on September 8. 
During the clinic, 110 children received free dental care, including cleanings, fillings, and fluoride varnish to help prevent cavities. Additionally, 100 adults received dental care, and 36 patients were scheduled for follow-up care at nearby facilities in Wise, Virginia, and the LMU-CDM Morristown, Tennessee, clinic.
"The healthy day event in Lee County was an excellent opportunity for the College of Dental Medicine's D2 students to provide much needed care to patients in Lee County Virginia," said Dean and Chief Academic Officer Denise Terese-Koch, DDS, FAGD, MBA, EdD. "We look forward to working with Appalachian Miles for Smiles and the Health Wagon to bring additional events to Southwest Virginia and continue to provide care the underserved communities in need."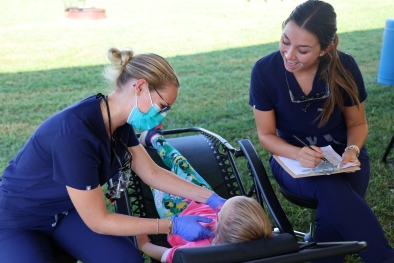 Collectively at the clinic, 40 patients received comprehensive eye exams by an ophthalmologist, refractions, and free eyeglasses; 25 patients had comprehensive medical exams and treatments; five patients underwent pulmonary consultation, chest x-rays, and pulmonary function tests; 25 patients underwent hearing testing, ear evaluation, and planning by ETSU Audiology Department; 100 families received a food box from Feeding Southwest VA; and $1,500 worth of snacks and meals were provided to volunteers, courtesy of LMU Women of Service. 
Using low-end pricing, approximately $82,125 of medical and dental services were provided free to the Lee County community.
Lincoln Memorial University is a values-based learning community dedicated to providing educational experiences in the liberal arts and professional studies. Lincoln Memorial University-College of Dental Medicine (LMU-CDM) is home to the Doctor of Medicine in Dentistry (DMD) and Dental Hygiene (DH) programs. It is located in Knoxville at the newly renovated LMU Tower. For more information about LMU-CDM programs contact, [email protected].