Brandt Promoted to Professor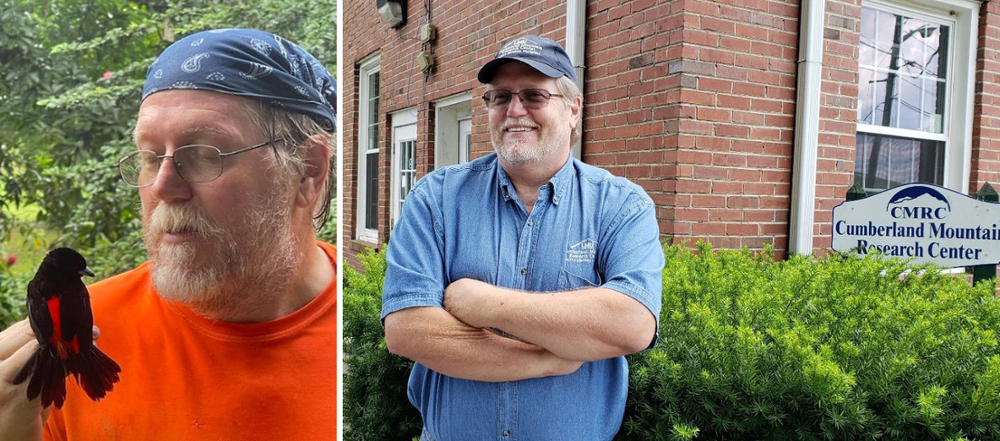 The Lincoln Memorial University (LMU) School of Mathematics and Sciences Dean Adam Rollins has announced the promotion of Dr. LaRoy Brandt to professor of biology and conservation biology.
"Dr. LaRoy Brandt exemplifies what it means to be an educator and leader within and beyond the LMU community. Through his innovative pedagogical approaches in conservation biology and leadership of the Cumberland Mountain Research Center, Dr. Brandt seamlessly blends academic rigor with practical, field-based learning, ultimately elevating our students' educational experiences and career readiness," said Rollins. "His service contributions are many and range from supporting LMU's Honors Scholars students to serving as chief of the North Tazewell Volunteer Fire Department. His activities underscore his spirit of community and commitment to those he serves. Dr. Brandt's promotion recognizes his multifaceted contributions to academia, research and community service."
Brandt earned an associate of arts in 1994 from State Fair Community College in Sedalia, Missouri. Two years later he completed a Bachelor of Science in Biology from Missouri State University in Springfield. He continued his education at the University of Central Missouri, earning a Master of Science in Biology in 1999. His PhD in entomology was completed in 2003, from the University of Kansas.
Brandt joined the LMU faculty in 2016, bringing with him an extensive background in research of areas from Appalachia to the tropics of Central America. He serves as the director of the Cumberland Mountain Research Center (CMRC), which fosters a collaborative research environment among faculty and students as part of the larger science education mission of the University, and to provide a broad range of research facilities, opportunities and resources to LMU faculty and student researchers.
He has taught a variety of courses including invertebrate zoology, entomology, herpetology, mammalogy, marine ecology and conservation biology. He serves as an advisor to the LMU Circle of Omicron Delta Kappa, provides assistance and consultation to the LMU Study Abroad program and acts as a mentor to student interns and students in the LMU Honors Scholars program.
Brandt has been affiliated with the Maderas Rainforest Conservancy (MRC) since 2006. The MRC is a conservation nonprofit organization that manages two field stations, the LaSuerte Biological Research Station in Costa Rica and Ometepe Biological Research Station in Nicaragua, where immersive field courses have been offered since the 1990s. He often travels to these research stations providing opportunities for LMU students to conduct novel research in the rainforest. He became a board member for MRC in 2010, where he serves as an ecological advisor for the management of the field stations in Costa Rica and Nicaragua. In that capacity he also serves as a data archivist for all researchers and course instructors. Brandt is currently writing a research paper exploring the impacts of a decade of ecological change on the wildlife of the region.
Prior to joining LMU, Brandt was an assistant professor of biology at Truman State University in Kirksville, Missouri, from 2011 to 2016. He taught several courses in the biology department, served as a leader by developing curriculum, and helped to revise and develop the program. From 2002 to 2010 he was coordinator of the biology program and lead biology instructor at his alma mater, State Fair Community College. While there he also served as department chair for math, science and agriculture and as coordinator for the biotechnology program. During his earlier career he taught at the University of Central Missouri in Warrensburg and Baker University in Baldwin City, Kansas. He was also a research assistant and lecturer at the University of Kansas.
Brandt's work has also included consulting for the Appalachian Wildlife Foundation in Pineville, Kentucky, the Virginia Department of Conservation and Recreation Natural Heritage Program and the Kirksville Watershed Management Commission. He has served as a grant reviewer for the National Science Foundation and has been a consultant for several school districts. He has been active in professional and scholarly organizations and has received several honors during his career. He has been a successful grant writer and consultant as well. He is well-published and is a seasoned presenter at numerous conferences and gatherings.
Brandt has an extensive list of community service efforts as well. He is a volunteer firefighter with the North Tazewell Volunteer Fire Department, where he is currently the chief. He has also volunteered as a Boy Scout leader and with other community groups.    
Lincoln Memorial University is a values-based learning community dedicated to providing educational experiences in the liberal arts and professional studies. The main campus is in Harrogate, Tennessee. For more information about the undergraduate and graduate programs available at LMU, contact the Office of Admissions at 423.869.6280 or email at [email protected].