"Appalachia Sessions Live" Announces Lineup for Tapings at LMU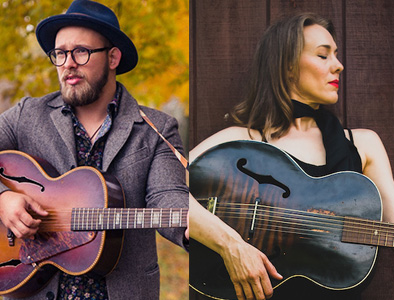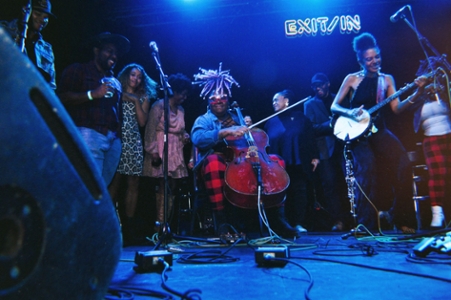 Black Opry and Gangstagrass will headline a pair of live tapings of "Appalachia Sessions Live" at Lincoln Memorial University (LMU)'s Tex Turner Arena on Monday, September 18, and Tuesday, September 19. Black Opry will be joined by Benjamin Dakota Rogers and Caleb Lee Hutchinson for Monday's show, while Brennen Leigh and Abe Partridge will be featured on Tuesday.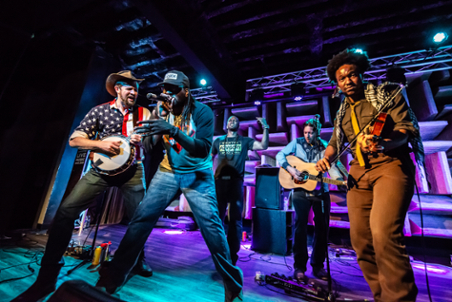 Developed by television producer Breezy Wynn, "Appalachia Sessions Live" is cohosted by "The Voice" winner Chris Blue and Nan Kelley, the former host of Great American Country's "Top 20 Country Countdown." The house band Crockett will perform with Blue and the special guests. Wynn has announced a partnership with Second Harvest Food Bank of East Tennessee for the LMU tapings. The concerts will be free and open to the public and attendees are asked to bring a canned food donation to support Second Harvest.
Presented by The East Tennessee Historical Society (ETHS), "Appalachia Sessions Live" is a televised music series that debuted fall 2022. The series showcases music born out of the history of East Tennessee and Appalachian culture. It features a diverse line-up of musicians and intimately focuses on the artists, their roots and the fundamentals of songwriting. The social impact and purpose-driven initiative aims to bring the history of Appalachian music, culture and education to students who are directly influenced.
Founded by Holly G. in 2021, Black Opry is an American music website and touring revue aimed at raising awareness for Black musicians in country music. 
Rogers wields one of those distinct, immediate and truly wild voices. With a studied nod to old-time and bluegrass rhythms, his unvarnished sound effectively smashes the barrier between past and present. Raised on a farm, Rogers grew up building greenhouses, growing vegetables and living off the land.
Rising star Caleb Lee Hutchinson rounds out the lineup on Monday. Hutchinson recently released his second EP, "Slot Machine Syndrome," which plants a flag deep into his Southern roots, standing proudly apart from the country mainstream. Hutchinson is a dynamic vocalist embracing a grittier version of himself.
Gangstagrass leads Tuesday's lineup. An American bluegrass and hip-hop group, Gangstagrass contributed the theme song to the FX television show "Justified," is led by Brooklyn producer Rench, and combines authentic bluegrass and rap into a new genre.
Leigh is an American songwriter, guitar player, mandolin player and singer whose to-the-point storytelling style has elevated her to cult icon status in Europe, Scandinavia, across the United States, South America and the United Kingdom. Her latest album, "Ain't Through Honky Tonkin' Yet" is awash in full-throttle fiddle, weeping steel guitar and anchored by her warm, expressive vocals. Rooted in vintage country, the work is an unapologetically tear-soaked homage to an era where hard-country weepers burst forth from AM transistor radios.
Abe Partridge will also take the stage for Tuesday's show. A heralded musician, singer/songwriter, visual artist and podcaster based in Mobile, Alabama, his debut album "Cotton Fields and Blood for Days" earned him rave reviews. He has toured relentlessly, including visits to the Netherlands, the United Kingdom and regular performances at the Bluebird Café in Nashville and Eddie's Attic in Decatur.
Local schools and youth organizations, like the Boys and Girls Club of the Tennessee Valley and the Elgin Foundation, are invited participate in history activities at LMU's Abraham Lincoln Library and Museum and Pioneer Village as well as the live taping at Tex Turner Arena.
The shows taped at LMU will be used for the first six episodes of season two. The series will air on WATE (ABC) in Knoxville, WJHL in the Tri-Cities, WWCW (CW) in Roanoke, Virginia, and WDKY (Fox) in Lexington, Kentucky. The program will be syndicated nationally beginning in February.
Blue, who won NBC's "The Voice" in 2017, serves as co-host and performs with the house band Crockett which features noted musicians from the region, including; Jonathan Maness, Wendy Maness, Cruz Contreras, Daniel Kimbro, David Whitaker and Cody Bauer.
To learn more about "Appalachia Sessions" or view the first season shows visit www.appysessions.com. Updates on the LMU tapings including the featured guest artists will be posted there as well. The tapings are free and open to the public.
Lincoln Memorial University is a values-based learning community dedicated to providing educational experiences in the liberal arts and professional studies. The main campus is located in Harrogate, Tennessee. For more information about the undergraduate and graduate programs available at LMU, contact the Office of Admissions at 423-869-6280 or email at [email protected].