LMU Duncan School of Law Welcomes Two Visiting Faculty Members for 2023-2024 Academic Year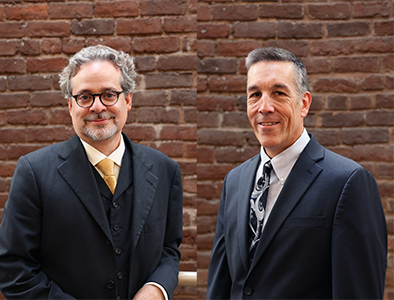 Lincoln Memorial University Duncan School of Law (LMU Law) announces the hiring of Dr. Joseph D. ("Jody") Prestia and Colonel Matthew D. van Dalen as visiting assistant professors of law. 
 "We are fortunate to be adding Dr. Prestia and Col. van Dalen to our faculty. They bring with them a vast amount of teaching and practice experience and a commitment to the mission of LMU Law," LMU Law Vice President and Dean Matt Lyon said.
A native of the lower Rio Grande Valley in Texas, Prestia is a former attorney advisor for the Small Business Administration (SBA) and was a solo practitioner working principally in data privacy and cybersecurity law. He is a certified information privacy professional/US (CIPP/US) through the International Association of Privacy Professionals (IAPP). He researches and writes about data privacy and cybersecurity law, frequently in a comparative or international context.
Prior to his appointment, Prestia was a professor of European and world history, working primarily in the history of international relations. He was a Fulbright Research Fellow to Romania and has taught at Butler University, the University of Indianapolis, and Sewanee: The University of the South. He has also been an adjunct professor at LMU Law since 2019.
"I am excited to join LMU Law full time and to facilitate transformational change in our students' lives,' said Prestia. "I look forward to helping them become thoughtful, service-minded attorneys and leaders. It truly is a privilege beyond measure."  
Prestia is the immediate past chair of the Tennessee Bar Association's International Law Section and is a senior advisor to the National Security Committee in the American Bar Association's International Law Section. He earned a bachelor of arts from Colgate University, a masters of arts from the University of Richmond, a Ph.D. from Indiana University, and a doctor of jurisprudence (J.D.) from the University of Tennessee College of Law.  
Before joining LMU Law, van Dalen retired from the U.S. Air Force after almost 25 years serving as an attorney in the Judge Advocate General's (JAG) Corps. Prior to retirement in Tennessee, he practiced extensively as a criminal prosecutor, criminal defense attorney, and criminal trial judge in over 250 criminal trials. Additionally, he served as senior attorney at various military legal offices, briefed joint military staffers on the trials of detainees accused of terrorism at Guantanamo Bay, Cuba, and deployed in support of Operations Iraqi- and Enduring Freedom, advising commanders on the law of armed conflict and the legality of airstrikes on various high-value targets. 
van Dalen is a member of the California and Tennessee Bars and is also admitted to practice before the Court of Appeals for the Armed Forces and the United States Supreme Court. He received a bachelor of science in administration of justice from San Jose State University and a doctor of jurisprudence (J.D.) from Whittier Law School, with honors.
"The opportunity to serve the next generation of aspiring attorneys studying in law school and to work with some of the finest professors in the country is truly humbling," said van Dalen. "I'm excited to continue a truly blessed legal career with this next adventure in the growth and success of both the students and the law school."
The Lincoln Memorial University Duncan School of Law is located in Knoxville's Historic Old City Hall Building. LMU Law is an integral part of LMU's value-based learning community and is dedicated to preparing the next generation of lawyers to provide sound legal service in the often-underserved region of Appalachia and beyond. For more information about LMU Law, call 865.545.5303 or visit us online at Law.LMUnet.edu.