Spun, Hardy to Be Featured at 2023 Kincaid Lecture Series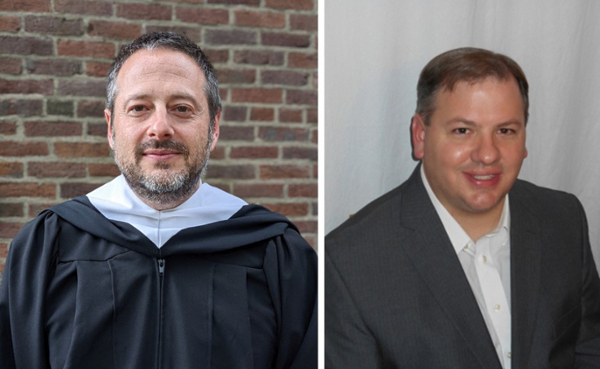 The 2023 Kincaid Lecture Series will be held September 22 at the Abraham Lincoln Library and Museum (ALLM) on the Lincoln Memorial University (LMU) main campus. This year's event is planned with two featured speakers from different disciplines—Brandon Spun and Dr. William Hardy. The series will begin at 1 p.m. in the Arnold Auditorium and is free and open to the public.
The event is "Ethics and Morality in the Public Sphere: A Colloquium on Historical and Philosophical Approaches." Spun's presentation will be on the connections between the idea of vocation and love as a conserving bond in society. Hardy will speak about Abraham Lincoln as a moral leader, focusing on the way he turned emancipation into a Union war aim.
"This should be an interesting occasion for LMU to bring scholars from different disciplines in the humanities together, and to see how distinct fields of study approach similar questions," said Dr. Michael Lynch, ALLM director.
Spun is dean of academics and a senior fellow at New College Franklin in Franklin, Tennessee. A current PhD candidate at Faulkner University, he holds a Master of Arts in Liberal Arts from St. John's College, a Master of Arts in Philosophy from Holy Apostles College and a Bachelor of Arts in English and Philosophy from State University of New York at Geneseo. His academic interests include literature, ancient philosophy, ethics, personalism, metaphysics and natural philosophy.
Hardy is executive director for the Abraham Lincoln Center for the Study of Leadership and Policy and an assistant professor of history at LMU. He is a specialist in 19th century American history, the Civil War and Reconstruction as well as Appalachian history. Hardy's teaching and research interests include the life and times of Abraham Lincoln and 19th century American sports. He has written numerous scholarly publications on the history of Tennessee, was an editorial assistant for the Papers of Andrew Jackson, and has worked on several exhibitions in conjunction with the East Tennessee Historical Society. He has recently completed a history of Civil War era baseball in Tennessee and is currently at work on a study of Tennessee's Reconstruction Era and a fire that destroyed Knoxville, Tennessee's business district at the turn of the 20th century. He earned his Bachelor of Arts and Master of Arts in History from the University of Louisville and his PhD at the University of Tennessee.
The presentations will be followed by a question-and-answer session. The series is made possible by a gift from the estate of Hansel and Dorothy Kincaid.
For more information on the ALLM and events, contact Susan Parker, program coordinator, at [email protected].
The Abraham Lincoln Library and Museum's recent multimillion dollar renovation continues its excellence as an award-winning museum, which includes the Past President's Award from the Tennessee Association of Museums in 2019 and multiple Awards of Excellence. The museum is available for tours to the public, schools, and special interest groups. Interested parties can reserve a tour by calling 423.869.6235.
Lincoln Memorial University is a values-based learning community dedicated to providing educational experiences in the liberal arts and professional studies. The main campus is in Harrogate, Tennessee. For more information about the undergraduate and graduate programs available at LMU, contact the Office of Admissions at 423.869.6280 or email at [email protected].