Hall Promoted to Professor of Molecular Biology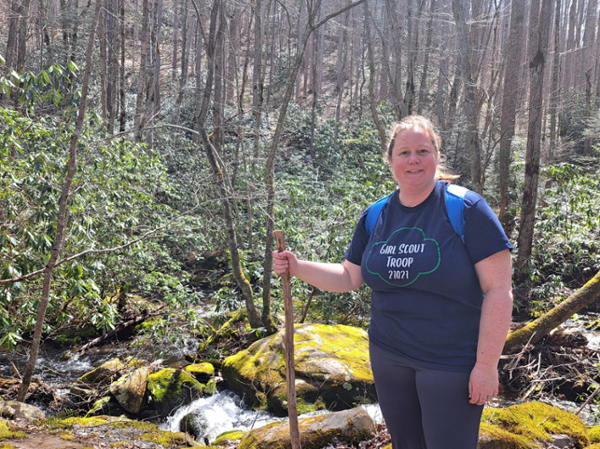 The Lincoln Memorial University (LMU) School of Mathematics and Sciences Dean Adam Rollins has announced the promotion of Dr. Julie Hall to professor of molecular biology.
"Dr. Hall's dedication, passion and exceptional contributions to education and research have truly made a profound impact," said Rollins. "As chair of the department of biology, she has been a trailblazer in developing and delivering engaging active learning experiences. Her commitment to evidence-based pedagogical approaches has ignited a love for science in countless students."
Hall grew up in Southern Maryland on Chesapeake Bay. She attended Elizabethtown College, a small liberal arts college in Pennsylvania, and obtained a Bachelor of Science in Biotechnology with minors in biochemistry and math in 2001. She attended the University of North Carolina at Chapel Hill and received a PhD in Biology in the Molecular, Cell and Developmental Biology curriculum in 2007. Her research utilized the model organism C. elegans and genetic screens to understand aspects of aging. After earning a PhD, she continued working on C. elegans and using genetics in her postdoctoral fellowship with the National Toxicology Program at the National Institute of Environmental Health Sciences in Research Triangle Park, North Carolina. During this time, Hall became a toxicologist. In August 2014, she joined the faculty of LMU as an assistant professor of molecular biology. In 2018 she was promoted to associate professor of molecular biology and began serving as chair of the department of biology.
She mainly teaches molecular genetics, molecular cell and the pre-health careers seminar courses. In the past she has taught general biology and advanced molecular genetics and cell biology for the Master of Biomedical Sciences program. Hall's research at LMU has focused on understanding the effects of heavy metals and other toxicants. She has investigated DNA damage, cellular responses to electronic cigarettes in collaboration with Dr. Domenico Palazzolo of the LMU-DeBusk College of Osteopathic Medicine, natural vs. chemically made sugars, and currently the effect of heavy metals on aging.
"Not only does Dr. Hall excel in academia, but she also serves as an inspiration beyond the classroom," Rollins said. "She's an active teaching scholar, a guiding force on the board of the Southeastern Association of Advisors to the Health Professions (SAAHP) and a dedicated member of the education committee of the Genetics Society of America."
Students that have worked with Hall have presented at a variety of local, regional and national conferences. Her participation as a board member of the SAAHP has allowed her to gain the knowledge necessary for advising students planning to go into various health care careers.
"I am also passionate about outreach," Hall said. "I often visit kindergarten through 12th grade classrooms, mainly in Claiborne County, and do a biology experiment with the students. This summer I, along with Gerald Branham, recruitment and student success coordinator for the School of Mathematics and Science, developed and organized a week-long STEM camp for rising first through 12th graders in our area."
In Hall's free time, she enjoys hanging out with and supporting her two children. She leads her daughter's Girl Scout troop, takes them to dance and sports practice and attends their events. She also likes to paint and take pictures.
Lincoln Memorial University is a values-based learning community dedicated to providing educational experiences in the liberal arts and professional studies.  The main campus is in Harrogate, Tennessee. For more information about the undergraduate and graduate programs available at LMU, contact the Office of Admissions at 423.869.6280 or email at [email protected].