Fraustro Promoted in LMU School of Business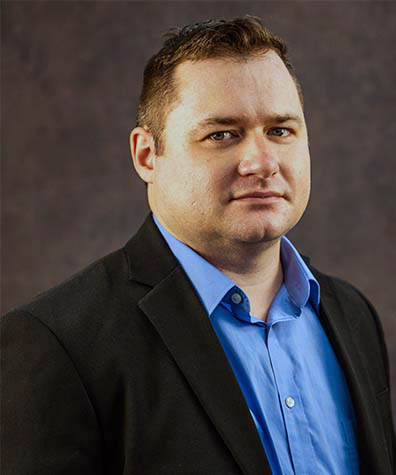 Lincoln Memorial University (LMU) School of Business Dean Kelsey Metz has announced that Aaron Fraustro, JD, has been promoted to assistant professor of business.
"I am honored to announce that Mr. Aaron Fraustro has been promoted to full-time faculty within the School of Business," said Metz. "Mr. Fraustro has served the School of Business in various capacities for nearly a decade and is wholeheartedly committed to our success and advancement. Mr. Fraustro is committed to teaching excellence and will continue to greatly benefit our students in this new role."
Fraustro earned his Associate of Arts in 2004 from Mississippi Gulf Coast Community College, a Bachelor of Arts in English from the University of Southern Mississippi in 2006 and a Juris Doctor in 2010 from the University of Kentucky Rosenberg College of Law. In 2022 he earned a Master of Business Administration in 2022 from LMU, where he is a current candidate for a Doctor of Business Administration.
Prior to joining the School of Business faculty in his current role, he was an instructor of business and administrative assistant for the school. He aided with required institutional, program accreditation and other reports necessary for the advancement of school programs, performed budget management tasks and helped develop course schedules and assignments. He has taught courses on legal issues in business and the social and ethical environment of business.
He worked as an attorney for his own firm, Aaron Fraustro Law Firm, where he practiced in both civil and criminal courts. Prior to opening his firm he practiced at Hendren, Hollingsworth and Fitzgerald, PLLC. There, he conducted professional legal research and assisted senior attorneys with various duties. During his last year of law school he served as an intern in the office of Fayette Circuit Court Judge Ernesto Scorsone. In that office he researched and drafted memoranda on various civil and criminal litigation issues, drafted a variety of legal documents including case briefs and orders and observed civil and criminal court proceedings.
Fraustro is a member of the State Bar of Mississippi. He is a member of Alpha Chi National College Honor Society, Sigma Tau Delta English Honor Society, Phi Theta Kappa Honor Society and an honorary member of the Delta Mu Delta International Business Honor Society. He was one of the founding members of the Latino/a Law Student Association at the University of Kentucky and served as vice-president.
He has participated with Wills for Heroes, providing free wills and other estate planning documents to first responders, and has volunteered with Discover Downtown Middlesboro, participating in community cleanup and redevelopment activities.
Lincoln Memorial University is a values-based learning community dedicated to providing educational experiences in the liberal arts and professional studies. The main campus is in Harrogate, Tennessee. For more information about the undergraduate and graduate programs available at LMU, contact the Office of Admissions at 423.869.6280 or email at [email protected].