LMU-CVM to Host Class of 2027 White Coat Ceremonies September 22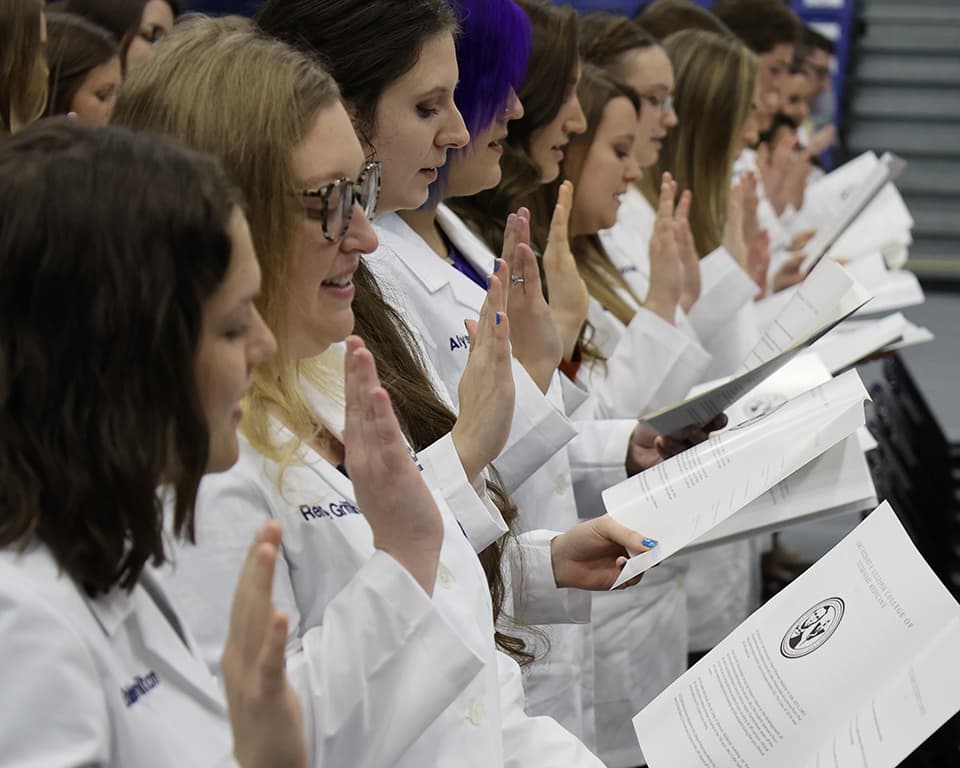 The Lincoln Memorial University-Richard A. Gillespie College of Veterinary Medicine (LMU-CVM) will host the Class of 2027 White Coat Ceremonies on Friday, September 22, for the Silver Cohort, which began in January, and the Blue Cohort which began in August. The ceremonies will be at 10 a.m. for Silver and 1 p.m. for Blue at the Tex Turner Arena on the LMU main campus in Harrogate, Tennessee.
The 215 total students will be welcomed into the study of veterinary medicine as they receive their white coats. The White Coat Ceremony is held each year for first-year students. During the ceremony, the incoming class is "cloaked" with a white laboratory coat, a traditional symbol of the medical sciences. Through this ritual, student-veterinarians become more aware of their professional responsibilities.
Both ceremonies will include an alumni address by Daniel Doran, DVM, Class of 2022. Doran was born and raised in Troy, New York, and has always had a passion for animals and science. He attended Le Moyne College in Syracuse and graduated with a bachelor's degree in biology with a minor in chemistry in 2017. In between undergrad and veterinary school, Doran was a high school Math teacher.
After completing his clinical rotations across the United States, he accepted his first position at Best Pets Veterinary Hospital in Tewksbury, Massachusetts. His passions in veterinary medicine include dermatology, soft tissue surgery, general wellness, large animal medicine and education.
Each ceremony can be viewed live here: https://portal.stretchinternet.com/lincolnmemorialevents/
Lincoln Memorial University (LMU) is a values-based learning community dedicated to providing educational experiences in the liberal arts and professional studies. The LMU-Richard A. Gillespie College of Veterinary Medicine is located on LMU's main campus in Harrogate, Tennessee, with additional academic facilities in nearby Lee County, Virginia. LMU-CVM is an integral part of the University's medical programs and provides real-world, community-based education in a collaborative learning environment. For more information about LMU-CVM, call 1.800.325.0900, ext. 7150 or visit us online at vetmed.LMUnet.edu.