LMU-CDM Hosts White Coat Ceremonies for Classes 2025 and 2027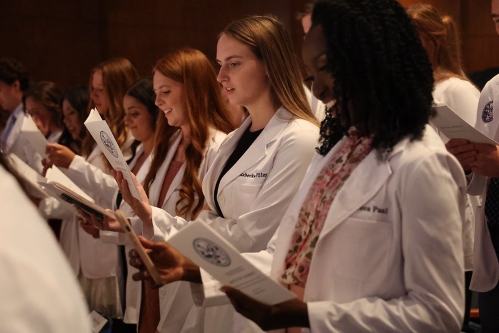 Lincoln Memorial University-College of Dental Medicine (LMU-CDM) hosted White Coat ceremonies for the Dental Hygiene Class of 2025 and the Doctor of Medicine in Dentistry (DMD) Class of 2027 on September 15 at the Knoxville Civic Auditorium. The ceremony recognized 30 dental hygiene students and 80 DMD students.  
Virginia Senator and LMU Board of Trustee Todd Pillion, DDS, D-ABPD, delivered the keynote address. The ceremony also featured a welcome from Denise Terese-Koch, DDS, BS, FAGD, FPFA, MBA, EdD, LMU-CDM founding dean and chief academic officer; invocation from Director of Forensic Dentistry Murray Marks, PhD, D-ABFA, F-AAFS; greetings from LMU President Clayton Hess, PhD and Joesph Smiddy, MD, LMU board of trustee member.
"As we don these white coats, we are not just putting on a garment, but we are embracing a commitment to care, a dedication to excellence, and a promise to create smiles that light up a world," said Pillion during his keynote speech.
The students were presented their white coats by Vickie Jones, RDH, BSDH, MDH, dental hygiene program director, and Terese-Koch. Students with immediate family members who are dentists had the opportunity to be coated by loved ones.
"I want to congratulate each of you on arriving at this milestone in your careers. You have undoubtedly worked hard to achieve your goals of entering dental hygiene or dental school," said Terese-Koch. "As each of you walks across this stage today to receive your white coat, your journey in dentistry will begin."
The White Coat Ceremony is a special ceremony designed to mark a student's entrance into medical school. The first White Coat Ceremony was held in 1993 at Columbia University's College of Physicians and Surgeons and is now a standard ritual in medical and other health professions programs across the country. During the Ceremony, each student is presented and "robed" with his or her short white laboratory coat, formalizing and welcoming the student's entrance into the study of dental medicine.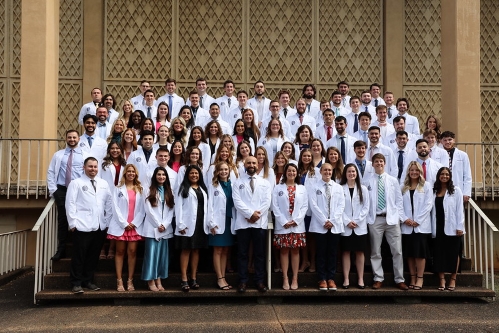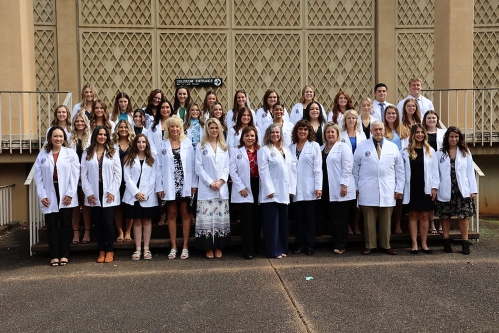 Link to stream the Dental Hygiene ceremony: https://portal.stretchinternet.com/lincolnmemorialevents/portal.htm?eventId=738018&streamType=video
See candid photos from the ceremony here: https://www.flickr.com/photos/lincolnmemorialuniversity/albums/72177720311217992
Lincoln Memorial University is a values-based learning community dedicated to providing educational experiences in the liberal arts and professional studies. Lincoln Memorial University-College of Dental Medicine (LMU-CDM) is home to the Doctor of Medicine in Dentistry (DMD) and Dental Hygiene (DH) programs. It is located in Knoxville at the newly renovated LMU Tower. For more information about LMU-CDM programs contact, [email protected].