LMU Moves Up To No. 65 for Social Mobility in US News & World Report Best College Rankings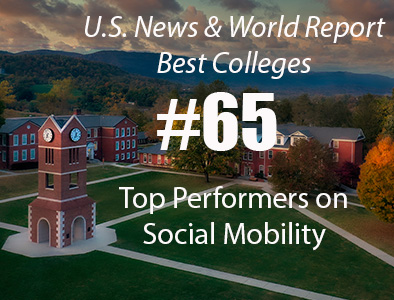 Harrogate, Tennessee, September 18, 2023 -- "US News and World Report" released its 2024 Best College Rankings on Monday with Lincoln Memorial University (LMU) moved up 162 places to be tied for the No. 65 in Top Performers on Social Mobility.
"Lincoln Memorial University was founded to serve underserved populations and provide educational opportunities that can elevate a person's life," LMU President Clayton Hess said. "Being ranked among the best in the nation for social mobility by 'U.S. News and World Report' is evidence that LMU is fulfilling the purpose that our founders set more than 125 years ago."
The Top Performers on Social Mobility ranks colleges that are more successful than others at advancing social mobility by enrolling and graduating large proportions of disadvantaged students awarded with Pell Grants. The vast majority of these federal grants are awarded to students whose adjusted gross family incomes are under $50,000. The list outlines the schools who performed in ranking factors, which in addition to the two Pell Grant factors, also include first generation graduation rate factors for National Universities only. LMU is the top school for social mobility in Tennessee and No. 2 when considering schools in Tennessee, Kentucky, and Virginia.
LMU has specific initiatives aimed at supporting first generation and disadvantaged students. Student Support Services (SSS) is a federally funded program which provides advising, tutoring, career planning, cultural activities and freshmen mentoring for qualified students. LMU's Academic Support Services also offers free tutoring through the Tagge Center for Academic Success. Other services available to all students to promote success include mental health counseling, career services and accessible education services.
Unique to LMU is the Cornerstone Program which provides additional support for first-time college students who, based on academic indicators, may need to receive additional academic support. Each Cornerstone student is provided an academic advisor from the Office of Academic Support who will mentor and assist them during their first two years at LMU. The program facilitates the adjustment to college, allowing students the chance to matriculate and succeed academically while moving toward graduation.
In addition to the Top Performers on Social Mobility ranking, LMU was recognized at No. 275 in Overall Rank – National Universities, up 23 spots from last year, and #535 in Undergraduate Nursing Programs, up 75 spots from last year.
Lincoln Memorial University is a values-based learning community dedicated to providing educational experiences in the liberal arts and professional studies. The main campus is located in Harrogate, Tennessee. For more information about the undergraduate and graduate programs available at LMU, contact the Office of Admissions at 423-869-6280 or email at [email protected].