LMU-DCOM CIPES Granted Provisional Accreditation By Society for Simulation in Health Care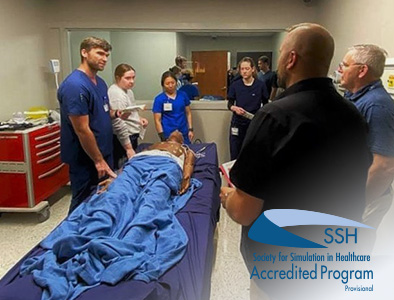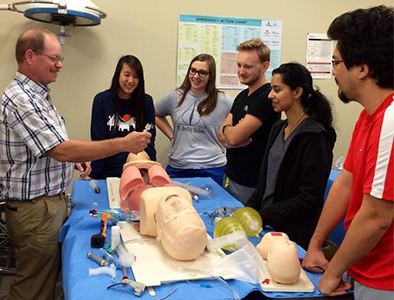 The Society for Simulation in Healthcare (SSH) and the Council for Accreditation of Health Care Simulation Programs has granted provisional accreditation to the Lincoln Memorial University-DeBusk College of Osteopathic Medicine (LMU-DCOM) Center for Interprofessional Education and Simulation (CIPES).
"LMU-DCOM has established itself as a leader in interprofessional education. The Society for Simulation in Healthcare's recognition of the Center for Interprofessional Education and Simulation is further evidence of the quality of our IPE programs," LMU-DCOM Dean and Chief Academic Officer Christopher J. Loyke, DO, FACOFP, said. "While our facilities and programming are stellar, the driving force behind our IPE success is our people. We've assembled a team of professionals that are passionate about working together to provide the best training possible for our students and community. Dr. Sherry Jimenez leads this innovative team and should be credited with this great accomplishment."
SSH Accreditation is a peer-reviewed, customized evaluation of health care simulation programs. The accreditation examines processes and outcomes in assessment, research, teaching/education and systems integrations of simulation programs. The SSH Council for Accreditation of Health Care Simulation Programs accredited its first program in 2010. Today, SSH is the largest health care simulation accrediting body in the world, having reviewed and accredited over 100 programs from 10 countries.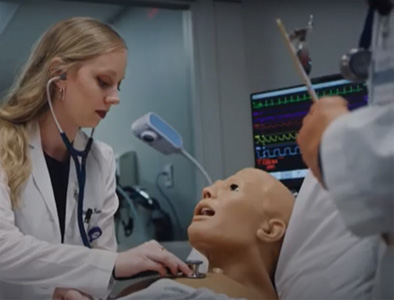 LMU's CIPES includes simulation and skills labs and clinical exam facilities in the LMU-DCOM building and the Richard A. Gillespie College of Veterinary Medicine (LMU-CVM) building in Harrogate as well as the DCOM at LMU-Knoxville building in Knoxville. The CIPES provides health professions students and community members with education, training and interdisciplinary collaborative opportunities through cutting-edge high and low fidelity simulation technology.  The Center aims to enhance the quality of health care and patient safety using a wide spectrum of clinical environments in training and assessment of health care students and professionals.
CIPES serves as a focal point for coordinating and integrating course content for multiple health professions programs at LMU and neighboring institutions in interprofessional education, faculty development, educational assessment and data analysis, and evaluation of patient-centered clinical skills education. In collaboration with faculty partners from programs including osteopathic medicine, physician assistant, occupational and physical therapy and nursing, CIPES supports and implements curricular experiences to fulfill interprofessional education (IPE) and other requirements in preparation for clinical rotation and future practice of its students. CIPES has integrated curricular content including IPE-focused TeamSTEPPS® Essentials Training to LMU-DCOM medical students and pharmacy students from the University of Tennessee and South College, as well as LMU-DCOM's annual Opioid Education Symposium.  
CIPES also offers a variety of training opportunities to both internal and external audiences, including first aid, wound care, cardiopulmonary resuscitation (CPR) certification, and automated external defibrillator (AED) use.
The SSH accreditation of CIPES is a direct result of the tireless work of Interim Director of Simulation and Training Joshua Engle, and contributions from various CIPES staff and faculty partners under the direction and leadership of Sherry Jimenez, EdD, CHCP, CHSE, FNAOME, senior associate dean of interprofessional education, simulation and accreditation. Representing LMU in the SSH comprehensive interviews were Associate Professor of Family Medicine Chris Yonts, DO, Interim Director of the Doctor of Occupational Therapy Program Deborah Ruediger, OTD, OTR/L, CHSE, Assistant Professor of Physician Assistant Studies Lauren Anderson, PA, MHA DMS, Standardized Patient Coordinator Morgan Wheeler, Simulation and Training Manager Jason Austin, Engle and Jimenez.
"The Society for Simulation in Health Care provisional accreditation is another important national credential that sets LMU health professions education apart by recognizing LMU-DCOM simulation and training facilities as top-notch," Jimenez said. "This accomplishment is just another example of successful teamwork at LMU, in this case between CIPES staff and faculty from various health professions programs, and I am grateful for everyone's expert contributions."
SSH's standards of performance were developed with all simulation programs in mind. The standards describe the desired outcomes and processes that are hallmarks of quality health care simulation. SSH has accredited simulation programs in academic or university settings, hospitals, medical associations and stand-alone facilities as well as other educational settings.
LMU-DCOM's CIPES provisional accreditation status is valid through December 31, 2025. At that time, CIPES will be reviewed for full accreditation.
The Society for Simulation in Healthcare serves its members by fostering education, professional development and the advancement of research and innovation. It promotes the profession of health care simulation through standards and ethics. SSH champions health care simulation through advocating, sharing, facilitating and collaborating. For more information visit ssih.org.
The DeBusk College of Osteopathic Medicine is located on the campus of Lincoln Memorial University in Harrogate, Tennessee and at LMU-Knoxville in Knoxville, Tennessee. LMU-DCOM is an integral part of LMU's values-based learning community and is dedicated to preparing the next generation of osteopathic physicians to provide health care in the often-underserved region of Appalachia and beyond. For more information about LMU-DCOM, call 1.800.325.0900, ext. 7082, email [email protected], or visit us online at http://med.LMUnet.edu.