Dr. Jason McConnell Promoted to Senior Executive Vice President of LMU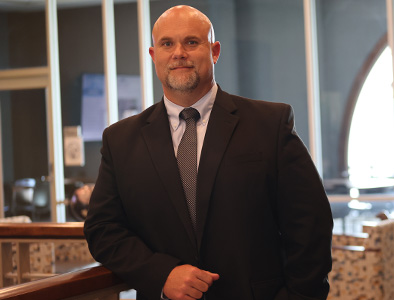 Lincoln Memorial University (LMU) President Clayton Hess, PhD, has announced the promotion of Dr. Jason McConnell to senior executive vice president. In his new role, McConnell will assume senior leadership responsibilities and be tasked with oversight of divisions including Academic Affairs, Enrollment Management and University Advancement in addition to the divisions of Finance, Information Services and Physical Plant which were already under his leadership.
"This promotion recognizes Dr. McConnell's outstanding dedication, leadership and significant contributions to LMU," Hess said. "He has served this University with distinction for over two decades. He is well equipped for this new position and will drive LMU's continued growth and success."
McConnell joined LMU in 2001 as a member of the Information Technology department. He has advanced with ascending responsibility, a product of his visionary leadership. His ability to foster collaboration across departments, mentor emerging talent and lead transformative initiatives have been a hallmark of his tenure at LMU.
McConnell most recently served as executive vice president following his exemplary services as interim vice president for finance. Prior to that, he served as assistant vice president for finance and chief information officer, managing the University's technology needs, use and integration. He played integral roles in the development of the LMU-DeBusk College of Osteopathic Medicine, LMU Duncan School of Law, LMU-Richard A. Gillespie College of Veterinary Medicine and the LMU-College of Dental Medicine by working with each of the founding deans to plan, integrate and design cutting-edge technologies to enhance teaching and learning for the professional degree programs.
"Lincoln Memorial University has been more than an institution; it's been a family," McConnell said. "This promotion is not just an honor but a responsibility I wholeheartedly embrace. I am excited to continue collaborating with the exceptional people of LMU to further enhance the educational experience for our students."
McConnell holds a Doctorate of Business Administration from LMU. He is a native of Rose Hill, Virginia, where he and his wife, Beth, reside with their two sons, Seth and Ross. McConnell is an accomplished pilot with a passion for exploration and adventure.
Lincoln Memorial University is a values-based learning community dedicated to providing educational experiences in the liberal arts and professional studies. The main campus is located in Harrogate, Tennessee. For more information about the undergraduate and graduate programs available at LMU, contact the Office of Admissions at 423-869-6280 or email at [email protected].