Dr. Lisa Blair-Cox Named Undergraduate Chair in the LMU School of Business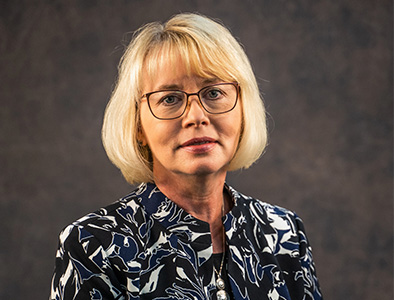 Lincoln Memorial University (LMU) School of Business Dean Kelsey Metz, PhD, has named Dr. Lisa Blair-Cox chair of the LMU School of Business undergraduate programs.
In her new role, Blair-Cox will oversee the undergraduate business programs and faculty in addition to her teaching duties. She has been a part of the School of Business faculty since 2019. With an interest and expertise in human resources management, Blair-Cox teaches courses covering management, human resources management, business ethics, recruitment, strategies for college success, talent acquisition and retention as well as business communications. She has served as advisor to several student organizations including Delta Mu Delta and Alpha Chi National Honor Society.
"This is a well-deserved promotion for Dr. Lisa Blair-Cox," Metz said. "Dr, Cox has done a phenomenal job within her faculty and administrative roles, and continuously strives to improve the department for the sake of student success. I have every confidence that she will continue to develop and advance the department and school."
Blair-Cox has been a part of LMU since 2002, when she joined the staff as executive assistant to the President. She would go on to serve as dean and vice president for administration. Blair-Cox oversaw the vital administrative areas including human resources, risk management, Sigmon Communications Center, the office of campus safety, LMU Police and Security, environmental safety and health, postal and distribution, print services and the office of properties and physical plant.
Blair-Cox came to LMU following six years at DeRoyal Industries in New Tazewell, Tennessee, where she served as plant manager for DeRoyal Technologies division, inventory control/purchasing manager and manufacturing and quality control liaison during her tenure. Blair-Cox began her career as Financial Aid/Student Activities Director at Southeast Kentucky Community and Technical College in Cumberland. Kentucky.
Blair-Cox is a Cumberland, Kentucky, native. She holds a Doctor of Business Administration in Human Resources Management from Northcentral University, a Master of Science in Human Resource Management from Golden Gate University, a Bachelor of Business Administration from LMU and an Associate of Applied Science in Office Administration from Southeast Community College. She is the daughter of Wayne and Joyce Blair of Cumberland. She and her husband, Lieven Cox, reside in Harrogate, Tennessee.
The LMU School of Business is accredited by the Accreditation Council for Business Schools and Programs (ACBSP). LMU offers undergraduate business majors and programs in general business, accounting, business analytics, finance, health care administration, management, management information systems, marketing and sport management at the main campus in Harrogate, Tennessee. The Master of Business Administration (MBA) program is available online with concentrations in business analytics, digital marketing, health care administration, general business sport management, strategic management, supply chain management and technology management. The School of Business also offers a dual MBA degree in conjunction with the LMU-DeBusk College of Osteopathic Medicine, Duncan School of Law and the LMU-College of Veterinary Medicine. A Master of Health Administration (MHA) degree program and Doctor of Business Administration (DBA)program complete the school's offerings.
Lincoln Memorial University is a values-based learning community dedicated to providing educational experiences in the liberal arts and professional studies. The main campus is located in Harrogate, Tennessee. For more information about the undergraduate and graduate programs available at LMU, contact the Office of Admissions at 423-869-6280 or email at [email protected].