Katherine Alfieri and Kayla Swiney Join LMU Law Faculty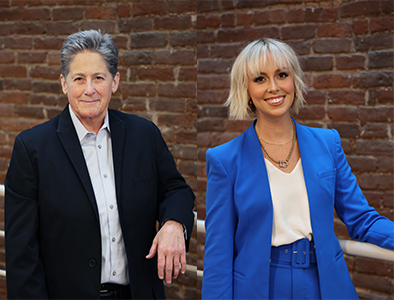 Lincoln Memorial University Duncan School of Law (LMU Law) announces the hiring of Katherine Alfieri and Kayla Swiney as Assistant Professors of Law in the LMU Law's Academic and Bar Success Program.
Alfieri and Swiney will team with LMU Law's Director of Academic Success, Katie Jones, and Director of Bar Success, Anna Rickels. LMU Law's Academic Success Program is designed to enable students to internalize, develop, and apply legal knowledge and essential lawyering skills in a way that will enhance their performance in law school, on the bar exam, and throughout their legal career. The law school's innovated Bar Success Program includes both required bar success courses for third-year students, which focus on all components of the Uniform Bar Examination, as well as extensive supplemental bar success programming to supplement the third-party bar review course that the law school provides to all its graduates at no additional charge.
"We are fortunate to have both Professor Alfieri and Professor Swiney joining our faculty. They bring a wealth of both practice and academic experience to their new faculty roles," said LMU Law Vice President and Dean Matt Lyon. "Just as importantly, they are committed to our mission and understand that our ability to meet that mission is tied to the growth of our students while in law school and our graduates' success on the bar exam and in practice."
Prior to joining LMU Law, Alfieri taught doctrinal, bar preparation and academic success curriculum at Alliant International University Law School. Before becoming a full-time law professor, Alfieri practiced law as a federal, criminal appellate and post-conviction attorney for many years.  She is a member of the State Bar of California and is admitted to practice in the Second and Ninth Circuit Courts of Appeals. Professor Alfieri received her bachelor of arts (B.A.) from the State University of New York at Albany and her doctor of jurisprudence (J.D.) from Golden Gate University School of Law.
Swiney previously worked as an adjunct law professor at both LMU Law and South College, teaching legal writing and a variety of other legal topics. Swiney has several years of private practice experience consisting of federal employment law, family law, and criminal defense. Following private practice, she was a law clerk for four Tennessee Court of Criminal Appeals judges, most recently finishing her tenure with Presiding Judge Curwood Witt, Jr. in Knoxville. Swiney is a "Double Railsplitter," having earned her undergraduate degree from Lincoln Memorial University in 2013 and worked for Knox County Schools before earning her doctor of jurisprudence (J.D.) cum laude from the Duncan School of Law in 2017.  While attending LMU Law, Swiney was the Symposium Editor for the LMU Law Review and President of Mock Trial. 
"I am honored to return to LMU Law as the first alumna to join the full-time law faculty," said Swiney. "My unique professional journey has prepared me to contribute meaningfully to the next generation of LMU Law graduates and the law school's mission.  I am excited to engage with students, both in and out of the classroom, to foster a dynamic learning environment."
The Lincoln Memorial University Duncan School of Law is located in Knoxville's Historic Old City Hall Building. LMU Law is an integral part of LMU's value-based learning community and is dedicated to preparing the next generation of lawyers to provide sound legal service in the often-underserved region of Appalachia and beyond. For more information about LMU Law, call 865.545.5303 or visit us online at Law.LMUnet.edu.