LMU PA Students Celebrate Commencement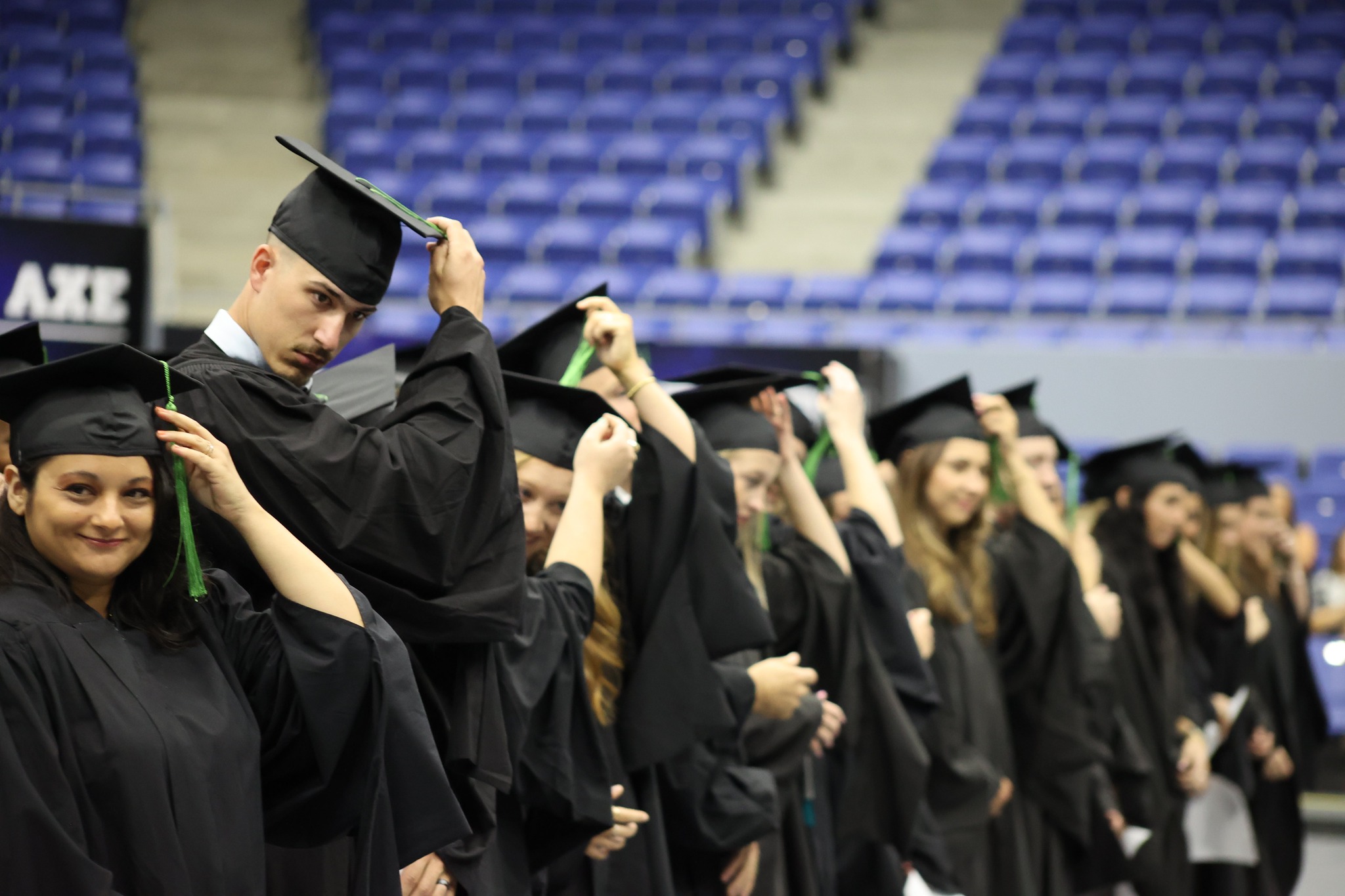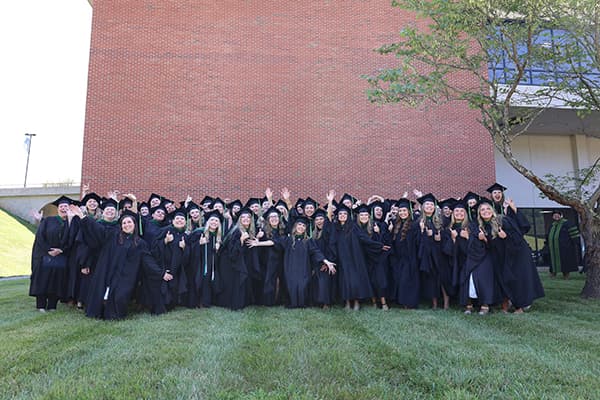 The Lincoln Memorial University-School of Medical Sciences (LMU-SMS) hosted commencement for the Harrogate Physician Assistant (PA) Program on Saturday, August 5, at Tex Turner Arena. The ceremony celebrated the outstanding achievements and hard work of the 87 students of the Class of 2023.
"As you prepare to go out and serve communities all over the world, please know you honor this university and its namesake," said LMU President Clayton Hess, who conferred the degrees.
PA preceptor Dr. Luis Pannocchia, a family medicine provider at UT Primary Care Heartland in New Tazewell, Tennessee, who has worked in the area over 36 years, delivered the commencement address.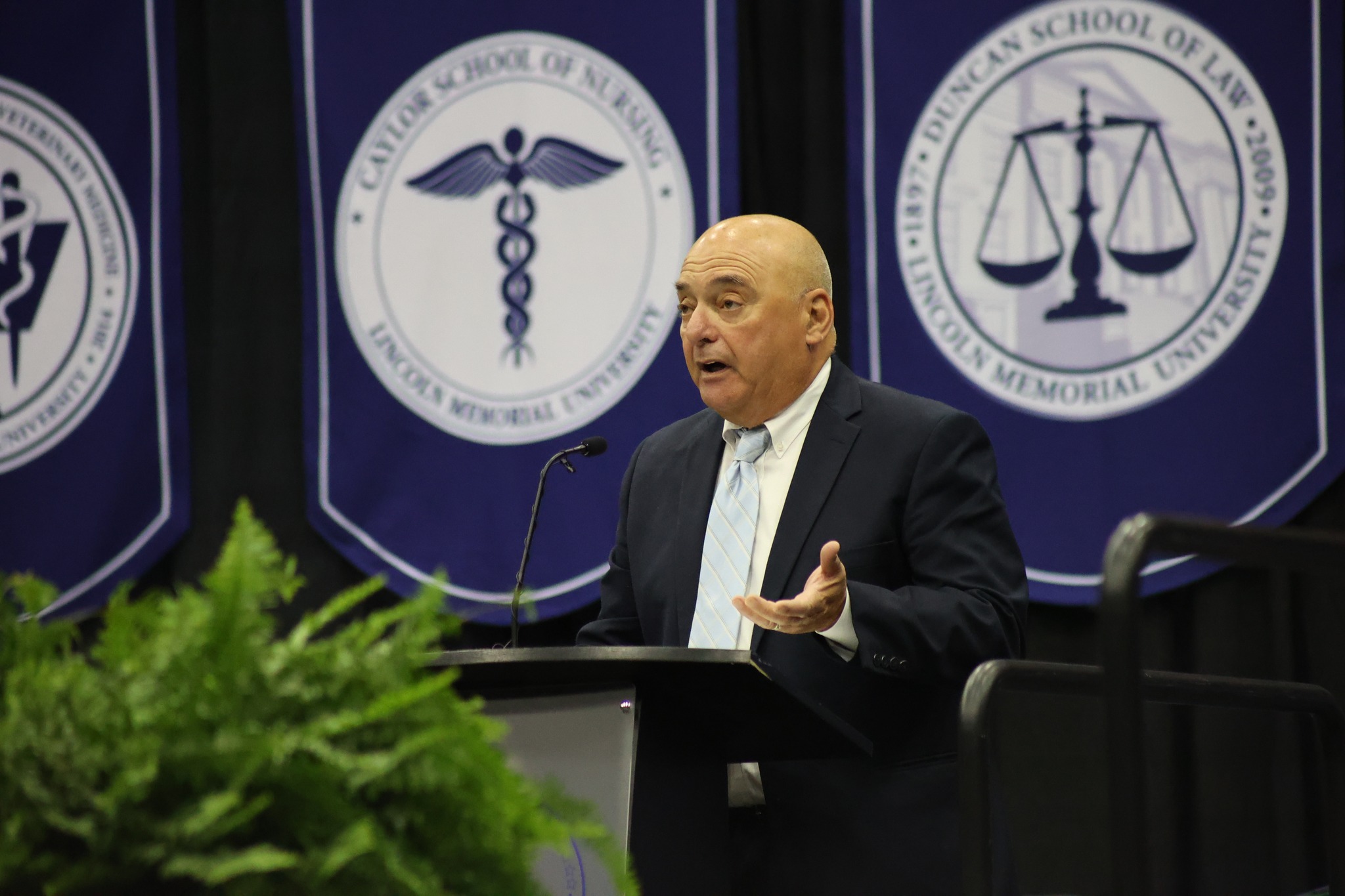 "The most important advice I'm going to give you from the years I've been involved in medicine: You've got to be happy," Pannocchia told the students. "You've got to be happy. Enjoy your life. Life is short. Take a walk. Go on vacation. Ride your bike. Live life with your friends and family."
Class President Madison Wepking addressed her classmates during the ceremony.
"This is the day we drop the S from behind the PA and eagerly await to replace it with a C," she said. "You guys did that. You earned that and you should hold your heads high."
During the ceremony, LMU-SMS Dean Michael Stephens, DMS, PA-C, was presented the Rex Lee Hobbs, Jr. PA Service Award. This award is to recognize an individual who has demonstrated service and dedication to the medical community, the physician assistant profession, and the LMU-SMS Physician Assistant Program. The recipient is recognized for contributions to health care administration, delivery, and education over the course of his or her career.
Along with Hess, Stephens and Pannocchia, the platform party also included Director of Didactic Education Casey Johnson, DMS, PA-C; LMU President Clayton Hess, PhD; Assistant Dean and Program Director Robert Baye, DMSc, PA-C; Academic Coordinator Tonya Apperley, DMS, PA-C; Assistant Professor Lauren Anderson, DMS, PA-C; and Clinical Coordinator Melissa Day, DMS, PA-C.
See the event photo album here: https://flic.kr/s/aHBqjAQ3sW
The livestream for the event can be viewed here: https://portal.stretchinternet.com/lincolnmemorialevents/portal.htm?eventId=736375&streamType=video
The following students of the Class of 2023 were recognized at the Commencement Banquet held August 3, at Meadowview Convention Center, Kingsport, Tennessee.
Dean's Award - Teagan Perry. The Dean's Award is presented annually to a member of the graduating class who exemplifies the ideals of the physician assistant by displaying a strong commitment to excellence, showing compassion, maintaining personal integrity and professionalism, and striving to provide the highest quality of patient care as part of the health care team.
Professionalism Award - Cristian Reinosa. This award is presented to a student who exemplifies the ideals consistent with the physician assistant profession, including a dedication to excellent patient care and a strong commitment to cooperative work within the health care team.
PA Profession Advocate Award - Kierra Gipson. This award is presented to a student who shows special interest in advancing the status of the physician assistant profession on a local, state and/or national level.
Student Advocate Award - Madison Wepking. This award is presented by the faculty to a student who exemplifies the ideals of a professional physician assistant and who has shown selflessness, unusual devotion to duty, sensitivity to the patient's comfort and needs and who has served classmates, patients and his or her school.
Perseverance Award - Brooke Tompkins. This award is given to the student who has made outstanding progress and shown the most overall improvement and professional growth in the didactic and clinical components throughout the PA Program.
Danny Wester Best Supporting Classmate Award - Dalyn Tate. The Danny Wester Best Supporting Classmate Award is given annually by the Dr. George Stanley Thompson PA Student Society to the graduating PA student who has demonstrated a willingness to give of himself or herself in assisting fellow classmates and the student society. This person's caring attitude and selfless giving served to continually support the growth and morale of his or her peers throughout all endeavors.
Spotlight Award - Kayla Long. This award will honor individuals who have volunteered services, time, and resources to help the LMU PA program and/or its students in some way. There are several outside the realms of the PA program and even outside the PA profession, who have gone above and beyond to help our students and/or program, and this award would spotlight that selfless service and offer gratitude and honor to those individuals.
Commencement banquet photos: https://flic.kr/s/aHBqjAPSf5
Established in 2019, the School of Medical Sciences (LMU-SMS) is home to LMU's PA program with a primary care focus at the main campus in Harrogate, Tennessee, a PA program with a surgical focus at LMU-Knoxville, the online Doctor of Medical Science (DMS) program, and the Bachelor of Medical Laboratory Science (MLS) program. The school supports the University's mission of service to Appalachia and other underserved areas by maintaining high quality medical education and supporting student success.