LMU-CDM to Provide Free Dental Care at Lee County Health Day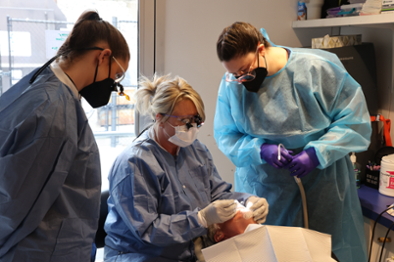 Lincoln Memorial University-College of Dental Medicine (LMU-CDM) is partnering with Appalachian Miles for Smiles, The Health Wagon, and other local organizations to bring free basic health services to Lee County, Virginia, on September 8, 2023, at Leeman Field RV Park and Campground (335 Fairground Rd, Pennington Gap, Virginia, 24277).
Dental services available at the health day clinic include dental screenings, dental x-rays, and emergency treatment such as extractions will be provided on-site. Patients seeking restorative care, cleanings, or other non-emergency dental care will be referred to a dental home for long-term dental care. Dental services for children will also be available. Other services include eye exams, limited labs, lung screenings, hearing screenings, women's health exams, and general medical exams.
All services provided during the clinic are free and available on a first come, first served basis. The clinic will begin at 8:00 a.m. on Friday.
Like many counties in Appalachia, Lee County, Virginia, is in a dental desert, leaving several constituents without convenient and affordable dental care. According to U.S. census data, the poverty rate in Lee County is 18.2%, which exceeds the national average of 11.6%.
LMU-CDM Dean and Chief Academic Officer Denise Terese-Koch, DDS, FAGD, MBA, EdD, plans to bring more than 60 dental students and several faculty members to provide a multitude of dental services.
"LMU-CDM is dedicated to addressing oral health needs and improving access to oral health care in the Appalachian region through continuing dental education and community service efforts," said Terese-Koch.
Meals for volunteers at the event will be provided by LMU Women of Service (WOS). Established in 2011, WOS is open to all women who want to help students at LMU. By living as an example of service, WOS members teach LMU students about the mission of service to humanity.
Lincoln Memorial University is a values-based learning community dedicated to providing educational experiences in the liberal arts and professional studies. Lincoln Memorial University-College of Dental Medicine (LMU-CDM) is home to the Doctor of Medicine in Dentistry (DMD) and Dental Hygiene (DH) programs. It is located in Knoxville at the newly renovated LMU Tower. For more information about LMU-CDM programs contact, [email protected].