Hounshell Honored With Women of Service Award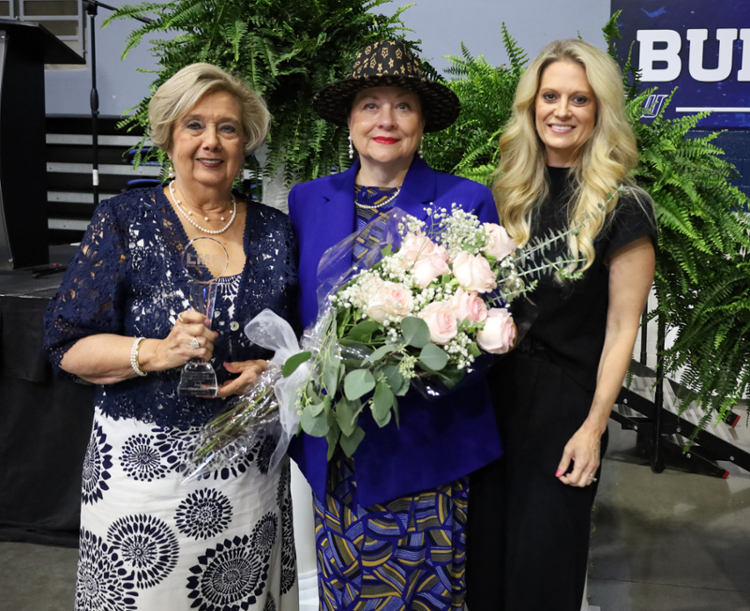 (Photo, left to right: Judy Hounshell, recipient of the 2023 Cynthia L. Whitt Woman of Service Award; Cynthia Whitt, LMU vice president for University Advancement and LMU Women of Service co-founder; and Jessica Wilson, daughter of Jerry and Judy Hounshell.)
The Lincoln Memorial University (LMU) Women of Service (WOS) presented its annual award to alumna Judy Hounshell of Rose Hill, Virginia, during its 2023 WOS Fashion Show.
The Cynthia L. Whitt Woman of Service Award was created to recognize an exemplary woman who is making a difference in the communities that LMU serves. The name of the award honors Cynthia L. Whitt, LMU vice president for University Advancement, and her contributions toward the establishment of the LMU WOS organization.
Hounshell is a 1969 graduate of LMU and has served the University in numerous capacities. She is a charter member of the WOS. She works tirelessly on behalf of the organization to carry out its mission of serving students, particularly young women. Hounshell currently serves on the WOS leadership team as one of the directors. She is a member of the Fashion Show Committee, Lincoln's Closet Committee and Christmas Festival Committee.
"No matter the need or the project, WOS can always count on Judy's involvement from beginning to end," said Sheliah Cosby, senior director of alumni services and WOS Fashion Show Committee chair.
"The WOS is an outstanding group of ladies dedicated to helping our students and our community," said Hounshell. "I am grateful and proud to be able to help provide the students with scholarships and to help with various student needs." 
The LMU National Alumni Association has benefited from Hounshell's commitment. She is a lifetime member and has held offices of director, secretary, vice president, president and past president. The longest-standing active alumni chapter, Southwest Virginia, can boast of its status in large part because of the commitment of time and resources from Hounshell. She makes sure the chapter is involved and does its part to support all LMU activities related to alumni. The chapter also supports scholarships for students to attend LMU, and she often serves as an alumni recruiter, encouraging students to apply to the University that she loves so much.
Railsplitter athletics is also a passion for Hounshell. She is a member of the "L" Club, travels to home and away games for several sporting events and is one of the biggest cheerleaders the student-athletes have.
In addition to her dedication to LMU, Hounshell is a lifetime member of the State Officers Club of Virginia Daughters of the American Revolution (DAR) and District IV Regent's Club for DAR. She has held several offices in DAR and is a charter member of the Cameo Club of DAR. Other memberships include 50 years in the Cumberland Chapter No. 170 Order of Eastern Star, Western County Parade Committee for Rose Hill and a 47-year member of Alpha Chi Chapter of IOTA State Delta Kappa Gamma. Hounshell is a member of Morgan Memorial Methodist Church where she also faithfully serves.
The list of awards and honors bestowed on Judy throughout the years is extensive. Her career as an educator spanned from 1969 through 2005 and she was inducted into the LMU Educators Hall of Fame for her many accomplishments. Hounshell worked as an adjunct librarian at LMU from 2006 to 2014. She was named LMU Volunteer of the Year in 2017.
She is married to Jerry Hounshell, also a 1969 graduate. They have one daughter, Jessica Ann Wilson, a son-in-law, Dr. James Matthew Wilson, and two grandsons, James Andrew and Evan Matthew. Her hobbies include traveling, reading, antiquing and genealogy.
Established in 2011, the LMU Women of Service is open to all women who want to help students at LMU. By living as an example of service, WOS members teach LMU students about the mission of service to humanity. The Women of Service Fashion Show and the Christmas Festival are dedicated to raising funds for scholarships and other WOS initiatives. The WOS has provided 15 scholarship awards to date and also supports five food pantries and a student career closet.
Lincoln Memorial University is a values-based learning community dedicated to providing educational experiences in the liberal arts and professional studies. The main campus is in Harrogate, Tennessee. For more information about the undergraduate and graduate programs available at LMU, contact the Office of Admissions at 423.869.6280 or email at [email protected].