LMU-CDM Faculty Research Published in the "Antioxidant Journal"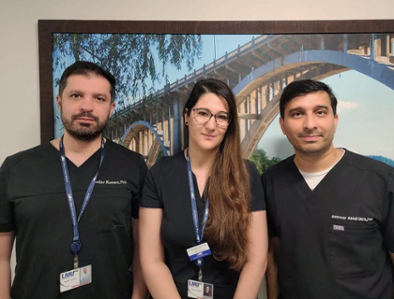 Lincoln Memorial University-College of Dental Medicine (LMU-CDM) Associate Professor of Physiology Modar Kassan, Ph.D., Assistant Professor Karima Ait-Aissa, Ph.D and Director of Biomedical Sciences and Associate Professor of Pharmacology Ammaar Abidi, DDS, PhD authored a research paper which was accepted and published in the "Antioxidant Journal".
The "Antioxidants Journal" is the leading peer-reviewed journal dedicated to understanding the vital impact of oxygen and oxidation-reduction (redox) processes on human health and disease. The Journal explores key issues in genetic, pharmaceutical, and nutritional redox-based therapeutics. The journal has an impact factor (IF) of 7.539 which puts it among the top-notch journals in the field.
"Studies have shown that there is an association between periodontal diseases and obesity. Cross-sectional studies show that obese individuals have more periodontal disease than the normal weight population because of hyperglycemia and systemic inflammation, oxidative stress, and arteries damage. This study will open a new avenue to study the impact of obesity on oral health in obese patients," said Kassan.
The study was performed in a mouse model of obesity to evaluate the role of lomitapide on the cardiovascular system during obesity. It showed that 4 weeks of treatment with lomitapide significantly reduced the body weight and glucose level, normalized the lipid profile and improved the cardiovascular system. Lomitapide was also able to decrease oxidative and endoplasmic reticulum stress and inflammation and increase the nitric oxide which helped improve the vascular reactivity. (The housing of the LDLr/ mice and the experiences  performed in this study followed the guidelines of the Institutional Animal Care and Use Facility of the University of Tennessee Health Science Center in Memphis, Tennessee.) 
Read full article here.
Lincoln Memorial University is a values-based learning community dedicated to providing educational experiences in the liberal arts and professional studies. Lincoln Memorial University-College of Dental Medicine (LMU-CDM) is home to the Doctor of Medicine in Dentistry (DMD) and Dental Hygiene (DH) programs. It is located in Knoxville at the newly renovated LMU Tower. For more information about LMU-CDM programs contact, [email protected].