LMU Launches Sports Media Minor Program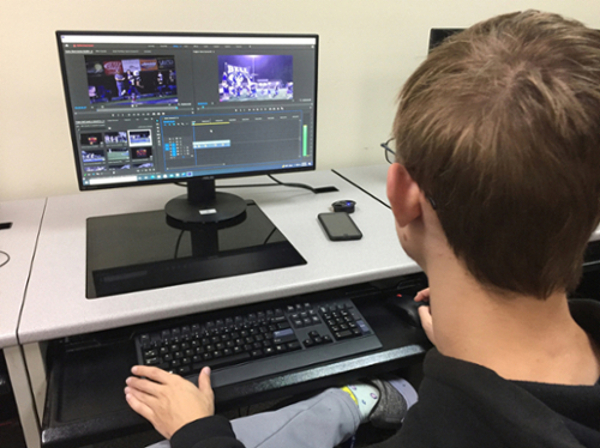 The Communication and Media (CAM) program at Lincoln Memorial University (LMU) has launched a new minor in sports media and is currently enrolling students. The CAM program is part of the Paul V. Hamilton School of Arts, Humanities and Social Sciences (AHSS). 
The CAM program prepares students for exciting opportunities in various fields, including entertainment, advertising and journalism. Nearly half of the United States population tunes in to watch live sports, and they depend on sports media producers to make it happen.
"With a minor in sports media, students learn the fundamentals of the industry, and have the opportunity to write original articles, stream podcasts and produce documentaries to compete in a thriving global sports industry," said Dr. Adam Dean, assistant professor and program director of communication and media.
Students in the CAM program have opportunities to learn on-air reporting, multi-media journalism and live production processes. They also learn to master their off-camera skills, such as video editing and post-production. Students who choose the sports media minor will have 15 hours of required curriculum and one elective course.
"We have a long list of elective courses with diverse choices, such as acting, theater and social media," said Dean. "There is no limit to what they can do."
This year, students in the CAM program will be participating in a college media day, a full day at the Kingsport Times News. They will also work in partnership with the LMU Athletic Department providing support and commentary and will continue to work with local schools to provide sports coverage to area media outlets. The CAM program prepares students for various career options, on-air, behind the camera or media project manager. Students will be prepared for the broad range of job options available in the media world.
Dean can be reached via email at [email protected]. More information on the programs within the AHSS can be found at https://www.lmunet.edu/school-of-arts-humanities-and-social-sciences/undergraduate/media-communication. General questions may be sent to Erin Johnston, recruitment and success coordinator for AHSS, at [email protected].
Lincoln Memorial University is a values-based learning community dedicated to providing educational experiences in the liberal arts and professional studies. The main campus is in Harrogate, Tennessee. For more information about the undergraduate and graduate programs available at LMU, contact the Office of Admissions at 423.869.6280 or email at [email protected].