LMU Law Partners with LMU-CDM Fellowship in Forensic Dentistry
Lincoln Memorial University Duncan School of Law (LMU Law) Mock Trial students partnered with the Lincoln Memorial University-College of Dental Medicine (LMU-CDM) Fellowship in Forensic Dentistry program to train dental professionals to become expert witnesses in forensic dentistry.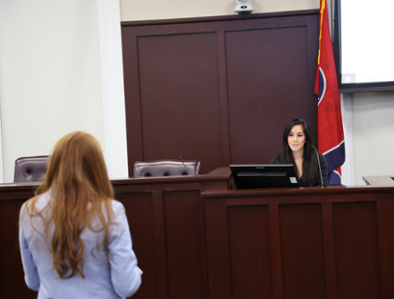 As part of the 15-month fellowship program, the forensic dentistry fellows, experienced dentists from all over the country, train to act as expert witnesses in civil litigation matters. Each fellow acts as an expert witness hired by either the plaintiff or defendant in a mock dental malpractice case, with LMU Law students acting as their counsel. Each law student then performs both a direct and cross-examination on a dental fellow/expert witness, with both the law students and dental fellows receiving feedback afterward. 
This is the third year that LMU Law students and forensic dentistry fellows have partnered for this activity.
"Mock trial students typically engage in simulated trials with other law students acting as witnesses, but this interdisciplinary experience is a step up from what law students usually have the opportunity to do," remarked Maha Ayesh, LMU Law's Director of Experiential Learning and a Mock Trial Program faculty advisor. "Through our partnership with the Fellowship in Forensic Dentistry Program, students get the unique and invaluable opportunity to engage with real, experienced healthcare professionals who are furthering their expertise in their field, which is much more similar to the experiences they will have as practicing attorneys."
The case evaluated by the fellows is a dental standard of care civil litigation or malpractice case where a dentist extracted a partially impacted tooth, subsequently became infected, and the mandible eventually fractured.
The select LMU Law students who acted as trial attorneys were a mixture of second- and third-year law students McKenzie Wilson, Taylor McCarty, Caden Brownyard, Krizzie DeJesus, Jason Repath, and Tommy Gutwein.
The LMU-CDM Forensic Fellows consisted of dental professionals from across the country Mariko McCall DDS, Jeremy Thompson DDS, MS, Steve Lanster DMD, Victoria McGowen DMD, MS, Sarah Canty DMD, and Erin Johnson DDS.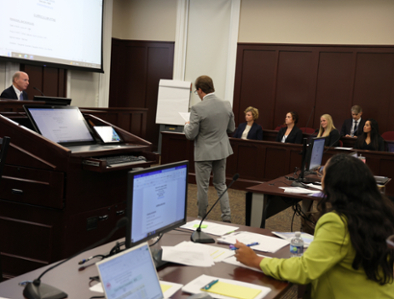 The LMU-CDM Fellowship in Forensic Dentistry program is a continuing dental education program designed to provide hands-on training and experience for practicing dentist to begin consulting with their local medico-legal agencies in the field of forensic dentistry. The program will provide educational foundation and casework necessary to apply and challenge the American Board of Forensic Odontology Examination.
Members of the fellowship will complete ten modules of didactic instruction and practical exercises, including human dental identification, mass disaster victim training, dental age assessment, human abuse recognition, civil litigation and expert witness training, forensic archaeology and anthropology, clandestine grave recovery, and patterned injury recognition, analysis, and comparison techniques. 
"Forensic dentistry is the application of the art and science of dentistry to answer medico-legal questions.  Comparison of before and after death dental records is the primary means of identifying the missing and unidentified," said LMU-CDM Director of Forensic Odontology, Dr. Jim Lewis. "In addition, forensic dentistry assists in the recognition of human abuse and answering civil and criminal questions involving legal age of majority for undocumented individuals."
Individuals interested in joining the LMU-CDM Fellowship in Forensic Dentistry program can apply at here. For more information, please contact Martha Gale at [email protected].
The Lincoln Memorial University Duncan School of Law is located in Knoxville's Historic Old City Hall Building. LMU Law is an integral part of LMU's values-based learning community and is dedicated to preparing the next generation of lawyers to provide sound legal service in the often underserved region of Appalachia and beyond. For more information about LMU Law, call 865.545.5303 or visit us online at Law.LMUnet.edu.
Lincoln Memorial University is a values-based learning community dedicated to providing educational experiences in the liberal arts and professional studies. Lincoln Memorial University-College of Dental Medicine (LMU-CDM) is home to the Doctor of Medicine in Dentistry (DMD) and Dental Hygiene (DH) programs. It is located in Knoxville at the newly renovated LMU Tower. For more information about LMU-CDM programs contact, [email protected].