LMU and Wytheville Community College Sign Memorandum of Understanding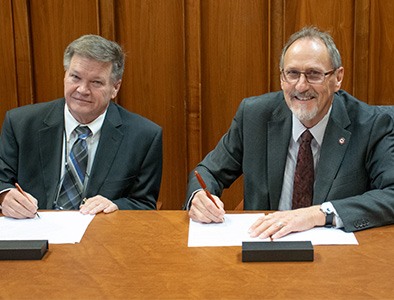 Lincoln Memorial University (LMU) President Clayton Hess and Wytheville Community College (WCC) President Dean Sprinkle have signed a Memorandum of Understanding to provide graduates of WCC with a direct path to admittance in LMU undergraduate programs.
The MOU stipulates that qualified WCC graduates will have guaranteed transfer admission to LMU. To be a qualified graduate the student must graduate from WCC with a cumulative grade-point-average of at least 2.4 on all previous college-level work. In addition to guaranteed admission, qualified WCC graduates who complete the Associate of Arts and Sciences Degree will satisfy all LMU General Education requirements, except LMU's required Lincoln 100 and Civics 300.
"This partnership between two great institutions that serve Appalachian students speaks directly to our mission of providing educational opportunities to the region," Hess said. "The addition of the School of Engineering at LMU provides new career pathways for students to improve life in the communities they will go on to serve. As science and technology jobs continue to grow, it is important to have these opportunities for students in our region. I look forward to welcoming Wytheville Community College graduates to our main campus in Harrogate, Tennessee."
LMU's School of Engineering, which is entering into its second academic year, will also offer guaranteed acceptance to qualified WCC graduates in either the bachelor of science in mechanical or civil engineering programs. WCC graduates will also be eligible for LMU's Guaranteed Professional Admission (GPA) program and the LMU Honors Scholar program.
"We are thrilled to partner with Lincoln Memorial University to offer our graduates admission to LMU's quality undergraduate programs including Mechanical and Civil Engineering Programs," Sprinkle said. "Our partnership with LMU will benefit our students as well as contribute to both the regions' science and engineering workforce."
The MOU outlines an initial term of three years, with WCC graduates from May eligible to transfer to LMU as quickly as the upcoming fall term.
CAPTION: L to R standing: Ryan R. Brown, LMU General Counsel; Ryan Overton, LMU Dean of Engineering; and Susan Evans, WCC Dean of Transfer and Educational Partnerships
L to R seated: Dr. Clayton Hess (L), LMU President, and Dr. Dean Sprinkle, WCC President    
Lincoln Memorial University is a values-based learning community dedicated to providing educational experiences in the liberal arts and professional studies. The main campus is located in Harrogate, Tennessee. For more information about the undergraduate and graduate programs available at LMU, contact the Office of Admissions at 423-869-6280 or email at [email protected].