Covenant Health Welcomes 53 LMU-DCOM Students for Clinical Rotations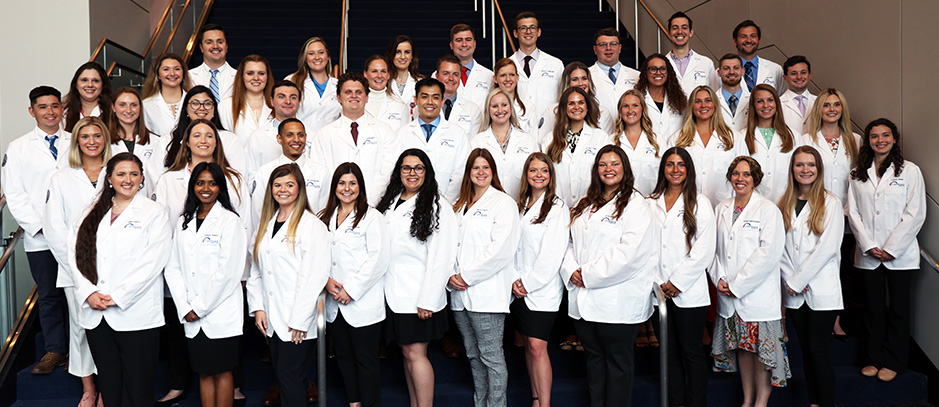 Lincoln Memorial University-DeBusk College of Osteopathic Medicine (LMU-DCOM) joined Covenant Health in celebrating 53 third-year medical students from LMU-DCOM who will begin clinical rotations at Covenant Health hospitals throughout East Tennessee.
Covenant Health hosted a White Coat Ceremony at the Knoxville Convention Center on Friday, July 7. The ceremony marked the transition from the students' didactic training in the classroom to their clinical rotations. Each student was presented with a short white lab coat embroidered with their name and a Covenant Health logo with the LMU-DCOM seal patch on the right sleeve.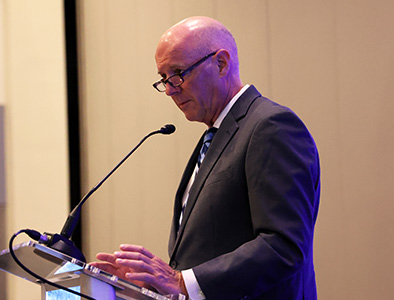 "There is no better partner for this program than Covenant Health. I am pleased our students will be part of this longstanding, steadfast relationship," said Christopher Loyke, DO, FACOFP, dean and chief administrative officer of LMU-DCOM. He encouraged the students to "embrace every task as a learning experience, as there is value in every moment."
LMU-DCOM and Covenant Health have partnered to provide clinical experiences to medical students since 2016. This class of medical students is the largest group, to date, in Covenant Health's clinical training partnership with LMU-DCOM. Under the direct supervision of physicians, the medical students will interview and examine patients, review clinical information, make hospital rounds, participate in interdisciplinary team meetings, practice appropriate documentation and perform procedures.
The four core rotation sites where LMU-DCOM students will serve are Covenant Health Cumberland (located in Crossville), Covenant Health Fort Sanders Regional (located in downtown Knoxville), Covenant Health Methodist (located in Oak Ridge) and Covenant Health Morristown-Hamblen (located in Morristown).
In addition to the white coat presentation, the luncheon included remarks from several Covenant Health and LMU-DCOM leaders.
Mandy Grubb Halford, MD, senior vice president, chief medical officer, and chief medical informatics officer for Covenant Health, talked about the initial establishment of the partnership and her leadership role at Covenant Health Cumberland at the time. "It's a full circle moment for me," she said, "because I had the privilege of being a student educator at that hospital for the students' clinical rotations. To see how this program has grown and to be a part of your journey today is an honor."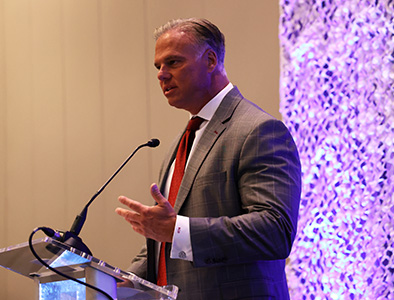 Brian DeBusk, PhD, first vice-chairman of the LMU Board of Trustees, addressed the changes in the health care industry and how the need for physicians will be even greater in the next 10 years. He said, "Students like you keep pushing the art and science of health care forward. It's up to all of us to continue 'upping our game.' Take advantage of the times spent at Covenant Health and the access to the expertise, technology and resources."
Mike Belbeck, executive vice president of operations at Covenant Health, spoke about creating a culture of excellence. "At Covenant Health we pledge to put the patient first, we pledge excellence in everything we do, and we pledge to be the first and best choice in health care. And now, you are all part of that environment, and can help carry that responsibility in your year ahead," Belbeck said.
Each student was called by name and presented with their white coat during the ceremony. They will complete two years of clinical training prior to their May 2025 graduation.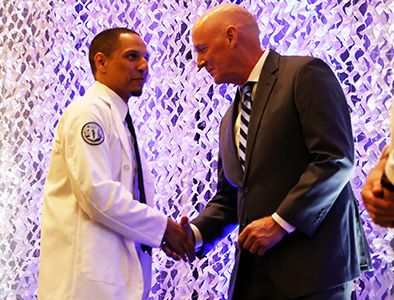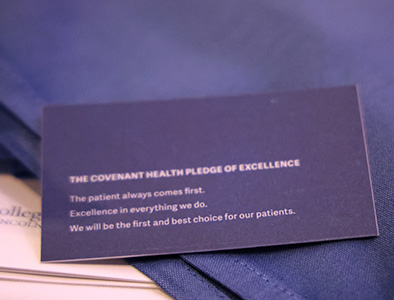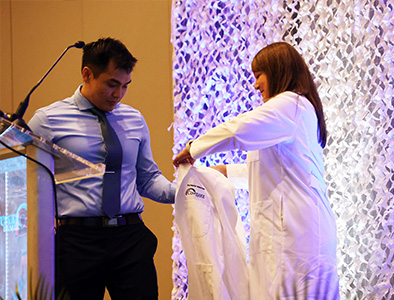 The DeBusk College of Osteopathic Medicine is located on the campus of Lincoln Memorial University in Harrogate, Tennessee and at LMU-Knoxville in Knoxville, Tennessee. LMU-DCOM is an integral part of LMU's values-based learning community and is dedicated to preparing the next generation of osteopathic physicians to provide health care in the often-underserved region of Appalachia and beyond. For more information about LMU-DCOM, call 1.800.325.0900, ext. 7082, email [email protected], or visit us online at http://med.LMUnet.edu.
Covenant Health is a Tennessee-based health care enterprise committed to providing the right care at the right time and place. As a not-for-profit health system, Covenant Health is dedicated to being the region's premier health care network through service, community, and innovation. Covenant Health provides patient-centered care that inspires clinical and service excellence and strive to be the first and best choice for our patients, employees, physicians, employers, volunteers, and communities. Covenant Health is the area's largest employer and has more than 11,000 compassionate caregivers, expert clinicians, and dedicated employees and volunteers. Learn more at CovenantHealth.com.