Vroegindewey Honored with AVMA Public Service Award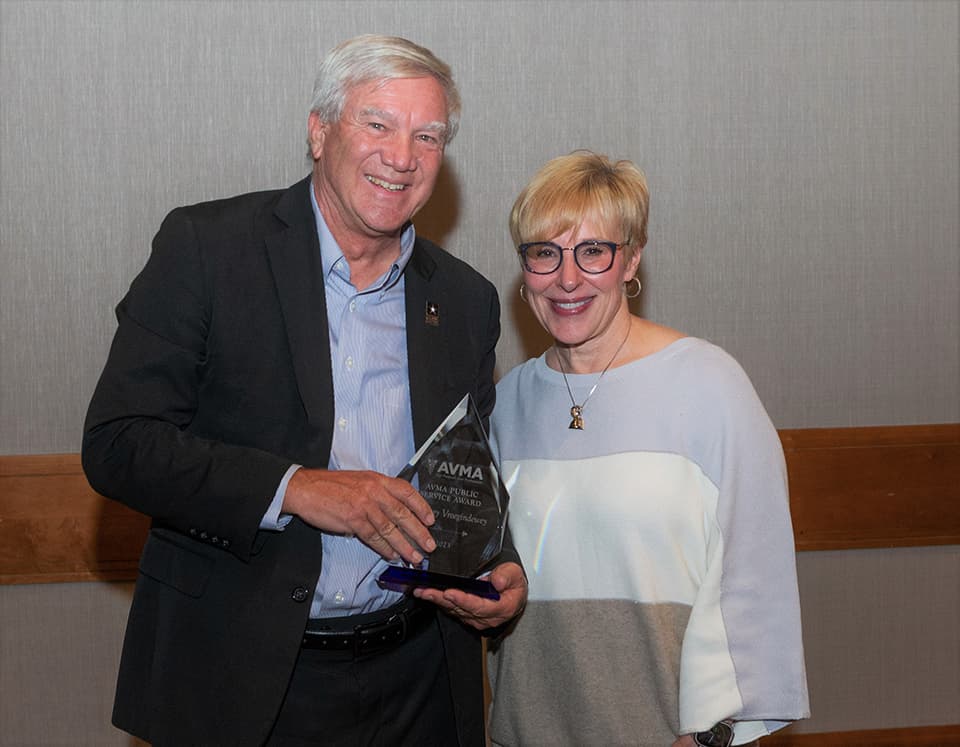 Caption: Dr. Lori Teller, now the immediate past president of the AVMA, presenting the award to Dr. Vroegindewey
Lincoln Memorial University-Richard A. Gillespie College of Veterinary Medicine (LMU-CVM) faculty member Gary A. Vroegindewey, DVM, MSS, DACVPM, accepted the American Veterinary Medical Association (AVMA) Public Service Award at a reception following the Global Health Summit at the AVMA Convention 2023 in Denver July 17.
"I am very honored and humbled to receive this recognition," said Vroegindewey. "This reflects not only my activities, but the impacts of the organizations I have worked with, and I recognize I am only one of thousands of veterinarians who contribute to public service across a wide range of venues each year."
The award, established in 1968, recognizes an AVMA member veterinarian for outstanding public service or contributions to the practice or science of public health and regulatory veterinary medicine.
"We are so fortunate to have Dr. Vroegindewey on our faculty," said LMU-CVM Dean Stacy Anderson, DVM, PhD, DACVS-LA. "He brings incredible depth and breadth of knowledge on the subject of public health, a portion of which he has integrated into our One Health curriculum."
Vroegindewey is director of the One Health Program and the Center for Animal and Human Health in Appalachia (CAHA). In addition to developing, leading, and teaching university courses on One Health, he has overseen CAHA research and outreach programs and supported several international collaborative programs for LMU, including with the World Organization for Animal Health (WOAH) and the University of Pretoria.
Vroegindewey is an emeritus diplomate of the American College of Veterinary Preventive Medicine (ACVPM). Active in organized veterinary medicine, he has chaired the WOAH ad hoc groups on veterinary emergencies and biological threat reduction. He has also chaired the former AVMA Council on Communication and served on the AVMA Committee on International Veterinary Affairs (CIVA). He is a past president of the American Veterinary Medical History Society (AVMHS) and the Central Missouri Humane Society.
Vroegindewey began his career in Missouri where he owned and served as president of a mixed animal practice with multiple locations for more than 20 years. In 1999, he joined the U.S. Army Veterinary Corps as assistant chief, providing advocacy and human capital management support for active duty and reserve officers.
From 2005-09, he served as director of the U.S. Department of Defense (DOD) Veterinary Service Activity in the Office of the Surgeon General. As director, Vroegindewey coordinated veterinary service support for DOD services and agencies and U.S. government entities and was the DOD liaison to the U.S. Department of Agriculture and Food and Drug Administration, among other duties. He went on to serve as assistant chief of strategic initiatives in the surgeon general's office for a year before directing global health initiatives at the Virginia-Maryland College of Veterinary Medicine's Center for Public and Corporate Veterinary Medicine from 2010-14. In 2014, he joined the veterinary faculty of LMU.
"Dr. Vroegindewey embodies the spirit and dedication that this award seeks to honor," said Dr. Lori Teller, president of the AVMA. "His wide-reaching contributions and his visionary leadership have advanced the fields of public health and veterinary medicine not just in the United States, but on a global scale."
To view Dr. Vroegindewey's acceptance video, click here https://vimeo.com/manage/videos/846714261/e8a02795fe].
To learn more about the AVMA Public Service Award and past recipients, visit www.avma.org/awards.
Lincoln Memorial University (LMU) is a values-based learning community dedicated to providing educational experiences in the liberal arts and professional studies. The LMU-Richard A. Gillespie College of Veterinary Medicine (LMU-CVM) is located on LMU's main campus in Harrogate, Tennessee, with additional academic facilities in nearby Lee County, Virginia. LMU-CVM is an integral part of the University's medical programs and provides real-world, community-based education in a collaborative learning environment. For more information about LMU-CVM, call 1.800.325.0900, ext. 6600 or visit us online at vetmed.LMUnet.edu.